He set the ambitious goal of leveraging his position as the rotating chair of the grouping to adjust the operational direction of the G20 and to build and strengthen India's international standing, role and world political influence. degree. To some extent, it can be said that Mr. Modi has partially achieved those two goals.
During India's tenure, the G-20 group is both similar and different. Of course, Mr Modi's agenda cannot lack main topics such as promoting global economic growth, reforming the world financial system, the World Bank and the International Monetary Fund, combating global climate change, responding to global pandemics or natural disasters. …
In all this, the G20 grouping has basically not made much progress during India's tenure. Opinions are unanimous, but new and unique ideas and solutions are still lacking.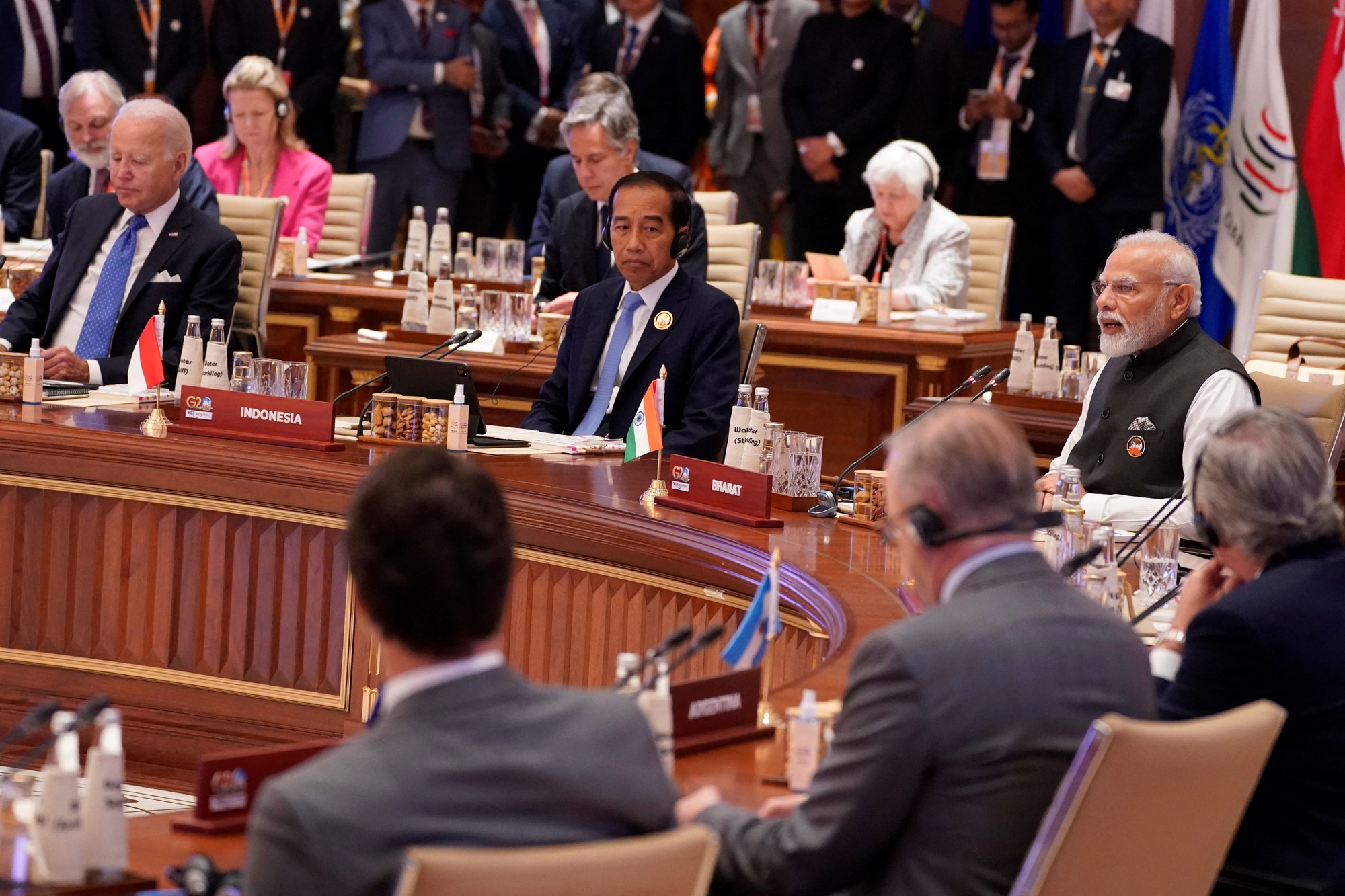 Indian Prime Minister Narendra Modi speaks at the first session of the G20 summit in New Delhi on September 9. Photo: Reuters
The first difference is very basic and is also an important achievement of India, which is that it has led the G20 group to pay more attention to the countries of the "Southern" block. India has redefined the nature and scope of "North-South cooperation" within the framework of the G20 forum.
The most obvious manifestation is that the African Union (AU) became the 21st member of the grouping. The AU represents 55 African countries. Increasing quantity will increase quality for the G20, as well as increasing the proportion of "Southern" countries in the G20 grouping.
Prime Minister Modi wants to help India become a world power and the rotating presidency of the G20 grouping provides favorable opportunities and opportunities to promote this aspiration.
Apart from the creation of favorable conditions with impressive socio-economic development achievements in recent years, the fierce confrontation between the US and the West along with Russia and China has helped India gain a favorable position. The latest proof is the success in the conquest of outer space.
"Peace" alone is not enough when disagreements within the G20 over the conflict in Ukraine are still so deep and fundamental.
Both Russian President Vladimir Putin and Chinese President Xi Jinping skipped the G20 summit in New Delhi on September 9 and 10. Without his participation, the event would not have failed but also would not have been as successful as Mr Modi had hoped.
Mr Modi can calculate everything for India but cannot decide everything in G20. The US, the European Union (EU) and their allies this time monopolized the platform but could not change the game. It can be seen that in the coming time, the progress of the G20 group will not be stagnant or regressive, but the progress will be very slow.