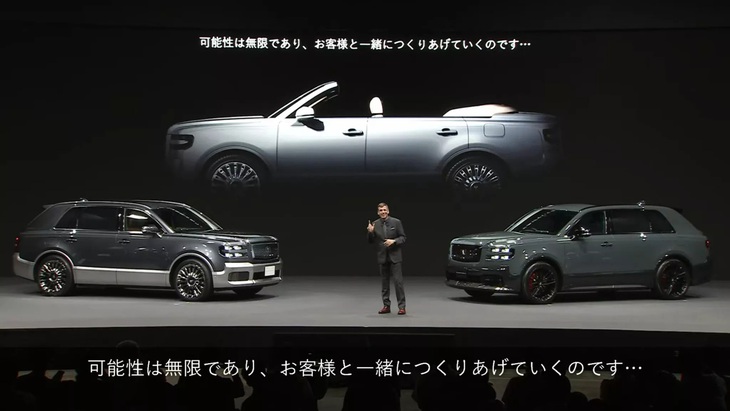 In early September, Toyota officially introduced the SUV version of the Century. It has been the most premium car line in the company's lineup for decades, ranking above Lexus cars. Toyota's direction for the Century SUV is "simple" enough to turn it into a Japanese Rolls-Royce Cullinan.
At the launch event of the Toyota Century SUV, the Japanese brand also revealed two configurations of the most advanced car line that users can order. If you have a lot of money, users can customize the car into a GRMN high-performance car or convertible.
The configuration design of the Toyota Century SUV Convertible was quickly revealed through a teaser photo at the launch event. The roof structure that Toyota has chosen for this version appears to be a soft roof based on the rear design.
Toyota brand director Simon Humphreys confirmed that they are keen to discuss with users the "limitless" customization possibilities of the project.
Emphasizing on this factor, Toyota leaders said that they are ready to create unique editions of the Toyota Century SUV with the help of master craftsmen. Toyota confirmed that the details about these unique editions could be announced by the company soon, which means that the customers have already placed orders for the Century SUV in this form.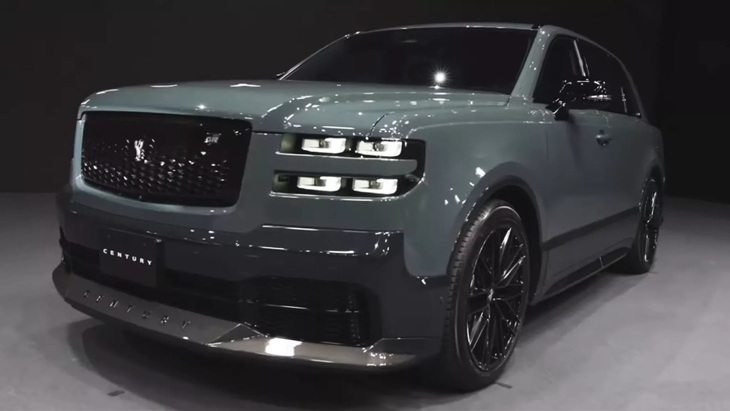 As for the high-performance version of the Toyota Century SUV, it is worth noting that the Japanese brand refers to this version by the name GRMN. This is not just a regular GR high-performance configuration, but a racing version, and often has the best performance compared to all other configurations.
The version brought by Toyota at the launch event uses the GR logo on the radiator, exclusive bodykit, air splitter with its own Century inscription, diffuser and door sills which are all made of carbon fiber. Additionally, the car is equipped with 22-inch dark alloy wheels, red brakes and appears to have been lowered.
If this is indeed the GRMN version, not only will the design be upgraded in this configuration, but the engine will also definitely be modified. At present, Toyota Century SUVs often use plug-in hybrid V6 engines with a total capacity of 406 horsepower.
Temporarily, the new Toyota Century SUV is only available in Japan. The production of the vehicle is only 30 units/month. The price is not less than 25 million yen, which is equivalent to 4.08 billion VND. This number is "only" half of its direct rival in Japan, the Rolls-Royce Cullinan, at 51.5 million yen (8.42 billion VND).
(TagstoTranslate)Rolls-Royce(T)Rolls-Royce Cullinan(T)Toyota(T)Toyota Century