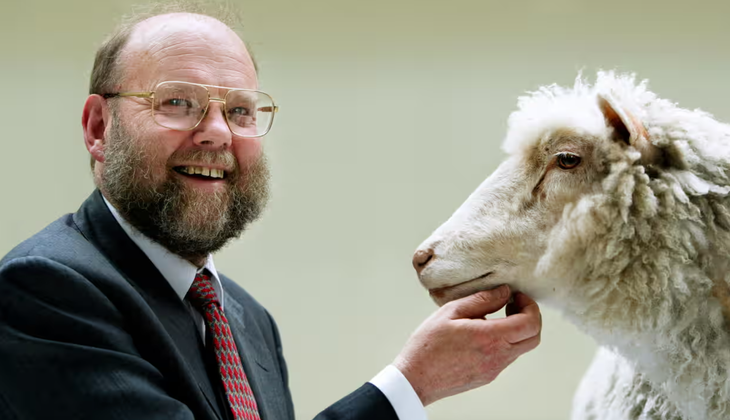 On September 11, the AP news agency reported that British scientist Ian Wilmut, the "father" of Dolly the sheep – the first cloned sheep – died at the age of 79.
The AP quoted a source at the University of Edinburgh (Scotland, UK) as saying that Mr. Wilmut died a day earlier due to Parkinson's disease (neurodegenerative disorder).
In 1996, Mr Wilmut and his colleague Keith Campbell and animal researchers at the Roslin Institute at the University of Edinburgh successfully cloned Dolly the sheep from the mammary glands of another female sheep.
Previously, scientists have cloned several animals using embryonic tissue. However, Dolly is the world's first mammal to be born by cloning method, specifically by applying cell nuclear transfer technology.
The story of Dolly the sheep inspired scientists to clone other animals, including dogs, cats, horses and bulls, increasing the possibility of cloning humans and extinct species.
Mr. Wilmut then focused on using cloning techniques to create stem cells for regenerative medicine, which were playing an extremely important role in the research and treatment of genetic and degenerative diseases.
Mr Wilmut was knighted in 2008 for his contributions to science and retired in 2012, the Roslin Institute said. Mr. Wilmut was researching Parkinson's disease when he was diagnosed with it.
Sharing with The Associated Press on September 11, Roslin Institute director Bruce Whitelaw said he was "deeply saddened" by Mr. Wilmut's passing. Mr Whitelaw described the British scientist as a "giant" in the research world and his achievement in creating Dolly the sheep was a breakthrough that inspired many advances in the field of regenerative medicine.
Mr. Ian Wilmut's achievement is considered revolutionary by many scientists, but there are also many critics who believe that this experiment is inhumane.
Just a year after Dolly's birth, then US President Bill Clinton banned the use of federal funds for human cloning purposes.