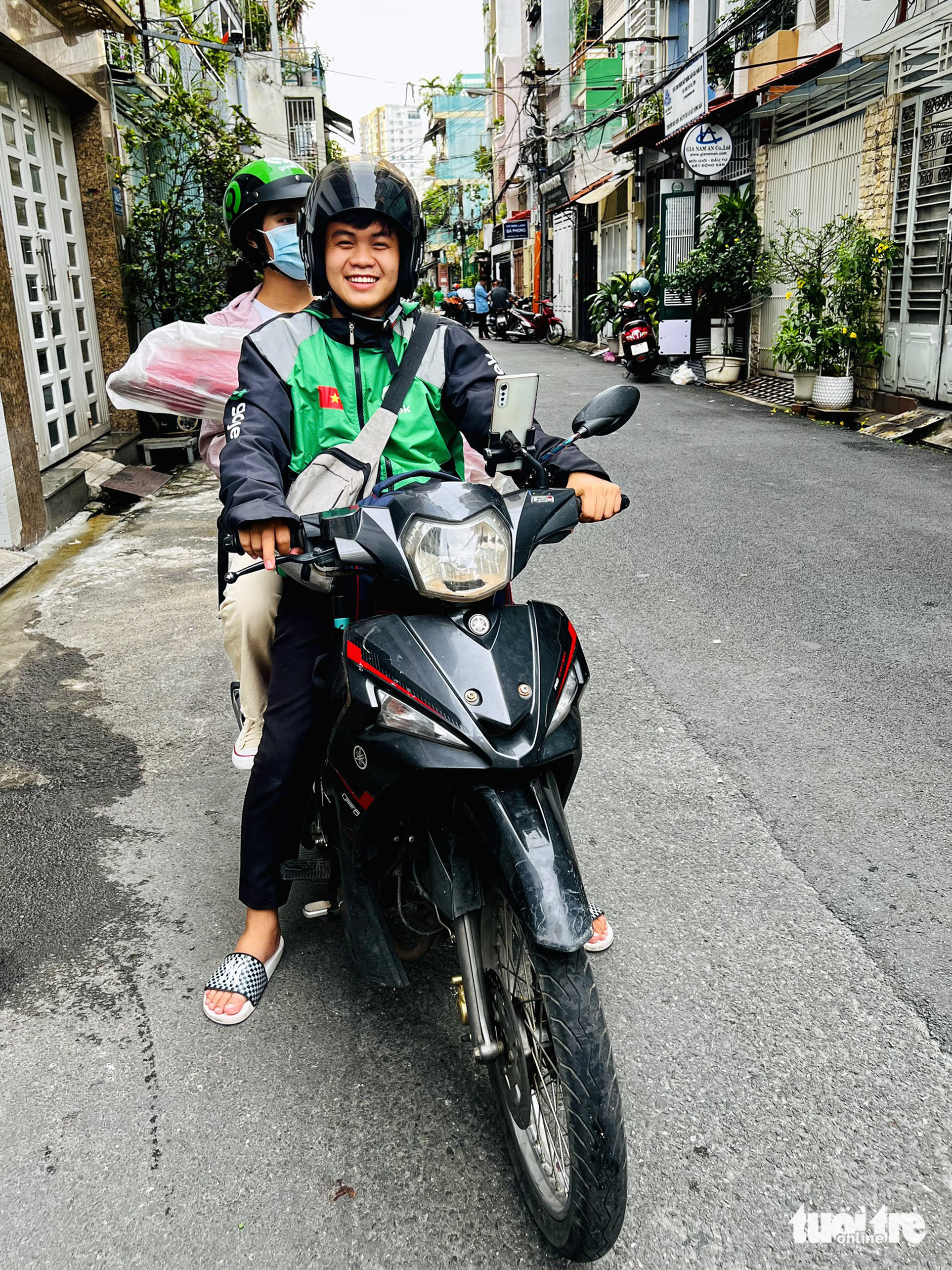 Nguyen Ngoc Hung (22 years old, from Dong Nai) is currently a student majoring in Software Development at FPT Polytechnic College (HCMC). Come shine or rain, Hung roams the streets every day, driving motorcycle taxis to earn money for his education.
Choose to bear the burden of family at the age of 15
When we first met, I couldn't help but be amazed by Hung's mature face and determined eyes. Hung's family lives in the house on Level 4, which looks spacious on the outside but empty on the inside.
His parents married empty handed, traveling everywhere, Hung said. After the marriage, it took 5 years for Hung's parents to pay off the wedding debt. The parents' salary as hired laborers is only enough for the entire family of 7 people.
A few years ago, Hung's mother suddenly fell and broke her hip. Since then, she has been unable to do heavy work and only stays at home to take care of her 86-year-old mother-in-law, who is bedridden. The entire burden fell on Father Hung's shoulders. However, for a man who is almost sixty years old and has a partially torn knee ligament, working as a construction worker and hired laborer seems very difficult.
In 2017, Hung entered the important transfer examination for 10th grade. Although he really wanted to study, due to his family's financial situation, Hung gave up the exam, saddened by receiving a failing score.
At the age of 15, Hung left school and bid farewell to his classmates in order to earn a living. For the next year and a half, Hung worked as a runner delivering gas cylinders to his uncle. However, the family's situation seriously deteriorated, forcing Hung to make another difficult decision. For the first time, Hung left home to go to Ho Chi Minh City to earn money to help his parents.
The following year, Hung worked as a porter and produce packager…not easy work for a teenager. To save money on rent, Hung asked to stay at the company and sleep on the couch. Every month, Hung sends money home and keeps only 500,000 – 1,000,000 VND for living expenses. "Many nights when I look down and see friends my age being taken by their parents to go shopping and have fun, it's very sad," Hung said hesitantly.
Inspired by his uncle's statement that "If you are a soldier, you will be a soldier all your life" and with the encouragement of his relatives, in 2019, Hung decided to return to school after 3 incomplete years. Hung said, "If I don't study, I'll just be a laborer and hired labor all my life. With that in mind, I'm determined to go back to school at all costs."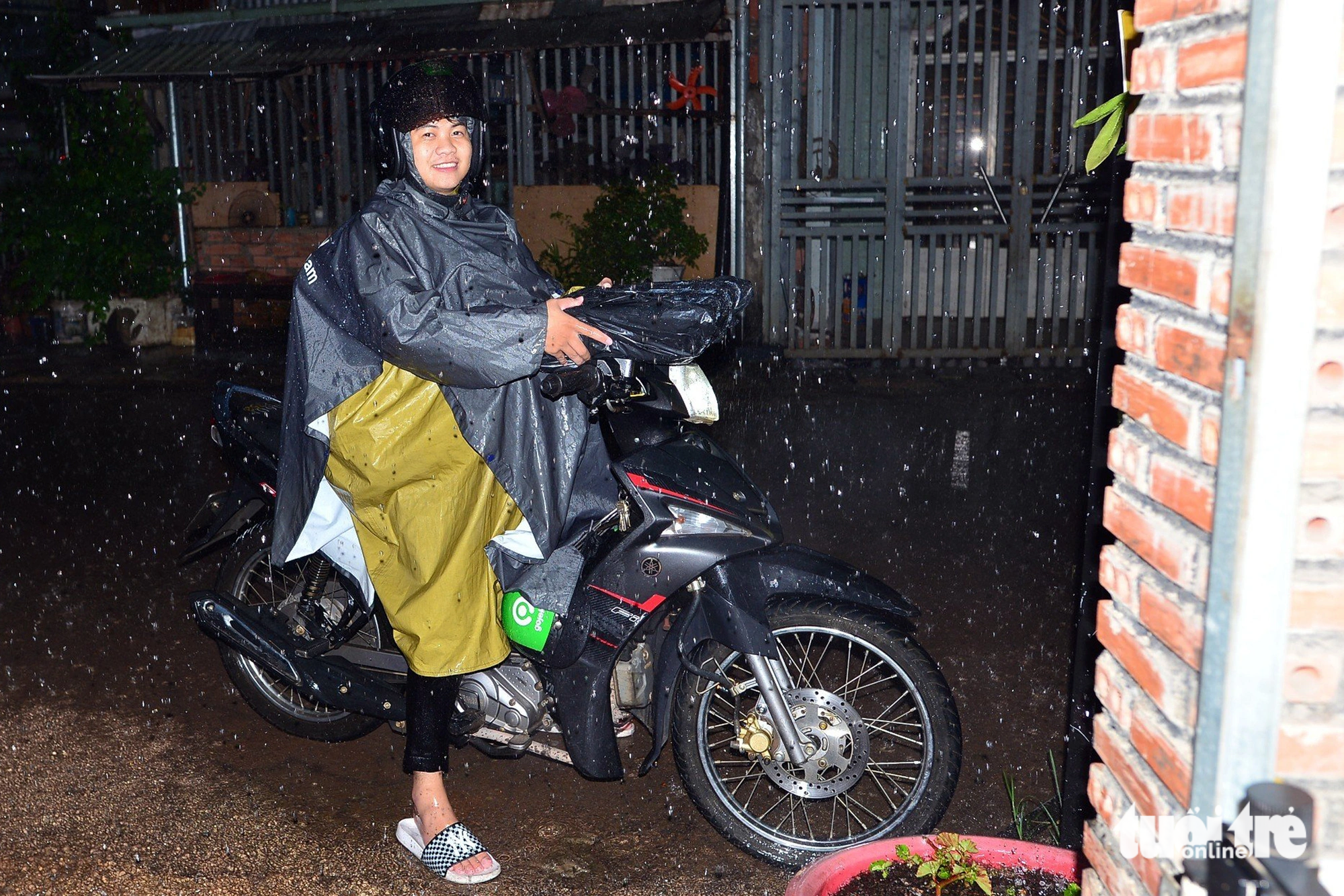 In the morning I drive a motorcycle taxi and in the evening I review lessons
Hung admitted that he was discouraged at times by the pressure of making money, but with an ultimate desire to "escape poverty", Hung gradually overcame the adverse circumstances. After 3 years of study and work, Hung was rewarded with an official "ticket" to enter his dream school.
However, the happiness had not yet ended when worry came again. One family after another advised Hung to stop studying because the cost of education was too high. However, this time Hung did not give up but decided to follow the chosen path.
In order not to put too much pressure on his father, Hung decided to work part-time to cover all tuition and living expenses. Despite pain caused by cervical spondylosis and ulnar ankylosing spondylitis – the result of past excessive loading and unloading – Hung is diligent on each bus carrying passengers and delivering goods.
Be it sunshine or rain, the hang continues from early morning till late night before returning. For Hung, night is the best time to study, but sometimes students fall asleep. "At that time, I was so tired that I fell asleep," Hung said.
The room where Hung lives (District 8, Ho Chi Minh City) is less than 9 square meters wide, so it's very cramped for two people. Hung said he falls asleep easier so he doesn't have to sleep with his legs straight, which gives his roommate more space. Both of their meals rarely contain enough meat and fish, and eating noodles has become a "habit". Many days when he ran out of money, Hung would eat only a handful of peanuts to satisfy his hunger and some days he would even stop eating. Hung explained: "My father asked, but I hid everything, afraid he would find out and I would become even more anxious and stressed."
Last September 2, Hung came home with 600,000 VND in his pocket. The family ran out of money, Hung gave 100,000 VND to his mother to go to the market, with the rest Hung spent on car repairs and personal expenses. The next day, Hung went back to work.
Hung calculated that the total amount of the loan for purchasing the laptop, tuition, room and other expenses was more than 15 million VND. "I don't have this money yet, so I'll reserve it for 4 months now, focusing on driving motorcycle taxis to earn money to prepare for the next semester. I'll just have to endure the situation," Hung smiles. Hui said.
Hopefully I won't have to stop studying again
In an open letter to the Tuoi Tre newspaper, Hung expressed his wish that he would never have to stop studying again and would find conditions to study and become a good citizen, helping society.
"When I found out about the Relay to School Scholarship from the Tuoi Tre newspaper, with its message that 'no one should leave school because of difficulties', I was hopeful that I would never have to stop studying again. I understand that learning leads me to a brighter future for you and your family.
I also know that Relay to School is a scholarship for new students, but I still take the liberty of writing this letter. Hopefully the organizers can give me a door from where I can rise up, get the opportunity to study, develop myself and help the society in the future," Hung's opening letter read. Having said.
(TagstoTranslate)technology motorbike taxi