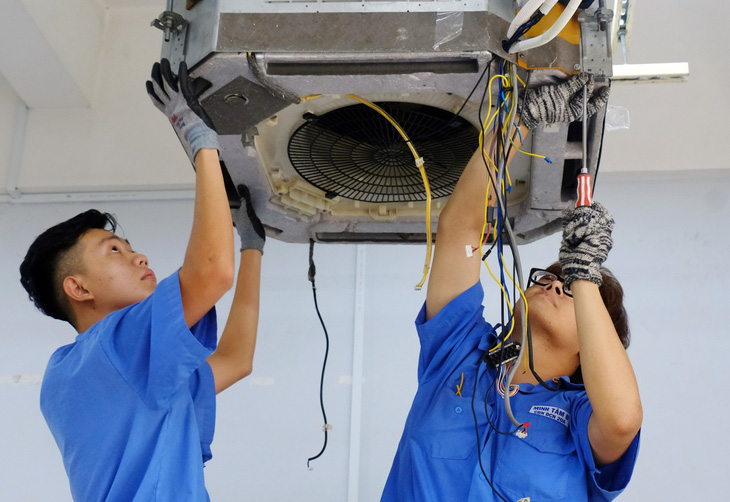 Duong Anh Duc, vice chairman of Ho Chi Minh City People's Committee, spoke on the program "People ask – the government answers" about the recent story of vocational training and job introduction. Vocational education is an important level of education, which provides trained human resources for economic development.
Ho Chi Minh City gives priority to vocational training in science and technology to meet the production and business needs of strategic investors.
Context: From 2022 to now, many workers have lost their jobs, have had their contracts suspended and are waiting for work. Explanations of recent labor cuts often come with the phrase "lack of orders." However, a recent conference with the 2030 vision of the Ho Chi Minh City Institute for Development Research with the Project Labor and Employment Strategy in Ho Chi Minh City for the period 2023 – 2025 gave a different opinion.
Industries with an abundance of unskilled labour, particularly those producing apparel, leather and related products, have seen the sharpest decline in the number of workers. These industries are gradually relocating to other areas as well as increasing investment in refurbishing machinery and equipment, thereby increasing labor productivity. Meanwhile, industrial labor declined but industry growth still maintained an average rate of more than 6%/year, showing that labor productivity is increasing.
There are also many similarities in the statistics of Ho Chi Minh City's Department of Labour, War Invalids and Social Affairs. It has been recorded that of the approximately 114,000 people who have left their jobs for unemployment benefits since the beginning of 2023, 53% do not have any degree or training certificate. The sector with the highest number of people leaving their jobs is the processing and manufacturing industry, with a share of 37.6%.
But the paradox is that many businesses cannot recruit workers, which means there is still a surplus and shortage in the labor market. Human resources expert Tran Anh Tuan said that while the labor force is currently still at the primary level, the market needs a large enough, well-trained workforce for small businesses to be able to effectively fulfill large orders. . High and medium technology products.
Ho Chi Minh City has issued several programs and plans to improve the quality of human resources training to achieve the goal of 87% trained workers by 2025, and the rate will be 89% by 2030. The increasing demand for trained workers creates many opportunities for apprentices. Not only this, many policies are also being implemented to support the trainees.
According to the Law on Vocational Education, students who graduate from secondary school and continue studying at the intermediate level will be exempted from tuition fees. In addition, when attending vocational training at the intermediate or college level, learners also enjoy tuition waiver and reduction policies.
Those who have completed their military service and are demobilized are provided vocational training for one year with support towards training costs, food during the study period and one-time travel expenses (for distances of 15 km or more). Will also be supported. ,
Meanwhile, workers working in small and medium-sized enterprises will be supported with training costs of up to 2 million VND/person/course. Workers who lose their jobs and meet the prescribed conditions will receive vocational training assistance with a fee of 1.5 – 4.5 million VND.