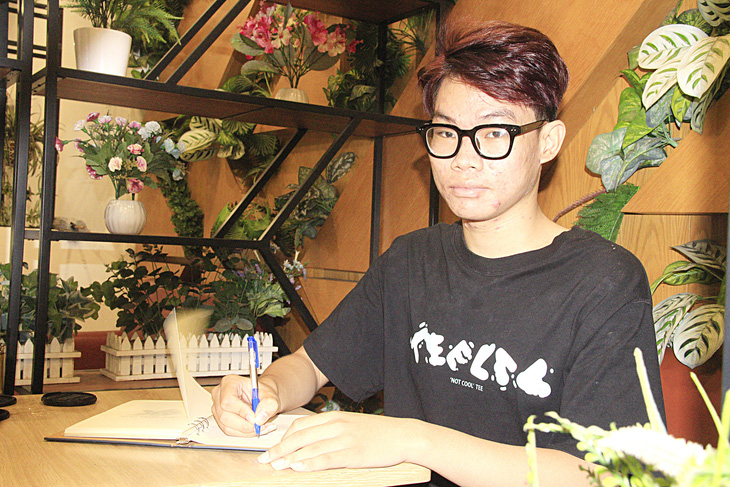 Everything happens in rapid succession in the sprint phase when we need to focus on important exams after 12 years of studies. But for Duong Nguyen Lien Khuong – a freshman student at the University of Social Sciences and Humanities (National University of Ho Chi Minh City) – even though it's a little hard, she is still very happy because "I still have a father and a Mother, take care.
There is a "senior" family living at home
Born, raised and registered in Ho Chi Minh City, Lien Khuong never lived in a proper family home. All five members of the family wandered around the city for months and years.
The current apartment is less than 20 square meters, located in a small street in Thu Duc city. The parents are lying down on the floor. Khuong, his eldest brother Yen Khoa (25 years old) and his younger sister Nhat Ha (13 years old) each live in a corner of a mezzanine with a tight corrugated iron roof.
Khuong's mother – Ms. Bui Thi Le Hien – is 51 years old this year. And Mr Duong Thanh Long – Khuong's father – is 71.
At the beginning of the year the couple's health was not as bad as it is now. At the time, Ms. Hien was working as a nail technician at Binh Duong, and Mr. Long was still struggling with who to hire and what to do.
But around March this year, he started having persistent cough, difficulty breathing and his weight decreased dramatically. When I went for a checkup, the doctor told me that I had tuberculosis, which was very dangerous.
Upon receiving the news, Khuong almost fainted. Everything came so quickly and unexpectedly, like a sudden storm swept away everything, a family's health, happiness and even money.
Every time, Khuong felt sad when she looked at her parents' skeletal bodies, and tried her best not to shed tears in front of them. Also because Hien's mother still teaches her children "No matter how difficult or painful it is, don't cry, don't give up".
After four months in the hospital, Khuong's parents were able to return home, which is when they learned their graduation exam scores. "After knowing my exam marks and receiving the notice, I wanted to scream and show it to my parents, but I didn't dare. Now my parents are awake and asleep, telling me "I have passed university exams, which sometimes bothers me and makes my illness worse because of the added pressure," Khuong admitted.
there will definitely be a way out
But Khuong once got stuck in class because of her Grade 7 literature grade. His parents were busy trying to earn a living and did not have time to pay attention to their child's studies, and Khuong was too young to fully understand the value of learning.
As he grew up, he realized that if he did not study, nothing would help him and his family escape poverty. Reading books, practicing writing, and writing stories changed him.
The "incident" of skipping class reminded Khuong not to neglect his studies. As soon as you entered the 10th grade at Duong Van Thi High School (Thu Duc City), you were one of the names in the school's team of excellent literature students. And his three years of high school results were excellent.
Because of his writing ability, Khuong was nicknamed the "Prize Hunter" by his friends. Also because he once won first prize in a writing competition the book i like School for two consecutive years.
Especially the third prize in the city level literary excellent student examination in the last year of high school. This award gives Khuong priority in applying for the Linguistics major at the University of Social Sciences and Humanities (Ho Chi Minh City National University).
At that time, worry was visible on the student's face. It's almost time for enrollment, but I don't know where to get the tuition fees of about 12 million VND. At present, this amount of money is beyond the capacity of the family. So what does Khuong think? Without hesitation, Khuong confidently replied: "There will be a way."
The new student plan was initially planned to be a temporary one with his brother Yen Khoa – a young teacher who had recently graduated from Ho Chi Minh City University of Pedagogy, majored in mathematics and was not currently employed. Had asked to borrow the initial money from. ,
If the last day to pay tuition comes and there is no money to complete the admission process, Khuong will go to the school to apply to reserve this year's results. And that would be a year for Khuong to work part-time, saving money to attend school the following year.
"I've been working part-time since childhood, no matter who hired me, serving coffee, even working as a security guard. During the Tet season, I worked at Suoi Tien Tourist Area during the Tet season. I also worked in, they recruited a lot and the salary was also high. So I try," Khuong smiled.
However, please inform me first Youth Can assist in scholarship advancement relay for school To enroll in school, Khuong hesitantly declined.
Khuong said, "Receiving a scholarship is a great privilege. I'm afraid it will be difficult to repay this kindness because many people are in more difficult situations."
The whole class and the whole school liked Khuong
Speaking about Duong Nguyen Lien Khuong, Ms. Nguyen Thi Thanh Tam, literature teacher at Duong Van Thi High School, immediately said: "This is my energetic and talented student. The whole class and the whole school love Khuong."
Following and teaching during three years of high school in a class of gifted students, Ms. Tam clearly understood Khuong's circumstances and personality. And almost everyone in the school knows that student's academic ability, personality, and family situation. Because they love the hardworking and good student, not only his friends but also many parents and schools always find ways to support him.
At times, classmates quietly worked together to help Khuong pay some of the fees. Sometimes when the class organizes field trips or extracurricular events, class parents actively take the initiative to bear the cost of Khuong.
"But he never trusted anything, never," Ms Tam said.
Readers who support scholarships for new students, please transfer them to the newspaper account Youth: 1130000006100 Industrial and Commercial Bank (Vietinbank), Branch 3, Ho Chi Minh City.
Content: Support "Help Going to School" for new students or specify the province/city the reader wishes to support.
Readers and businesses abroad can transfer money to the newspaper Youth: USD Account 007.137.0195.845 Ho Chi Minh City Foreign Trade Bank; EUR account 007.114.0373.054 Ho Chi Minh City Foreign Trade Bank with SWIFT code BFTVVNVX007.
Content: Support "Help Going to School" for new students or specify the province/city the reader wishes to support.
In addition to funding scholarships, readers can support teaching equipment, housing, jobs… for new students.

(TagstoTranslate)Lien Khuong(T)Scholarships to help students go to school(T)Scholarships for disadvantaged students(T)Scholarships for new students