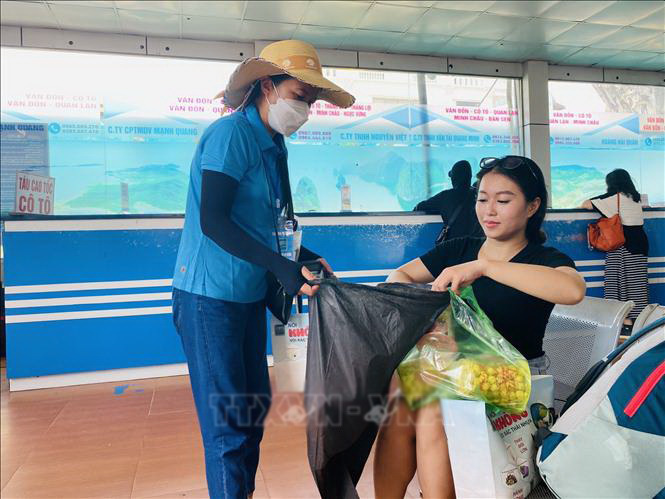 From September 15, 2023, after one year of implementing recommendations for people and tourists not to bring plastic bags, single-use plastic items and materials that pose a risk of environmental pollution to the island, Co To Island District (Quang Ninh ) will do the above. Recommendation is a mandatory requirement for everyone when visiting the island.
At present, the island district has established a control team at Co To pier, which applies not only to people and tourists but also to passenger and cargo ships that do not comply with this regulation and grounds them at the port. Will not be allowed to dock.
It is said that this is a strong step taken by the area to form habits and adjust to prevent plastic waste and plastic bags from being left on the island.
Additionally, all administrative units, schools, markets and seafood fishing businesses in the island district are not allowed to use plastic bags or disposable plastic items.
CO Two District also issued rules for officials and party members to set an example of not using plastic bags and single-use plastic materials that people should follow.
Individuals and groups that dump waste in inappropriate places or use materials hazardous to the environment shall be subject to administrative sanctions in accordance with regulations in the field of environmental protection.
According to statistics from Co To district, the area welcomes 6,000 – 8,000 tourists every year. Before the trial to stop the use of single-use plastics, during the peak of the tourist season, environmental companies had to collect huge amounts of waste, 15-17 tonnes/day, creating pressure and burden. For the environment of the island district, especially for waste which takes a long time to decompose.
It is known that during autumn, the number of visitors to Co Tu is not very high, so this area chooses to implement the phase 2 project more easily and hopes to continue to receive high consent from people, tourists, Is.
In particular the coordination of coastal fishermen and neighboring local authorities, so as to reduce waste disposal directly at the source, contributing to environmental protection and sustainable marine ecology.
Co reduces plastic waste to a great extent
According to the representative of the People's Committee of Co To District, after a year of implementation, the project "Co To Island District without plastic waste" has achieved many positive results, gaining consensus from people and tourists.
The amount of garbage on the island has reduced significantly. More importantly, the living environment and marine ecological environment have been greatly improved, many sea creatures such as seagulls, dolphins, turtles… are flocking to this marine area.
Furthermore, people's habits, behavior and use of eco-friendly materials have gradually evolved.
(TagstoTranslate)Plastic bags(T)Cocote(T)Single-use plastic items(T)Tourists(T)Environmental protection