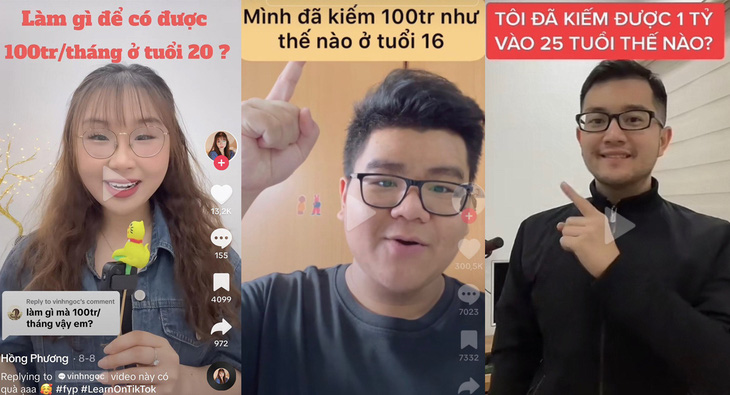 "How did I earn 1 billion before the age of 20?", "What did I do to earn 20 million/month as a student?", "At the age of 27, I have a house and a Was the car? Online?"… are the catchy headlines of a series of videos on YouTube and TikTok in which content creators tell about their successful journeys.
The ways to "get rich" are very diverse, from selling online, investing in stocks, running a business…
Promotion isn't hard?
A TikTok account named "Q.Likes Economics" posted a video titled "How did I make 100 million at the age of 16?" Made a video on the topic.
In the clip, NQ, born in 2004, recalls his journey of making money since the age of 16, which started by selling unused personal items. Q then accumulated more savings to invest in stocks. After six months of monitoring the red and green electronic boards, as of December 2020, Q said it had made a profit of more than 100 million VND. The video received thousands of comments on social networks.
Another account named LML also posted a TikTok clip titled, "How I made 1 billion at the age of 25? If you want to be successful, you have to pay the price."
In the video, the account owner shares the habits he often keeps to earn 1 billion at the age of 25, such as reading books every day, working without pay, spending many sleepless nights, starting a business , Building a personal brand. Work, find a teacher, learn marketing and sales…
Apart from this post, the LML account also creates several clips sharing content related to courses to become rich and make money from the internet.
Inspiration becomes… pressure
Watching the "Get Rich" clip, many students said that at first they felt admired and inspired, but the more they watched, the more pressure they felt.
Pham Hoang Nhat Minh Tam – a third-year student at Ho Chi Minh City University of Architecture – explained: "At first, I felt quite curious as to why you guys became successful so quickly when you were so young. This kind of The more content it seems, the more pressure I feel, because whenever I go on social networks, I see successful peers, while I have no significant achievements of my own."
Minh Tam shared that while studying at university, her parents provided monthly support. In your spare time, you teach drawing to earn about 800,000 VND/month. Due to busy study schedule, Tam does not have time to do other things. Therefore, every time I surf the Internet and meet "other people's" students who earn big incomes, Minh Tam sometimes surprises: You have enough potential to succeed at such a young age. Why else is there time? So?
Meanwhile, Cao Thi Tra My, a first-year student at Ho Chi Minh City University of Industry, admitted that every time you watch the above clip, you feel a little sad. Tra Mai is currently working as a physics tutor, the income she earns for one teaching session is 200,000 VND, the total monthly income is 1.6 million VND.
While you have made such huge amounts of money and are successful, I am still struggling to make ends meet working part-time with unstable income. Sometimes I feel doubtful and feel like I'm not trying hard enough.
student kao thi tra my
The most important thing is to have a plan for yourself
Master Nguyen Hai Truong An, deputy head of the department of student affairs at Ho Chi Minh City University of Management and Technology, commented that many "success instructions" clips on social networks are often of short duration, sometimes only 1-2 minutes. and go inside. Towards exploiting the audience's curiosity rather than inspiring it. Clips have also been created to make it easier to catch trends.
According to Ms. Ann, if you pay attention, you'll notice that these clips rarely give advice or guide listeners to specific ways to learn.
Instead, the clips are often based on flashy details of a "get rich" story. Ways to overcome difficulties and obstacles that stand in the way of your success are also rarely mentioned.
Ms Ann believes that university is the time when young people take the first steps in their careers. The road ahead is still very long and each person will have his own direction and his own goals. So, instead of feeling self-conscious because of the above clip, students should think about their desired goals for their future career and make plans to achieve those goals.
Plans should be compared with what you have – in terms of knowledge, skills, experience and sometimes finances – to see what you are missing. Once they know what they lack, students will find ways to make up for it, possibly from books, school, family, or mentors.
Meanwhile, speaker Nguyen Phuoc Cat Phuong, master of psychology, said that every young person using social networks has the right to consider and choose the content. You should actively seek useful content, not passively.
"When we realize that what we are receiving is food for the soul, our attitude will be more serious when choosing "food" – Ms. Phuong said.
try going to conferences
Mai Trinh, a senior student at the University of Social Sciences and Humanities (National University of Ho Chi Minh City), feels that the authenticity of "get rich" clips on social networking sites, especially TikTok, needs to be questioned because it is difficult . verify. Trinh said that if she came across these clips, she would only watch them for information and would not completely believe them.
From personal experience after almost four years of study in university, Mai Trinh believes that today there are many channels for students in schools to reach out to famous people with inspirational stories through seminars, seminars, workshops.. .The material is often quite rich and diverse in the fields.
"I see universities promoting organizing seminars, inviting experts from home and abroad, academia or business, to come to the campus to talk to students. I think this is a More reputable source. So that students can hear valuable lessons and success stories" – said Mai Trinh.