According to the news agency Anadolu Turkey – the country that sent a powerful search and rescue force and many supplies to Libya immediately after the flood disaster – said local officials so far put the updated death toll at at least 6,000 people.
Vietnam's Foreign Ministry said it had not recorded information on Vietnamese casualties from the earthquake in Morocco as well as floods and landslides in Libya.
Thousands of people are still missing after Hurricane Daniel caused devastating floods in eastern Libya. Meanwhile, the mayor of Derna city, Abdulmenem al-Ghathi, told Al Arabiya radio that the death toll across the city could reach 18,000-20,000 people.
Supplies are also increasing along with humanitarian aid efforts in Libya. United Nations (UN) Emergency Relief Coordinator Martin Griffiths announced an initial allocation of $10 million from the Central Emergency Response Fund (CERF) on 12 September.
A day later, the United Nations World Food Program (WFP) said it had sent the first shipment of food aid to Libya, including rice, pasta, sugar, flour, tomatoes, white beans and cooking oil. 52,000 people are affected.
The same day, on 13 September, the Spanish Foreign Ministry announced a contribution of 1 million euros through the International Federation of Red Cross and Red Crescent Societies (IFRC) and the United Nations Office for the Coordination of Humanitarian Affairs.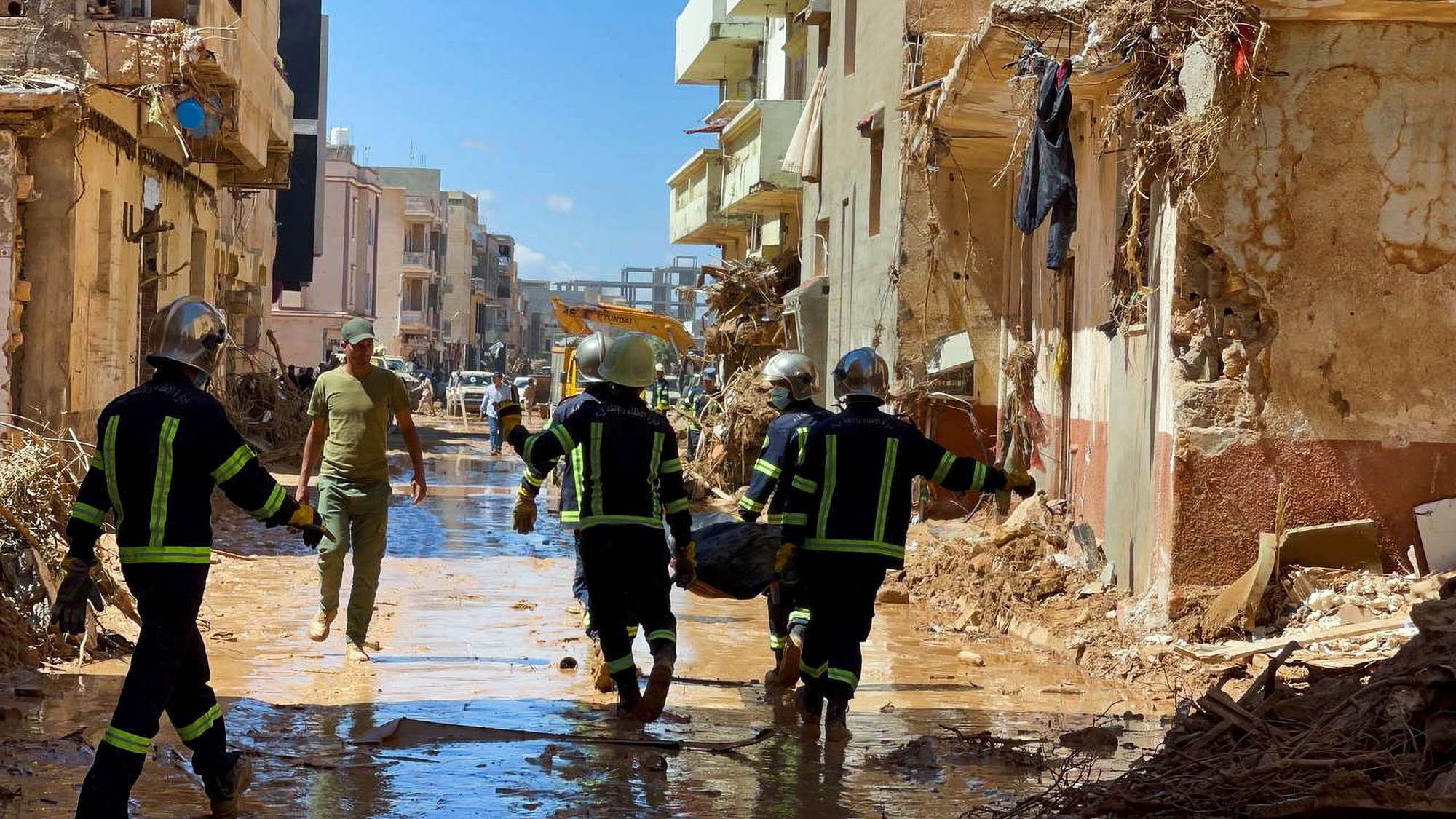 Egyptian search and rescue forces participated in the rescue in Derna City – Libya on 12 September. Photo: Reuters
Italian Foreign Minister Antonio Tajani said a group of experts and two C-130 transport aircraft had arrived in Libya to provide search and rescue helicopters, field tents, sleeping bags… and were ready to send more. Extra help when needed.
At the same time, the European Union announced that it had mobilized 500,000 euros for Libya and was ready to provide it through partners in the form of medical supplies, water and sanitation facilities. Separately, several other EU countries, including Germany, Romania and Finland, offered to support tents, field beds, generators, food, hospital tents…
According to Arab News, other aid sources come from West Asian – North African countries such as Saudi Arabia, Jordan, Algeria, Iraq and Tunisia. Egypt declared three days of national mourning in memory of the victims in Libya, and provided search teams, rescue equipment and temporary camps to both Libya and Morocco – another North African country suffering from earthquake disasters.
Two United Arab Emirates (UAE) aircraft delivered 150 tonnes of food, relief goods and medical supplies to Libya; While the other 40 tonnes of goods came from Kuwait…
On the other hand, climate change is considered to be the root cause of the disaster through the devastating Hurricane Daniel, which caused huge amounts of rain to flood the city of Derna, already damaged due to years of no repairs, causing two old dams to break. ,
According to AP analysts, Daniel gained much of its energy from extremely warm ocean water; Warmer air holds more water vapor and causes more intense rainfall.
According to Mr. Simon Mason, Chief Scientist of the International Research Institute on Climate and Society at the Columbia School of Climate (USA), hurricanes in the Mediterranean region typically occur 1-2 times per year (common from mid-September to January) Next year) but usually not strong enough to reach "hurricane" level according to the US hurricane scale (corresponding to level 12 or higher according to the Beaufort wind scale).
Events like Daniel's are unusual, and according to Kristen Corbosiero, an atmospheric scientist at the University at Albany, there are factors related to climate change that make such unusual storms more likely to occur. In addition to Libya, Daniel also brought heavy rainfall to Greece, causing deadly flooding and destroying many residential areas and infrastructure.
4 countries stand shoulder to shoulder with Morocco
According to the AP, the best way to provide aid to Morocco – and Libya – is to donate to organizations already working on the ground in those places.
Morocco currently accepts support from only four countries: Spain, Qatar, the UK and the UAE. Earlier, Moroccan officials had expressed concerns that too much force but a lack of coordination would be counterproductive, in a context where the disaster area is primarily in the remote High Atlas mountains, the terrain difficult due to roads that have been damaged in earthquakes. Have gone.
Currently, the death toll from the disaster has been updated at 2,900 people. Electricity or telephone networks have not yet been restored to many Moroccan villages. The United Nations estimates that more than 300,000 people are affected, a third of whom are children.
Libya fears that the number of victims due to floods will reach 20,000