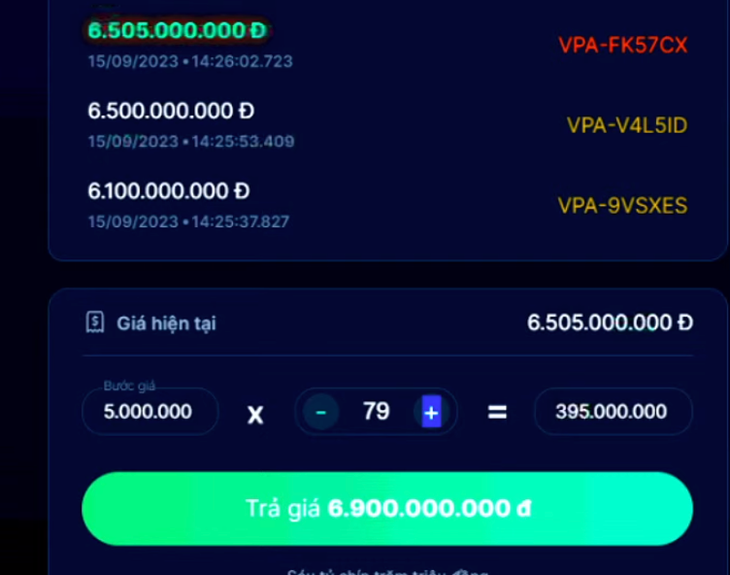 The car license plate auction continued on the afternoon of September 15. During the time frame of 1:30 – 2:30 pm, there were 3 license plates up for auction: 15K-188.88, 99A-666.66 and 36A-999.99.
At 13:30, many customers participating in the auction gave good feedback about the infrastructure of the auction website. They are easy to access and log in to participate.
Two license plates in particular from this time frame are 99A-666.66 (Bac Ninh Province) and 36A-999.99 (Than Hoa Province). These two license plates soon reached the limit of more than 3 billion VND.
In the last 7 minutes alone, the amount of money paid by participants increased rapidly and reached more than 7.4 billion VND just before the end of the auction.
At the end of the auction, license plate number 36A-999.99 had the highest auction price of 7.47 billion VND. Meanwhile, for license plate number 99A-666.66, the number is 4.27 billion VND.
After that, in the time frame of 2:45 PM – 3:45 PM, there will be 3 license plates up for auction: 43A-799.99, 47A-599.99 and 51K-888.88. Specifically, the focus in this time frame will be on the number 51K-888.88. (HCMC license plate).
Finally, in the time frame of 4:00 pm to 5:00 pm there will be an auction of 3 license plates: 88A-666.66, 65A-399.99 and specifically license plate number 30K-567.89 (Hanoi).
Earlier today, at 9:00 a.m., the first license plate 19A-555.55 began to be introduced on the floor. Many customers said that they accessed the website easily. After more than 2 minutes, the price of the license plate exceeded 1 billion VND. As of 9:07 am, the highest price paid for this license plate reached more than 2.1 billion VND.
The bidding level showed signs of slowing down after the auction lasted for more than 30 minutes. At 9:30 am, the highest price paid by auction participants for license plate number 19A-555.55 was more than 2.5 billion VND.
At 10:00 am, the auction ended with a displayed price of 2.69 billion VND.
Subsequently, at 10 a.m., license plate number 30K-555.55 remained visible on the floor. This is the number plate that is rated hottest as it belongs to Hanoi city number plate category. As expected, after just 10 minutes, the highest price paid for this license plate crossed the figure of 14 billion VND. At the end of the match, the highest number displayed was 14.12 billion VND.