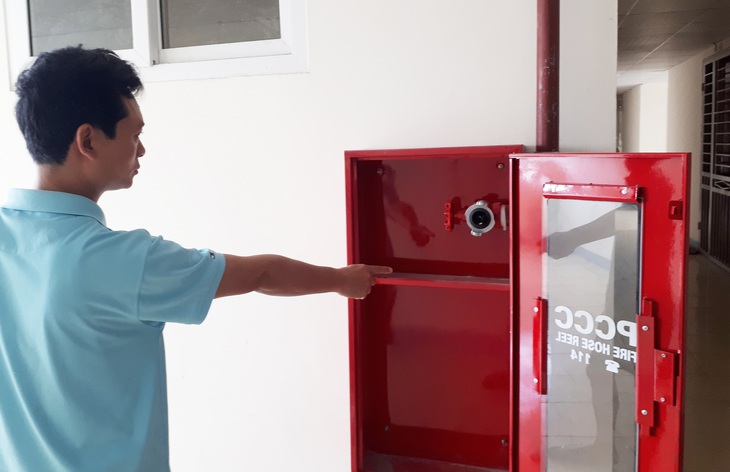 On September 15, Colonel Nguyen Duy Thanh, deputy director of the Nghe An provincial police, sent an official dispatch to the police of 21 districts, cities, towns and units to strengthen fire prevention and fighting in the areas. apartments and motels in the province, especially after several major fires in recent days.
Nghe An Provincial Police requested to conduct a review, basic investigation and comprehensive inspection of fire prevention and fighting and rescue work in 100% of apartments, mini-apartments and boarding houses with 3 floors or more. province.
Check fire protection and rescue system performance, system operating skills and maintenance; Check the common escape routes of the apartment building, boarding house, and backyard area for each home.
If there is a "tiger cage", we must firmly guide it to open the emergency exit.
The board of directors, apartment building management unit and owner of the mini apartment building are required to arrange for permanent security guards to protect the basement area of ​​the apartment (or the first floor where people's cars are parked) at night.
Charging car and motorcycle batteries in the basement area of ​​the apartment is strictly prohibited.
Promote and encourage the purchase of additional equipment for fighting and escaping fires in homes, such as: gas masks, rope ladders, slow descent ropes… so as to respond proactively in case of emergency. There are situations where incidents of fire and explosion occur.
Local police must complete inspection reports on fire prevention and fighting in apartments, mini-apartments and boarding houses with three floors or more before September 30.
From 2010 to now, 75 high-rise apartment buildings have been built in Nghe An, Vinh City, Cua Lo city and Dien Chau district, containing more than 9,000 apartments, providing housing for more than 40,000 people.
As noted tuoi tray online In Vinh City, although there are no specific statistics, through anecdotal surveys, mini apartments and high-rise boarding houses are mostly concentrated in the areas around universities, where a large number of students rent housing. These houses are built in small areas, located in the middle of residential areas.
Mini apartments and high-rise boarding houses feature mostly 5-10 floors. Regarding fire prevention and fighting equipment, the main equipment are only fire extinguishers and command signals.
Many mini apartments and high-rise rental homes use the first floor as parking space as well as a place to charge motorbikes and electric bicycles and a place to collect many flammable items.
(TagstoTranslate)nghe n