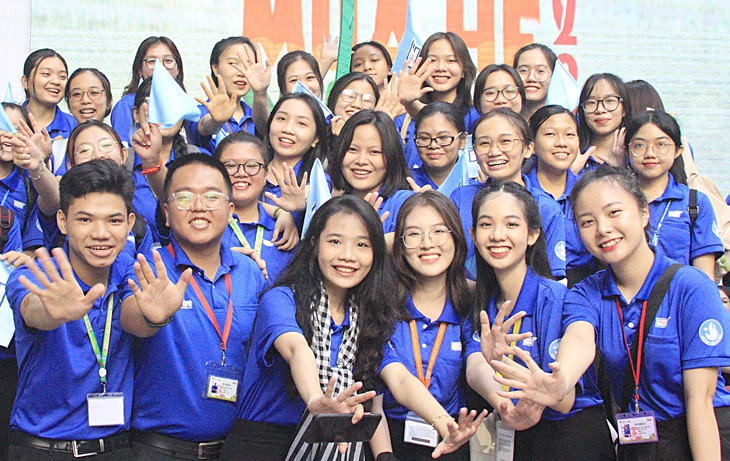 The Vietnamese Student Association of Ho Chi Minh City has just held a meeting to hear comments from leaders of several agencies and organizations in Ho Chi Minh City in preparation for the 7th Congress of the Ho Chi Minh City Student Association (term 2023-). 2028). ) is expected next October.
urgent
Students are the main workforce of Ho Chi Minh City and the entire country. Mr. Nguyen The Nghia said that it is very important to have a research project on student culture, and it can be separated into a separate program.
"We are seeing many negative changes in the society. Our loss is the loss of morality and culture. To stop this, we should do research and discipline, especially the students and the youth", Mr Nghia raised the issue.
Dr. Nghia said that no one can do better research on student culture than the student union. He suggests starting with questions: What is the ethical culture among students? What do students need to prepare morally before graduating and joining the intellectual and social team? What standards of political culture does a student need? Current student lifestyle culture?
Mr Nghia said this is not too difficult to do as Ho Chi Minh City has a team of knowledge, research and teaching that can support. Because this is a topic that needs to be researched, students will have direct discussions and surveys. With observations from all walks of life, from multiple sources of results, we can formulate a general model of what student cultural values ​​are and what student moral culture is.
"The next step is to organize students from different industry groups to practice the point model. When the results of the practice are good and meet the requirements, we will continue to supplement, learn from the experience, and then repeat it for most students " ," Mr Nghia said.
Promote attitudes and ethics
Ms. Luong Thi Toi (Department of Labour, War Invalids and Social Affairs of Ho Chi Minh City) said that today's students are mostly Z generation, who are close to Alpha. You have almost full access to 4.0 technology and artificial intelligence, there are many excellent advantages but it is also a set with many limitations and is subject to the great challenges of time.
Ms. Toi also shares the same view as Mr. Nghia that it is very important to pay attention to cultural issues among students today.
Ms Toi said Ho Chi Minh City's project to support and develop young talents and future leaders creates very favorable conditions for young people and students. However, the results of implementing this project are not clear in the draft document, nor is it clear how the City Student Association takes advantage of this benefit.
A survey shared by Ho Chi Minh City's Department of Labour, War Invalids and Social Affairs with over 213,000 businesses in Ho Chi Minh City (over 90% are small-scale enterprises) shows that businesses are the most important issue. Admit it. Problem. Ethics and professional attitude of workers. "You have the skills and professional qualifications, but if you don't put your attitude and ethics first, it will be very difficult for you to access businesses and get jobs," Ms Toi said.
Therefore, Ms. Toi suggested that the Ho Chi Minh City Student Association should promote activities and programs with students in embellishing and preserving national identity and culture, especially in creating a religious lifestyle. Appropriate qualities. Ms Toei warned, "In the current context when international integration is favourable, it is possible for youth in general and students in particular to show deviation from moral standards and national identity."
What is the unique value of Ho Chi Minh City students?
Mr. Le Nguyen Hieu (Ho Chi Minh City Union of Literary and Art Association) said that the strong spirit and strength through students' movements, campaigns and every activity in the city are the highlights. HCM compared to many other places. Student programs and activities clearly reflect creativity, leadership and professionalism.
From there, Mr. Hieu hopes that the student movement in particular and Ho Chi Minh City's youth movement in general need to highlight the values ​​of the people and culture of Ho Chi Minh City, and what the unique values ​​are in youth. , a town student named after Uncle Ho. This can be considered the basis for inclusion in a general research project on student culture by the Ho Chi Minh City Student Association.
"These are unique and outstanding features that will contribute to inspiring generations of students and youth in the city to follow and continue the example. Furthermore, it can be a flag to attract and spread the youth of the region .The southern region and the entire country. It is an honor but also a great responsibility," Mr Hieu commented.
(TagstoTranslate)Student Culture(T)Student Culture Research Project(T)pgs.ts Nguyen The Nghia(T)Vietnamese Student Association Ho Chi Minh City(T)Student(T)Association of Associations Ho Chi Minh City Science and Technology