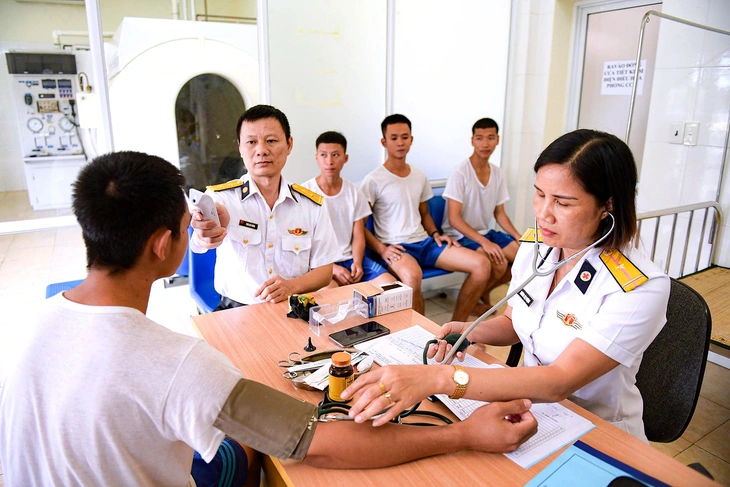 Specifically, the combat unit has trained female military medics to be resilient, strong and determined to successfully complete their assigned tasks.
"Boo, please check my health" – young soldiers jokingly interact with professional soldier Major Truong Thi Phuong (48 years old) during a routine health check in the brigade. Each individual receives dedicated care and a thorough health checkup.
Always consider colleagues as "children and grandchildren of the family"
"Here, new soldiers keep calling me boo-son. In fact, soldiers who are the same age as their children and grandchildren call me boo-son to create a close, friendly, happy mentality, regardless of rank or level. "Should say -Sun. Make you feel comfortable".
With a permanent smile on her face, female soldier Truong Thi Phuong has been working in Brigade 126 to take care of the health of officers and soldiers for 28 years.
It is a combat unit, so here every Special Forces soldier has to undergo rigorous training in a harsh and intense environment with high risk to security. Not only training for speed and swimming endurance, the task of Special Forces soldiers is also to train their ability to withstand water pressure to perform deep diving missions on the ocean floor.
At the brigade infirmary, after health checks, temperature checks and blood pressure measurements, the soldiers were placed in a pressure chamber increasing and decreasing the pressure, adjusting the pressure to that of sea water at the same depth. Many different depths to train stamina while diving. This activity is to ensure the safety of the country's Special Forces soldiers while undergoing training and operating in the real environment.
Ms. Phuong acknowledged that after long periods of training underwater in harsh environmental and weather conditions, almost everyone's skin becomes pale and thin, so some soldiers develop fungus on their skin. Therefore, military medical staff, in addition to treatment, also regularly ask about health status to quickly understand the disease and immediately encourage and share with comrades when encountering health problems.
"It is very difficult to train in difficult conditions, so I often encourage you to train hard every day. Only by completing the training tasks well will you be able to train your body and complete the tasks in all conditions I also often talk to new soldiers when they have to go away for long-term training and advise them to keep learning from their uncles and brothers to hone their bravery and fighting spirit" – Ms. Phuong said.
Not only on duty at the Brigade Infirmary, Ms. Phuong also performs the duty of ensuring military medical care at the training grounds, promptly monitoring and ensuring the health of officers and soldiers during field training.
"Do you prefer a military career?"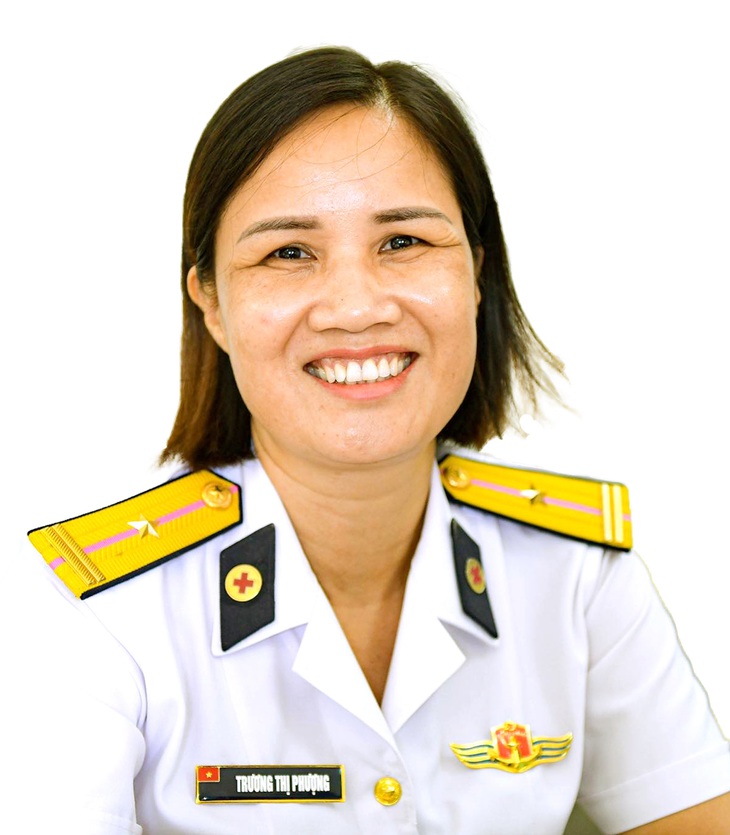 At 48 years old, Ms. Phuong has been with Brigade 126 for more than 28 years. She remembers the day her father – who was also a military medical officer – asked his daughter: "Do you want to follow the military career path like me?" ,
"I graduated in military medicine like my father and I also liked the military environment, so I was determined to follow my father's career," Ms. Phuong said.
In 1995, Ms. Phuong joined the army, being assigned to Brigade 126 and has been with them ever since. He shared that because of the military environment, he was destined to find a life partner in a professional soldier in the same unit, Lieutenant Colonel Pham Van Noh – Military Assistant to the Brigade.
Both husband and wife are soldiers and serve together in a special unit deployed from north to south, so the couple faced many difficulties in the first few days of life. Being a woman herself, she said that she has to be efficient in order to organize family functions smoothly and also strive to successfully complete the tasks assigned by her unit.
She remembers the days when her first child was born, her husband had to work away from home and she alone had to take care of the child and also handle the household work.
When her child turned 4 months old, she immediately returned to her work. By the time she gave birth to her second child, she had more experience in taking better care of her children. Earlier, the couple was arranged to stay in a hostel house by the unit. Now, after several years of savings, they have built a new house to settle down.
"Many times when the brothers go on long, long-distance business trips, the women in the unit often encourage and help each other to successfully complete tasks in the unit as well as at home" – Ms. Phuong shared.
Proud to be a part of the three time heroic unit
As women in the Special Forces unit, in addition to performing professional tasks, most of the women in the brigade also participate in special training operations with the unit.
In the brigade, all the women are very good at gunplay, good at martial arts, and the best at river surfing.
In addition, women are also trained in specialized content as soldier-combatants of the unit.
She stressed that perhaps the unique environment of the Navy's "particularly elite and battle-hardened" combat unit has created resilient, strong and determined female officers and soldiers to successfully accomplish assigned tasks.
Having spent all her youth in the unit, Ms. Phuong said that the greatest happiness is that comrades from everywhere in the unit unite, live together, love each other, and move forward together. Help to grow.
"The most special thing is that I was able to make a small amount of effort to make the brigade – three-time Hero of the People's Armed Forces unit, which is a personal happiness that is mixed with the common happiness of the unit, and is a A source of pride when working in this environment" – thought professional military major Truong Thi Phuong.
special elite brigade
Special Forces Brigade 126 is an elite, battle-hardened special force of the Navy and the Vietnam People's Army, which has been awarded the title of Hero of the People's Armed Forces by the Party and the State three times (in 1969, 1971, 2020).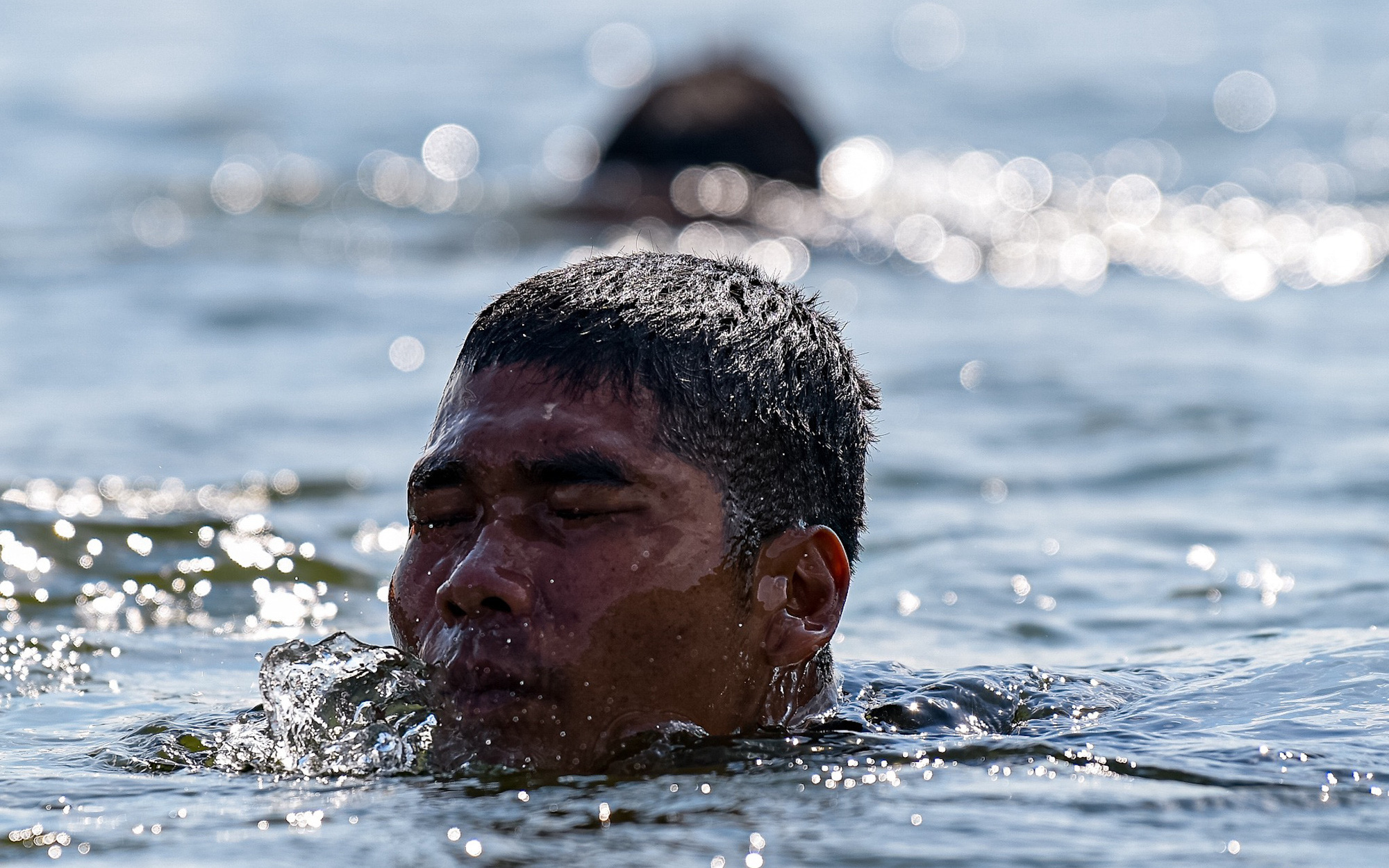 Impressive image of special forces immersed in water for practice
(tags to translate) Hero Brigade (T) Naval Commando Brigade 126 (T) Water Special Forces (T) Truong Thi Phone