On the afternoon of September 16, on the occasion of attending the China-ASEAN Expo (CAEXPO) and the 20th China-ASEAN Trade and Investment Summit (CABIS), Prime Minister Pham Minh Chinh held talks with the Prime Minister. Chinese State Councilor Li Qiang in Nanning city of Guangxi province.
At the talks, Prime Minister Pham Minh Chinh affirmed that the Party and state of Vietnam determine that developing friendly, stable and healthy cooperative relations with China is a strategic choice and top priority in its foreign policy. Vietnamese foreign countries. Prime Minister Li Kiang affirmed that China always regards relations with Vietnam as a priority in China's overall neighborhood foreign policy.
The two sides agreed to promote comprehensive strategic cooperative partnership between Vietnam and China. In particular, strengthening practical cooperation in the fields of economics – trade, investment and people-to-people exchanges; Maintain coordination and cooperation in multilateral mechanisms and fora; Coordinate to well manage land borders and control disagreements, as well as maintain peace and stability at sea.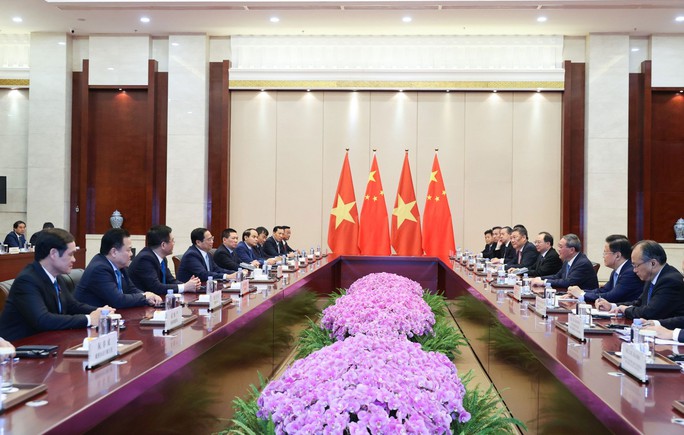 Prime Minister Pham Minh Chinh held talks with Chinese Premier Li Kiang on 16 September. Photo: VGP
Prime Minister Pham Minh Chinh proposed that China accelerate the opening of markets for Vietnamese agricultural and aquatic products, thereby creating conditions for the early establishment of Vietnam trade promotion offices in Chengdu (Sichuan) and Haikou (Sichuan). Coordinate to improve customs clearance efficiency and avoid congestion of goods at border gates. Vietnam is ready to create favorable conditions for Chinese businesses to invest and do business in Vietnam, especially large-scale, high-quality projects with modern technology, which are typical of China's level of development. Benefits the economy and people's livelihood.
Prime Minister Pham Minh Chinh said both sides need to strengthen traffic connections and border gate infrastructure, research cooperation in the planning and construction of several railway lines in the north of Vietnam; To improve the efficiency of transportation of goods bilaterally and through third countries. Prime Minister Pham Minh Chinh also proposed that the two sides promote tourism cooperation, coordinate to fully solve problems in multiple cooperation projects, and accelerate the implementation of China's non-refundable assistance to Vietnam. Will try.
Approving Prime Minister Pham Minh Chinh's cooperation proposals, Prime Minister Le Cuong affirmed that China will continue to open its market to Vietnamese goods, especially high-quality agricultural and aquatic products; Expand scale and improve trade efficiency through upgrading border gate infrastructure, linking policies, building smart border gates, and promoting local currency payments; Working together to create a stable supply chain and production chain…
Proposing both sides to increase people-to-people exchanges, Prime Minister Li Kiang confirmed that the Chinese government will encourage people to visit Vietnam, support the opening of new flight routes between the two countries and hospitals. Will promote projects. Health and education in Vietnam, while supporting people's livelihoods.
The two sides exchanged honest and candid views and agreed to adequately handle disagreements and reaffirm the importance of maintaining peace and stability in the East Sea. Prime Minister Pham Minh Chinh proposed that the two sides would continue to strictly implement high-level consensus and "agreement on the basic principles guiding the resolution of maritime issues between Vietnam and China"; Respect each other's legal and legitimate rights and interests; Resolve disputes and disagreements by peaceful means in accordance with international law, including the 1982 United Nations Convention on the Law of the Sea.
On the same day, Prime Minister Pham Minh Chinh met with Mr. Lieu Ninh, member of the Central Committee of the Communist Party of China, Secretary of the Regional Party Committee, Chairman of the Standing Committee of the People's Congress of Zhuang Autonomous Region. Guangxi; Met leaders of some major economic groups of China.
At the meeting with the Prime Minister, Mr. Tran Van, Chairman of the Board of Directors of China Railway Corporation (CREC), said the group wants to participate in investments in transportation projects such as the North-South High-Speed ​​Railway in Vietnam. , Lao Cai – Hanoi – Hai Phong high-speed railway and Hanoi Urban Railway. Meanwhile, Mr Wang Xiaojun, Deputy General Director of China Power Construction Group (Power China), expressed willingness to continue investing in Vietnam's power and infrastructure projects.
On this occasion, ministries, branches and localities of both sides organized a number of activities such as: the launch ceremony of the pilot operation of Ban Gioc (Vietnam) – Duc Thien (China) waterfall landscape area, and the construction launch ceremony of piloting "Huế Nghi Smart Border Gate – Huế Nghi Quản"; The Ministry of Agriculture and Rural Development of Vietnam and the government of Zhuang Autonomous Region, Guangxi signed a memorandum of cooperation.