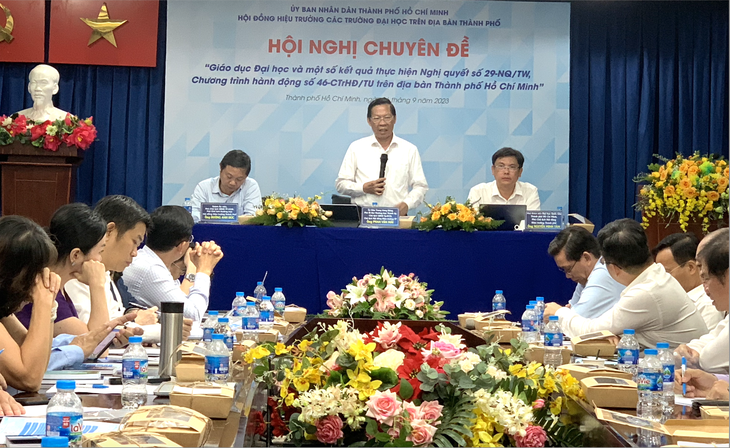 Encourage universities to set up innovation centers
Briefing university leaders at the Rectors' Council of Universities symposium in Ho Chi Minh City on the afternoon of September 16, Phan Van Mai, Chairman of the Ho Chi Minh City People's Committee, said the city encourages that the school has established an innovation center and Research and Development Center has been established.
There is a need to have entrepreneurship and innovation centers in universities. The school or town center may be located in the school. Currently, the Ministry of Science and Technology is raising the issue of establishing a national innovation center at a university in Ho Chi Minh City.
"If a school accepts this work, the city will support the school in fulfilling its role in national innovation. With Resolution 98, schools can fully align their financial resources with the city budget. To implement," Mr Mai said.
President Phan Van Mai agreed to propose selecting 5-6 universities to focus on building "startup universities". You can choose from many public schools and non-public schools which have enough potential to get first marks.
The process of creating R&D centers, start-ups and innovation centers can be studied as centers of excellence, which can then be linked to the policies of Ho Chi Minh City.
"When we establish those centers under the model of centers of excellence for leadership positions, implement policies on salaries, wages, incentives, including immunity from civil and criminal liability when performing scientific work without achieving results…" , Mr. Mai said.
Support for startups and innovation up to 400 million VND/project
Mr. Le Thanh Minh, Deputy Director of the Ho Chi Minh City Science and Technology Department, said that with respect to the successful policy mechanism of Resolution 98 in the field of science and technology, the Department currently advises the City People's Committee. HCMC to present to the City People's Council at the thematic meeting in September 2023.
Regarding salaries and remuneration for leadership positions in public science and technology organizations in the city and remuneration for carrying out scientific and technical work.
Accordingly, the salaries and wages of heads and deputy heads of leadership positions and departments at the head and deputy levels of science and technology units and organizations are equivalent to those at the department level of scientific and technological organizations. Technical staff receive a salary of 60–120 million VND/month (heads and deputy heads of units) and 40–100 million VND/month (heads and deputy heads of departments).
Regarding remuneration for science and technology functions, it will be proposed to increase the remuneration for positions conducting research, including the position of head of science and technology functions, to 60 million VND/month.
"This policy is to encourage the formation of strong research clusters and centers of international standards in the city. The Department of Science and Technology is also advising the city to consider issuing a non-refundable support policy to innovative start-ups. A maximum budget for activities 400 million VND/project.
Also, tax exemptions for innovation activities (corporate income tax, personal income tax) for organizations and individuals participating in innovative start-up activities in Ho Chi Minh City", Mr Minh said.
5 areas that need attention
Regarding the recommendation of the Council of Principals to direct departments to participate more deeply to the People's Committee of Ho Chi Minh City, the Chairman of the People's Committee of Ho Chi Minh City requested the departments to be more receptive and proactive. Done, if city orders are accepted. To put in order with the Principals and Council of Schools relating to their Industry.
Chairman Phan Van Mai said he was very impatient about two projects: the project to train 8 large companies with international standards and the project to make Ho Chi Minh City a regional and international human resources training center. He suggested that in parallel, in addition to carrying out research tasks, it is necessary to immediately draft an implementation plan or choose some things that can be done.
"Recently the President of the United States visited Vietnam, upgrading relations between the two countries to the level of comprehensive strategic partnership. With the transfer of microchip and semiconductor industries here, the story of human resource training has been taken very seriously. Being raised from. Big.
We see AI present in almost all sectors. Human resource training for AI is an extremely urgent matter. I would like to discuss in depth how to accelerate both these projects. At the same time, it is necessary to further promote scientific research activities," Mr. Mai stressed.
Mr. Mai also said that through discussions with the CEOs of the World Economic Forum, there are five areas that need attention: microchip technology, AI, environmental technology, life sciences and agricultural technology.
(tagstotranslate)universities