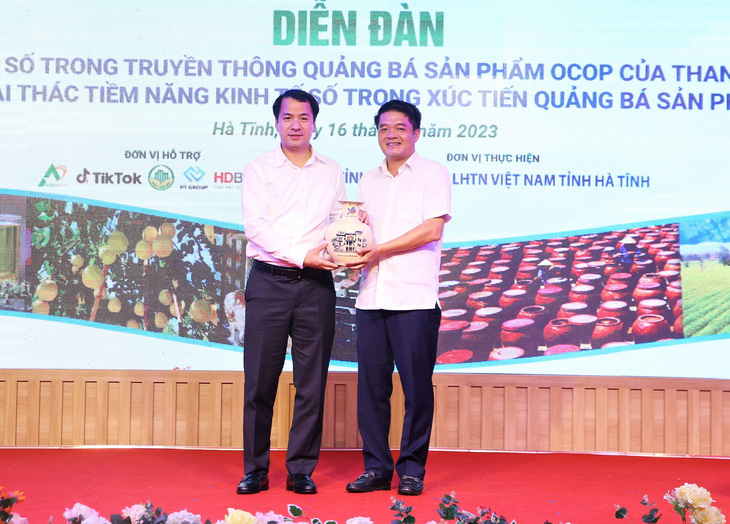 This was shared by Mr. Ngo Van Cuong, Secretary of the Central Committee of the Ho Chi Minh Communist Youth Union, at the forum "Harnessing the Digital Economy Potential in Promoting OCOP Products" being held in Ha Tinh on the afternoon of September 16.
This forum is an opportunity for disciplines, businesses and people to discuss the content needed to exploit the potential of the digital economy to develop agricultural product consumption, orient thinking and increase productivity on digital platforms. OCOP is highly effective in promoting products.
At the forum, Mr. Ngo Van Cuong said that the One Commune One Product Program (OCOP Program) for the period 2021-2025 is an important program to awaken the potential and benefits of rural areas and increase incomes. For citizens; Contributing to the continued restructuring of agriculture, trade, services and rural tourism…
As of March 31, there were 9,566 OCOP products rated 3 stars or higher in the country, of which 65.9% were 3-star products, 33.3% were 4-star products, and 0.7% were potential 5-star products. And there were 20 5-star products. product. In Ha Tinh alone, there are 250 products meeting OCOP standards, with 12 OCOP products achieving 4 stars; 238 OCOP products achieved 3 stars.
The economic and social development plan for the period 2021-2025 sets the task of promoting the development of the digital economy, digital society, smart manufacturing, new production and business models, sharing economy, ecommerce. Implement digital transformation across all businesses and state agencies.
In particular, digital transformation in agriculture should become the top concern of specialized management agencies, businesses, agricultural cooperatives and people living in rural areas.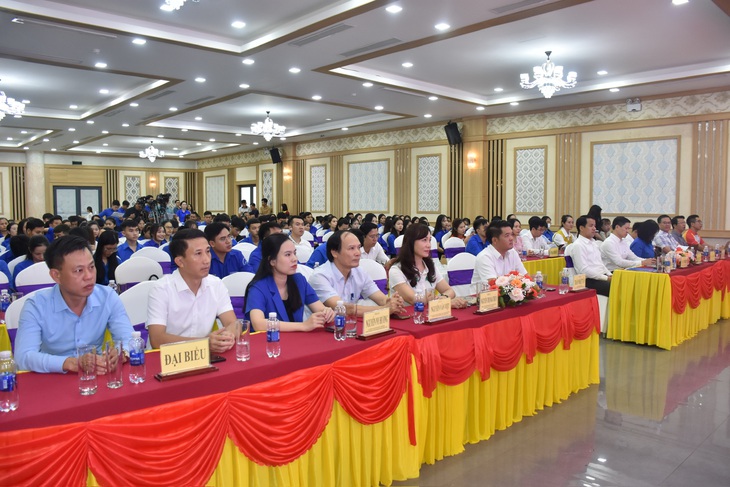 Recently, the Central Youth Union has implemented digital transformation in promoting and selling OCOP products to youth, presenting and selling on e-commerce trading floors, online sales channels and interactive sales. Live (Livestream).
Generally, digital transformation activities have brought positive results in communication and promotion of OCOP products among young people in Bac Kan, Bac Giang and Son La provinces. Typically, Bac Giang's livestream session brought in more than 1.6 billion VND in revenue.
"This shows that if we apply digital technology efficiently, we can save time, cost and effort altogether but be many times more effective than traditional methods. and set requirements for the youth association organization to equip youth with the knowledge and skills to apply digital technologies" – shared Mr. Ngo Van Cuong.
At this forum, youth in Ha Tinh sent many questions to Central Youth Association leaders, Trade Promotion Center representatives, New Rural Coordination Office and sales experts about how to promote the brand. On the TikTok platform, the plan is to encourage farmers and youth to use TikTok as a tool to enhance the brand value of OCOP products… All of these are answered exclusively by experts.
According to Mr. Ngo Van Cuong, the Central Youth Union will continue to work with provinces, cities and related units to organize forums, seminars and more in-depth training on the "One Commune, One Product" program, including digital transformation. Is. Material. The goal is to promote effective production and trading of OCOP products, especially participating in e-commerce and online sales.
(TagstoTranslate)Ha Tinh(T)Online Sales(T)Digital Economy(T)TikTok(T)Forum(T)Digital Transformation