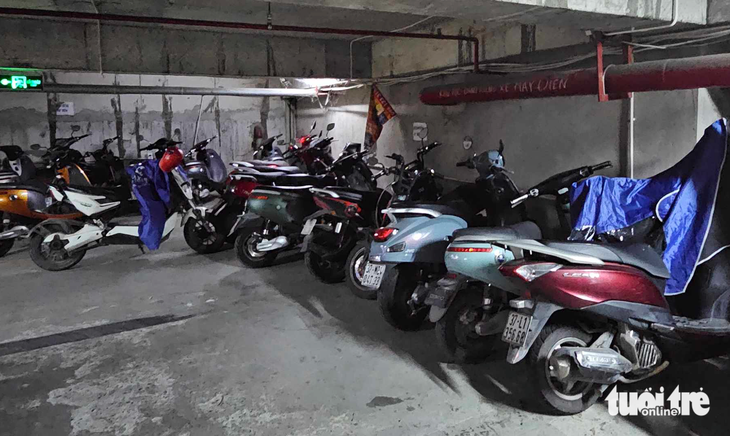 Information came on 16 September tuoi tray onlineThe leader of the Nghe An provincial police said the unit has sent a replacement dispatch to localities and units to strengthen fire prevention and fighting in apartments and motels in the province.
Earlier, on September 13, according to the contents of a dispatch from the Nghe An provincial police, it mentioned the need for a management board to manage and operate apartment buildings, and require owners of mini apartment buildings to have security guards on duty. Arrangements have to be made and guards in the basement area of ​​the apartment building (or the first floor where people's vehicles are kept) at night. Charging of cars and motorcycles in the basement area of ​​the apartment is strictly prohibited.
After the release of this document, some residents living in apartment buildings in Nghe An were concerned about this regulation and worried that they would not have a place to charge their vehicles in the near future.
Readers' response tuoi tray online Regarding this regulation, Ton Anh wondered: "So who buys an electric car and where to charge it at night if they live in an apartment?".
Mr Cock proposed: "The need for tall buildings to store electric cars is limited to placing them in residential areas or under apartments. Electric car parking areas should be ventilated and made of concrete to reduce heat. "To charge the vehicle battery, a charging system must be installed at the electric vehicle parking lot."
Meanwhile, Minh Nguyen further proposed: "Does the electric vehicle manufacturer have any responsibility in the event of a fire while charging the vehicle? What standards does the quality management agency have for vehicles?" Electricity or not?".
Realizing that the above direction is not in line with reality, Nghe An Provincial Police has adjusted the above direction with the plan: "…implement safety measures on electric bicycle charging area, electric motorbikes and electric cars in the basement And organize supervision of the charging process to ensure fire and explosion safety."
Nghe An provincial police tasked local police to complete inspection reports on fire prevention and fighting in apartments, mini-apartments and boarding houses with three floors or more before September 30.
More than 21% of homes in Nghe An have fire extinguishers
A report by the Nghe An provincial police shows that in the first 9 months of 2023, more than 100 fires broke out in the province, causing no loss of life and property damage worth about 2.1 billion VND.
Units and localities in the province promoted and organized more than 174,800 households to be equipped with portable fire extinguishers, primary demolition equipment and plans to handle fire, explosion and escape situations (achieving a rate of over 21% happened); 926 models of "fire prevention and protection joint family group", 2,069 "public fire fighting points" were built…