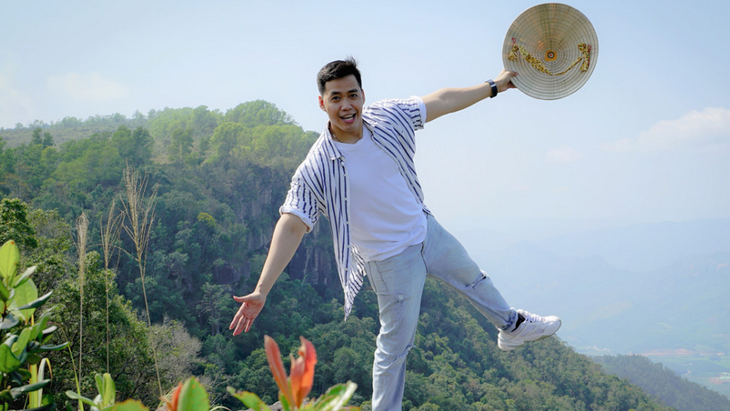 Mario's Popcorn channel currently has over 174,000 subscribers. "Mario is a video game that everyone in the 8th and 9th generation knows. Many people say that Dung's face is funny and funny like Mario. And popcorn was my favorite food when I was a kid", Hoang Dung said in his YouTube channel told the name of the funny game.
It is volunteer activities that help me gain more life experience and become more courageous when going to work. I hope that through everything I do, I can spread positive energy and love to others, so that people with unhappy lives feel like they are cared for.
Hoang Dung
Make a Popcorn Mario Channel, Love Every Vietnamese Place
Hoang Dung said that the Mario Popcorn Channel is his career, as it is a passion that he wants to be more involved with. Dung said that sometimes he doesn't make enough money to support himself, but he can't give up.
Hoang Dung, who lives far from home, always favors his hometown. In the first episode on your own travel channel, you talk about the place where you grew up – Bang Am Peak in Dai Hong Commune, Dai Lok District (Quang Nam).
Dung said: "Since I was young, I studied at the foot of the mountain and heard a lot about Bang Am Peak. It was very difficult to reach the top of the mountain because of the difficult path through the jungle. When I was studying journalism, I did two reports on Mt. This peak".
Several episodes were completed by this friend during his student days such as Legend of My Son Relic (Quang Nam), Legend of Our Lady of La Vang (Quang Tri) and Dung used visual effects to tell 3D stories each time. Did. Episode.
"I'm planning the next vlog episode to learn more about the culture of craft villages in remote areas of Quảng Nam such as the Dong Giang Heaven Gate tourist area or the Gong culture in this province," Dung claimed.
Wherever he goes, he collects many things. What Dung enjoys most is contributing to spreading the pride of each rural area to audiences near and far, helping viewers know and love their country more. For example, when the episode about Ba Dan Mountain in Tay Ninh aired, many people in Tay Ninh sent messages to Dung's channel: "This is my hometown, very beautiful, very proud."
And so are the episodes from other countries, with a general feeling of joy when seeing one's hometown reach so many people on screen. These things become the driving force for the Popcorn Mario Channel owner to travel more, to be able to introduce religiously related lands everywhere in his country.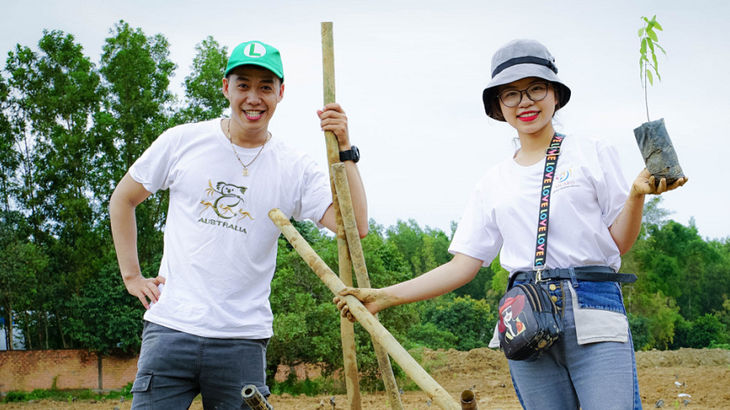 learn from travels
At that time, Dang's channel was 4 years old and was well received by viewers of various ages both in the country and abroad. Today popular cultural and spiritual tourism themes are expressed in a youthful form, with stories being told in 2D and 3D forms to further attract audiences.
Each clip provides more standard reference information for viewers as they have to carefully research the relevant issues each time they work, including notes that can be useful for customers to have more options before making a decision . This is quite important because sometimes the travel experience will not be complete because the customer has to spend more money for a service that does not require that amount.
From some reviews of famous travel destinations, Dung said that Vietnamese tourism still has great potential as there was once a comment that "Magical Vietnam" is one of the 10 must-visit destinations. It is also believed that the beauty of Vietnam is "like a sleeping princess who has just woken up" and of course it is necessary to make that princess shine with her beauty.
But like many opinions in the media, this frequent traveler also clearly stated that what needs to be done is to immediately stop the situation of high prices, to "cut off" the tourists somewhere who are still there, and private investment. Looking forward to the opportunity. The focus is on immediate gains from tourism.
Dung said he had the opportunity to visit many places, meet many tourists, and noticed that customers often ask about prices. They ask not only to know the price, but also out of inquisitive minds, out of fear of being "bitten".
"Sometimes I also get used to high-priced services at tourist destinations. I think we should sell services to tourists at the same price as locals, no matter where they are. This will help Vietnam tourism in the eyes of international friends. The image will be better." Gobar shared.
a warm heart
This 9X guy also particularly enjoys volunteer work. When he was a student at Da Nang University of Education, Hoang Dung used to be the head of Bo Cong Anh Charity Club. You regularly organize fundraising film screenings, organize visits and give gifts to disabled children and people in difficult circumstances.
Not only that, Dung and his friends also founded a Hot-Blooded Club with the support of the Red Cross Society of Hoa Minh Ward, Lien Chieu District (Da Nang). Whether it is day or night, whenever there is a case in the hospital that needs blood urgently, Hoang Dung's group will immediately mobilize students to donate blood.
Dung himself donated blood several times if a patient needed it urgently but could not find a suitable person with the right blood group. Dung honestly said that he was scared at first, but when he saved someone, he felt very happy and satisfied. He became addicted to it and liked donating blood without even realizing it.
Get views without worries, get paid quickly
Ask Dang, in fact many YouTubers are just looking for views without caring, what do you think about this? Dung laughingly said that he knows of some cases of attracting viewers with sensational and offensive clips, but there were many channels that had to pay the price when the community turned their backs on them and blocked their channels Went.
Dung said that in a context where everyone can set up their own channel, the strictness of the audience puts pressure on content creators to be even more vigilant about always creating clean, strict content.
"Despite asking for likes and views, the results will come very quickly. The public today is a very thoughtful audience and they have their own criteria for evaluating individual channels on social networks, which is not wrong," Dung said.
(TagstoTranslate)Vietnamese Travel (T)Show Your Love for Vietnamese Travel (T)Hoang Dung (T)Mario Popcorn (T)Youtube Channel