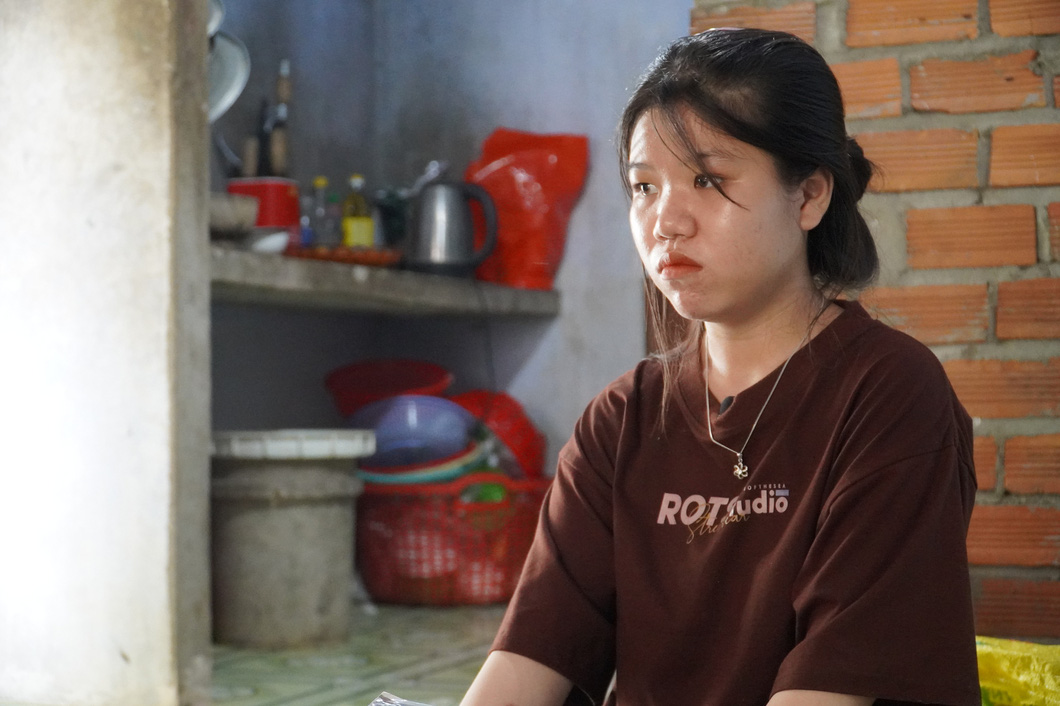 During the scorching sun, everyone in the fishing village is busy fishing boats to earn a living. In a dilapidated house at the end of a sandy lane leading to the beach, Hang is cooking rice and frying eggs for her family's lunch.
The father forgot his illness and taught his two children a lot.
Hang said that the day before she had gone to Nha Trang city to find a place to live in preparation to enroll in the finance and banking major at Nha Trang University. But renting near school is quite expensive, renting far from school means no car to get around, which makes Hang worried and anxious.
Six years ago, Hang's parents divorced. Hang and her younger sister named Hoai (currently in 11th grade) live with their father, Mr. Le Duc Hoang, who suffers from a congenital disability, his left leg is deformed, he has cramps in his legs, and He has diabetes so he is ill. Anant. Yet that man is a source of support and life for the entire family.
Every day, Mr. Hoang dives to clean rented seafood cages, and earns 150,000 – 200,000 VND.
On days when no one hires him, he dives to catch snails and oysters to sell to earn extra money, as well as 600,000 VND monthly assistance amounting to more than 2 million for disabled people.
With this small amount of money, he spent economically, took care of the lives of his father and son, took care of the education of his two children, and saved a little to buy medicine.
Over the past 6 months, Mr. Hoang's health has declined. There are days when people hire divers to clean the cages but they cannot go to work. Income decreased, making the already difficult life of father and son even more difficult.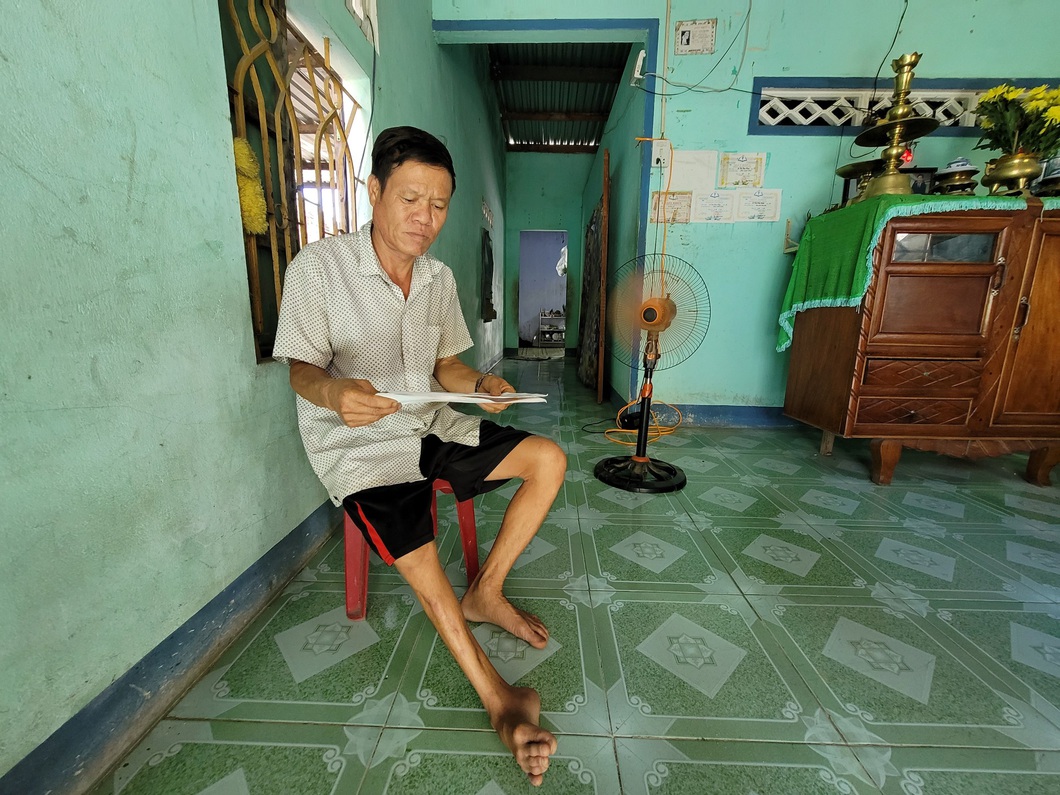 Loving his father, Hang was determined to pursue a good education. You have always been an excellent student for 12 years. Being of school age and unable to do heavy work to help her father and earn extra income, Hang takes on all the household work.
After finishing her high school graduation exam, Hang went to look for a part-time job at a milk tea shop in her hometown. Over the past few months, you have also earned 3 million VND, relieving some of the burden on your father's shoulders.
"Since the day my mother left, my father has forgotten about his illness and age, and is single-handedly taking charge of the life of father and son. Now that I am going to college, the cost of the first semester It's much bigger than that, and I don't know where to find it." , I still have a few more years before I finish school. And then my sister, who will go to college next year.
I don't know if I can afford it alone. I also have some plans, when I enroll in school, I will try to find a part-time job to take care of some of my expenses" – Have faith.
To raise money to take care of his two daughters' education, Mr. Hoang borrowed ¥30 million under a poverty alleviation program and bought cows to help raise his sister. So far, Hang has passed the university entrance examination, but the loan has not been paid off yet.
He said he planned to borrow more for Hang to cover startup costs, and he had two cows left to sell if he had trouble handling them.
If my children drop out of school due to difficulties, my life will be a complete failure, so I encourage my children and myself to work twice as hard to achieve the desired goals.
University path and achievements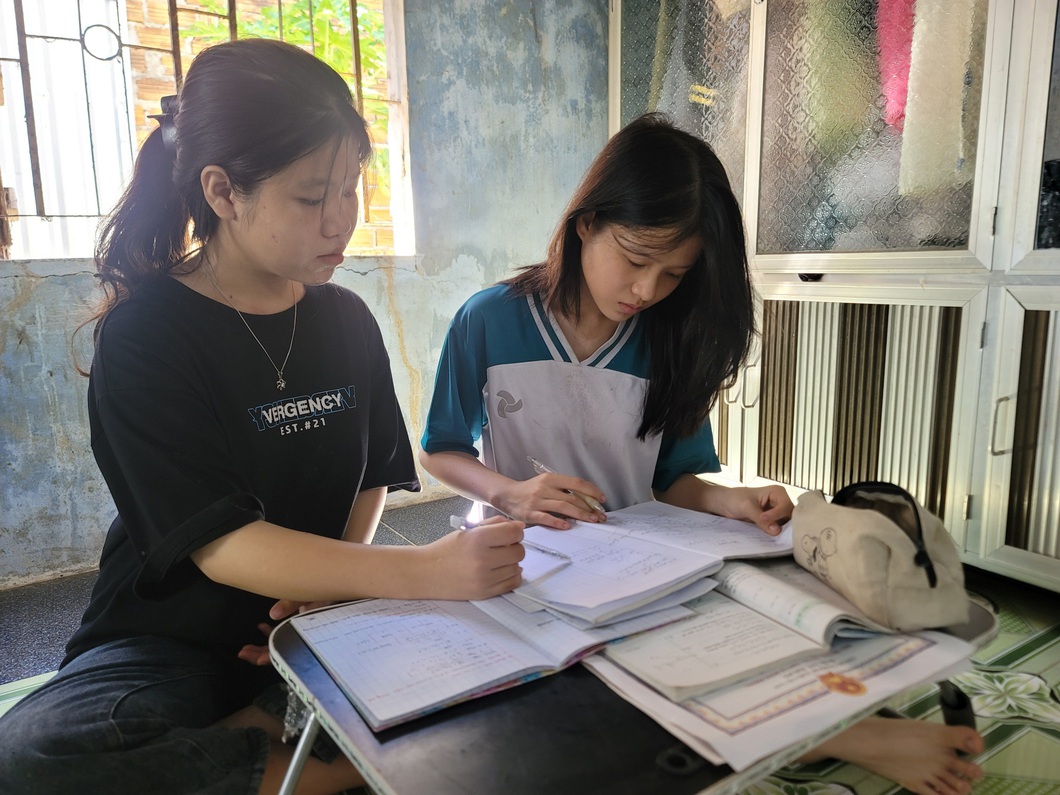 The Hang sisters' study in the house is a folding table several inches wide, tucked neatly next to the kitchen. Books are kept neatly in the corner of the cupboard. Hange looked at the old, moldy curtains and said that because the bedroom was too small, she should take it outside to study, which was brighter and more spacious and comfortable.
Thanks to his hard work, diligence and perseverance over the years, Hang has passed the entrance examinations to several universities in Da Nang and Ho Chi Minh City. But since circumstances did not allow it, you had to give up the idea of ​​going to a big school and choose Finance and Banking at Nha Trang University.
"At the moment it is the most suitable choice for me. The cost of living in Nha Trang is lower than in big cities, and it is not too far from home, so it is convenient to visit my father and sister in my free time" – Hang shared…
Following her example, her younger sister Thuy Hoai is equally hard-working. In addition to helping with studies and household chores, you also apply for a part-time job at a clothing store. Her salary is more than 3 million VND every month, which Hoi gives to her sister's college expenses.
"I will study while working part-time for my father, spend my free time helping him with the housework and taking care of him so that I can feel more secure in studying. My goal is also to pass university like my sister " – Hoi told.
Hang emotionally hugged his sister. The poor freshman admitted: "The image of my father and sister struggling has inspired me to try harder and study better."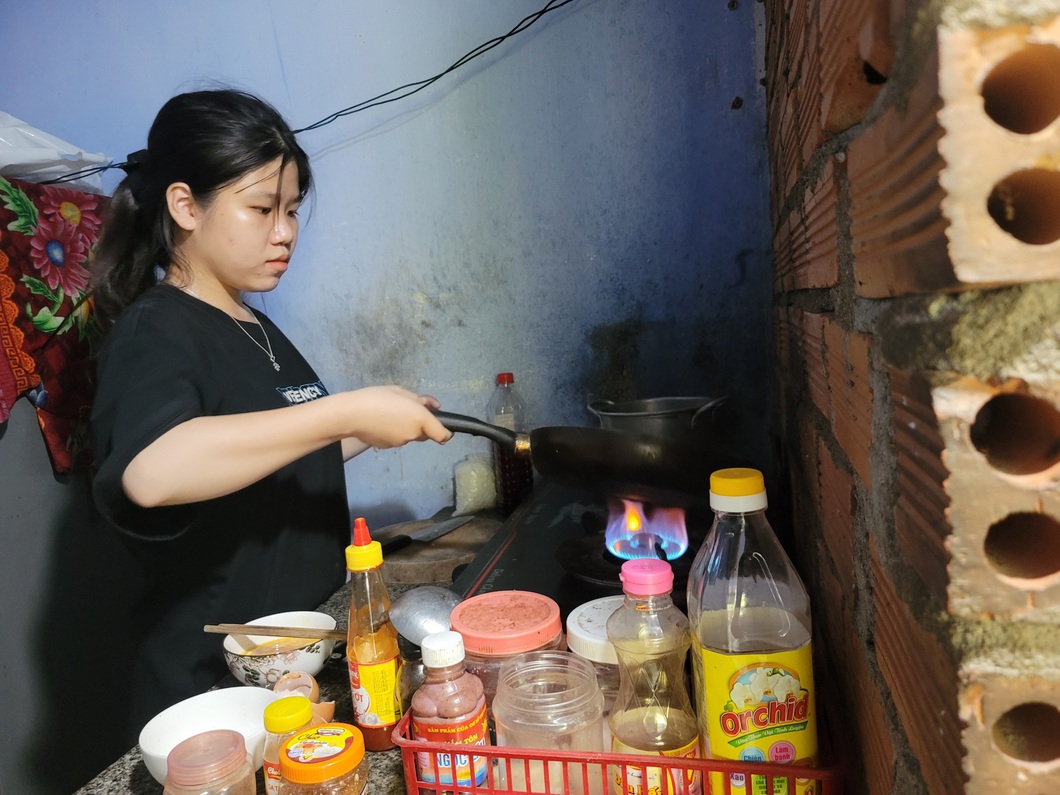 Ms. Nguyen Thi Nga – homeroom teacher of Class 12C1, Le Hong Phong High School – said that Hang is a hard-working student, loves her younger siblings and gets along with everyone. Hang's academic achievements are also more outstanding than those of his classmates.
According to Ms. Nga, when their parents divorce, students' psychology will come to many different states, bored or isolated… But Hang is different, to turn difficulties into inspiration Very calm and courageous. Practice and get high marks in every subject.
"To encourage Hang, the school always provides support such as providing scholarships from the school, from benefactors, or considering waiving the cost of studying for the high school examination for him. What makes me very appreciative is that Despite his poor health, "I don't allow it, but Hang's father is very attentive and caring to his children. I hope the society will support me so that Hang has the opportunity to continue his educational dream" – Ms Nga said.
The family has been poor for many years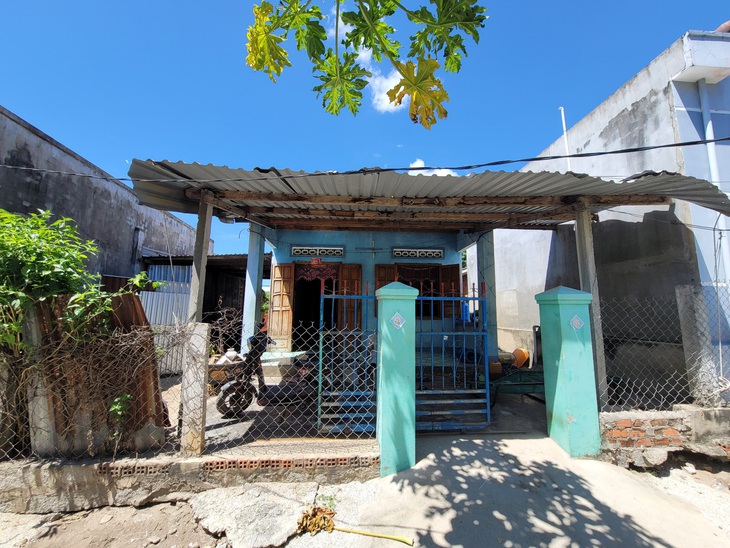 Mr. Huynh Ngoc Sang, vice chairman of the Van Hung Commune People's Committee, said Mr. Hoang's family had been a poor family in the commune for many years. Mr. Hoang is disabled, often ill, and has difficulty raising his two school-age children.
"For many years, the commune has always paid attention and introduced this house to humanitarian organizations and philanthropists for support. In addition, local party committees and officials all come, give gifts and encouragement on every Tet holiday .support the books in the new school year…but it made no difference" – Mr. Song said.
Readers who support scholarships for new students, please transfer them to the newspaper account Youth: 1130000006100 Industrial and Commercial Bank (Vietinbank), Branch 3, Ho Chi Minh City.
Content: Support "Help Going to School" for new students or specify the province/city the reader wishes to support.
Readers and businesses abroad can transfer money to the newspaper Youth: USD Account 007.137.0195.845 Ho Chi Minh City Foreign Trade Bank; EUR account 007.114.0373.054 Ho Chi Minh City Foreign Trade Bank with SWIFT code BFTVVNVX007.
Content: Support "Help Going to School" for new students or specify the province/city the reader wishes to support.
In addition to funding scholarships, readers can support teaching equipment, housing, jobs… for new students.

(TagstoTranslate)Le Thi Thuy Hang(T)Nha Trang(T)Help to go to school(T)New students in difficulty(T)Help to go to school 2023