On September 17, in Nanning city (Guangxi province – China), Prime Minister Pham Minh Chinh met with Chinese Prime Minister Li Kiang, Lao Prime Minister Sonexay Siphandon, Cambodian Prime Minister Hun Manet, Malaysian Prime Minister Anwar Ibrahim and leaders of ASEAN countries. of. The opening ceremony of the China-ASEAN Expo (CAEXPO) and the 20th China-ASEAN Trade and Investment Summit (CABIS).
Speaking at the opening ceremony, Prime Minister Pham Minh Chinh emphasized that China-ASEAN relations have seen great progress over the past 20 years, with bilateral trade growing from just US$78.2 billion in 2003 to US$975.6 billion in 2022. , making China and ASEAN each other's largest trading partners and top important investment partners.
Prime Minister Pham Minh Chinh proposed to strongly promote bilateral trade for balanced and sustainable development, striving to make ASEAN the first trade partner of China to exceed USD 1,000 billion; Continue to open up the market, fight protectionism, cooperate to improve the ability to adopt new standards, new tastes, green products…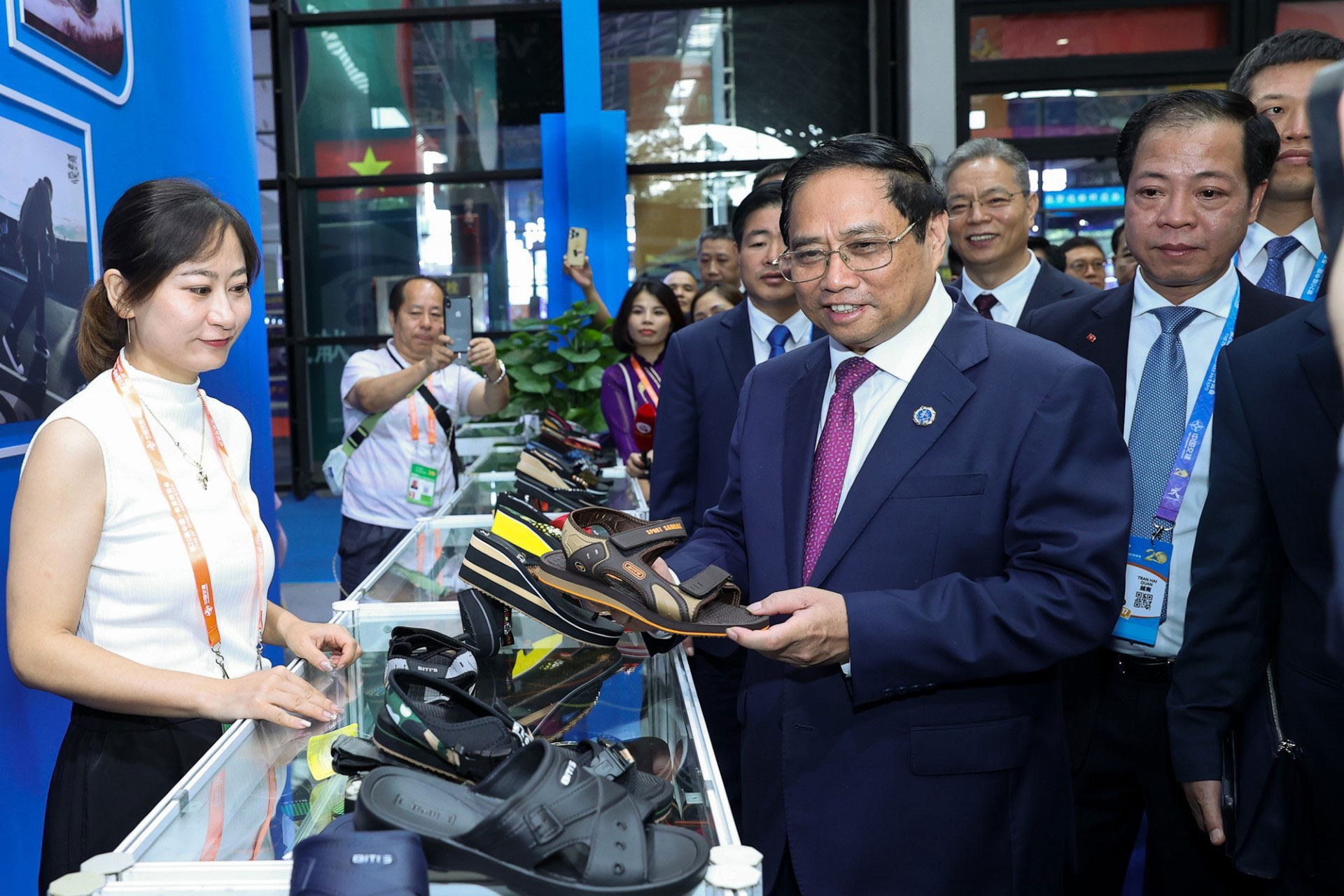 Prime Minister Pham Minh Chinh visits Vietnam's trade pavilion at the China-ASEAN Expo (CAEXPO) Photo: VGP
Furthermore, promoting strategic connections to develop both hard and soft infrastructure; Promote linkages between ASEAN's vision on "Belt and Road" and Indo-Pacific cooperation, as shared by leaders at the recent ASEAN-China Summit; Strengthen transportation infrastructure connections, expand and connect more widely to bring ASEAN goods to Europe, Central Asia through ASEAN countries as well as China…
Also, promote cooperation in emerging regions, create new growth drivers such as green economy, digital economy, circular economy, new materials, sharing economy…
Vietnam seeks to urgently complete negotiations with China and ASEAN countries to upgrade version 3.0 of the ASEAN-China Free Trade Agreement; Upgrade road and rail transport infrastructure connections, put the smart border gate model into pilot expansion.
Chinese Prime Minister Li Kiang confirmed that China is ready to implement cooperation agreements with practical actions; To promote openness in regulations, management, standards, promote and protect fair competition, and create a safe and favorable investment and business environment.
China is willing to continue to expand imports of products with the strength of ASEAN countries, improve the level of regional connectivity; Expand cooperation in new areas such as green development, digital economy…, build a more stable and smooth industry chain and regional supply chain.
On this occasion, Prime Minister Pham Minh Chinh inaugurated and visited the Vietnam and China Trade Pavilion. The Vietnam Trade Pavilion is massive with the participation of 120 businesses and 200 booths. The Prime Minister hopes that with the advantage of geographical proximity, Vietnam will become a goods transit point and an important link in the supply chain between ASEAN and China.
Following this activity, the Prime Minister and the Vietnamese delegation returned home after successfully concluding their business trip to participate in CAEXPO and CABIS.
On the afternoon of September 17, Prime Minister Pham Minh Chinh led a high-ranking Vietnamese delegation from the capital Hanoi to the United States to attend the high-level general discussion session of the 78th session of the UN General Assembly, combining bilateral activities. From 17 September to 23 September 2023.