A week has passed and the number of deaths, injuries and material damage has yet to be assessed. The overarching question, along with the emergency relief process, is why such a terrible disaster occurred and what lessons can be learned.
Looking back at this incident, one cannot avoid noticing and feeling sad about three things. First of all, the weather forecast is not good. Heavy rain and strong winds are forecast but the levels are imprecise, causing subjective psychology.
Second, the dam itself in Derna is in poor condition and is not regularly maintained. This dam was built by an Italian company, but after getting trapped in the Libyan war in 2011, this company left it and went back to the country.
Third, emergency relief is not effective.
In the above three, in addition to the objective cause of the storm causing sudden flooding due to heavy rains, the subjective cause lies in the fact that the area where the dam broke is located between two areas controlled by two parallel governments in Libya. Control.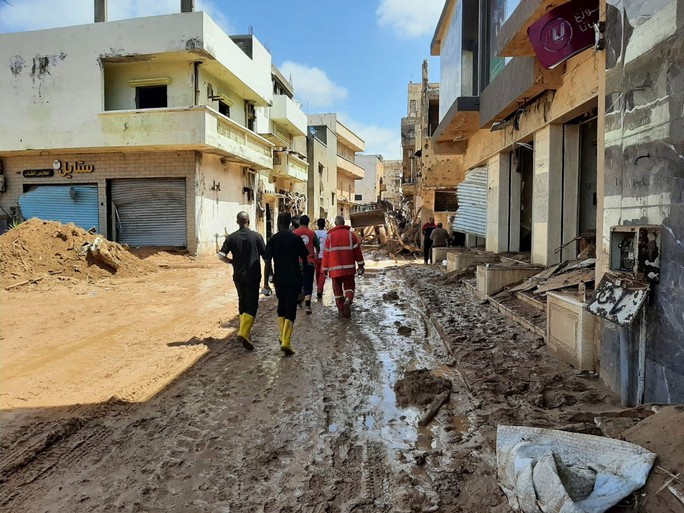 Libyan Red Crescent forces provide relief in the city of Derna after the flood disaster Photo: Reuters
The first lesson from the disaster in Libya is that once the country falls into war and loses security and stability, all disaster prevention and response actions cannot be timely and effective. It is not respected or prioritized by the authorities.
The next lesson is to invest adequately and regularly in weather forecasting and disaster warning systems as well as prevention and response operations. Isn't prevention always better than cure! For Libya, this is currently very difficult, even impossible to some extent, because both governments have no capital, because the socio-political situation is unstable and persistent, because of any influence on it at home or abroad. Almost no adequate attention has been paid.
Political factions in Libya are also responsible for this disaster, because they have long put the struggle for power in the first place. Disasters can always strike suddenly in this world. Falling into such bad situations, the country and the people, the people and the government should come together as a group and focus on dealing with the crisis. Libya is currently not, so it has fallen into a state of "disaster without hope".
The above lessons are not difficult to recognize. It's just that perception is one thing, actual action is another!