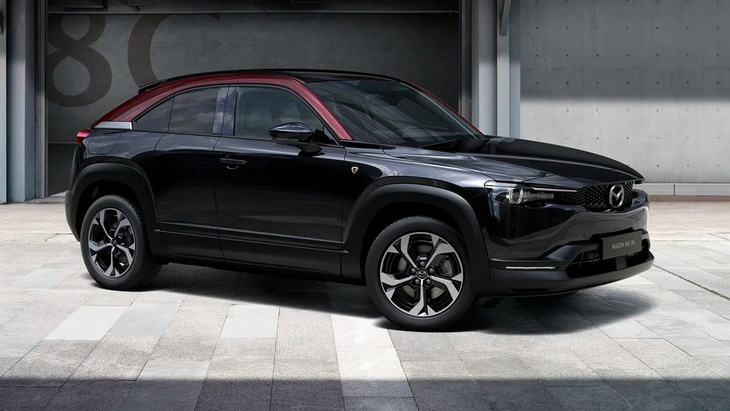 On September 15, Mazda officially opened for sale the mid-life updated version of its first electric car, the Mazda MX-30. Compared to the original prototype, the upgrade promises to bring a vastly different experience than the previously criticized version.
By adding an 830 cc rotary engine as a generator to recharge the electric battery, the operating range of the Mazda MX-30 is significantly improved. This motor is responsible for recharging the 17.8 kWh battery – the capacity is only half of the original's 35.5 kWh. These two factors balance each other, so that the price of the car does not increase (or decrease) even if a new engine is added.
With these changes, it's probably now a bit of a mistake to call the Mazda MX-30 an electric car when configured in this facelifted version, so it's more correct to call it a plug-in hybrid. However, this hybrid form from Mazda is also different, as it has no direct connection to the wheels/transmission, instead simply acting as a generator to recharge the battery.
If running solely on electricity, the new Mazda MX-30 has a range of only 107 km due to the change in battery capacity. However, when using the engine to charge the battery, the total operating range increases to 770 km.
The car has a fuel tank whose capacity is usually much larger than that of hybrid cars, at 50 litres. Reverse charging technology allows the MX-30 to power an entire home for up to 9 consecutive days when the fuel tank is full.
In addition to adding an engine to the Mazda MX-30's transmission system, there is also an upgraded drive motor. The new motor specifications are 168 horsepower/260Nm compared to 143 horsepower/271Nm of the older version.
The reference starting price of the Mazda MX-30 2024 in Japan is 4,235,000 yen, equivalent to 696.7 million VND. This price is lower than the previous pure electric version, starting from 4,510,000 yen, equivalent to 741.9 million VND.
When it went on sale in mid-2020, Mazda's first electric car model, the MX-30, was immediately criticized for its "terrible" operating range of 209 km per full charge. At the time, the company had said that the above numbers were sufficient for customers who used the car only in urban areas on a daily basis.
However, poor sales of vehicles in open markets, such as only 66 vehicles in the US in the first half of 2023, clearly show that users do not agree with Mazda's statement. Although it continues to sell the MX-30 in Japan, Mazda has admitted defeat in North America and will withdraw the MX-30 from the sport starting next year.
(TagstoTranslate)Mazda(T)Mazda MX-30(T)Mazda Electric Car