According to UN News, countries adopted 17 SDGs in 2015 with a promise to leave no one behind. The goals include ending extreme poverty and ensuring that no one goes hungry by 2030. Other goals are to ensure access to clean water, safe sanitation, clean energy, good quality universal education, gender equality…
The 17 SDGs contain a total of 169 smaller goals. However, Mr Guterres warned that only 15% of these targets are on track and many others are heading in the opposite direction. Several crises and challenges have reduced the attention and funding devoted to achieving the SDGs.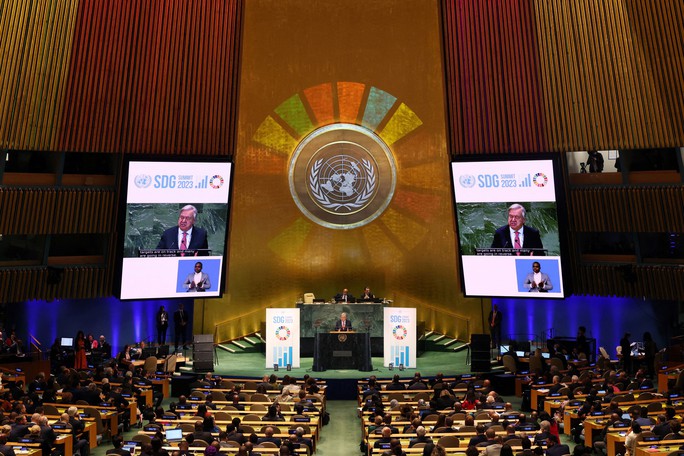 UN Secretary-General Antonio Guterres speaks at the SDG summit in New York City – USA on 18 September. Photo: Reuters
UN General Assembly President Dennis Francis said that about 1.2 billion people will still live in poverty by 2022 and about 8% of the global population will still face hunger by the end of the decade. At the current pace of implementation of the SDGs, 575 million people will still live in extreme poverty and 84 million children will not be in primary school by 2030.
At the above conference, leaders adopted a political declaration on accelerating action to achieve the 17 SDGs. The declaration includes commitments to finance developing countries, support for effective debt reduction mechanisms, reform of the international financial architecture… "With ambitious coordinated action, by 2030, we can lift 124 million more people out of poverty." and ensure that more than 113 million people are no longer undernourished" – Mr Francis confirmed.
heroine