According to Phan Van Mai, Chairman of the Ho Chi Minh City People's Committee, since the establishment of diplomatic relations in 1973, the pace and level of development of Vietnam-Japan relations has always been fast, stable and solid, and has been continuously upgraded. From 'long-term stable partner' in 2002 to 'strategic partner' in 2009, to 'comprehensive strategic partnership for peace and prosperity in Asia' in 2014.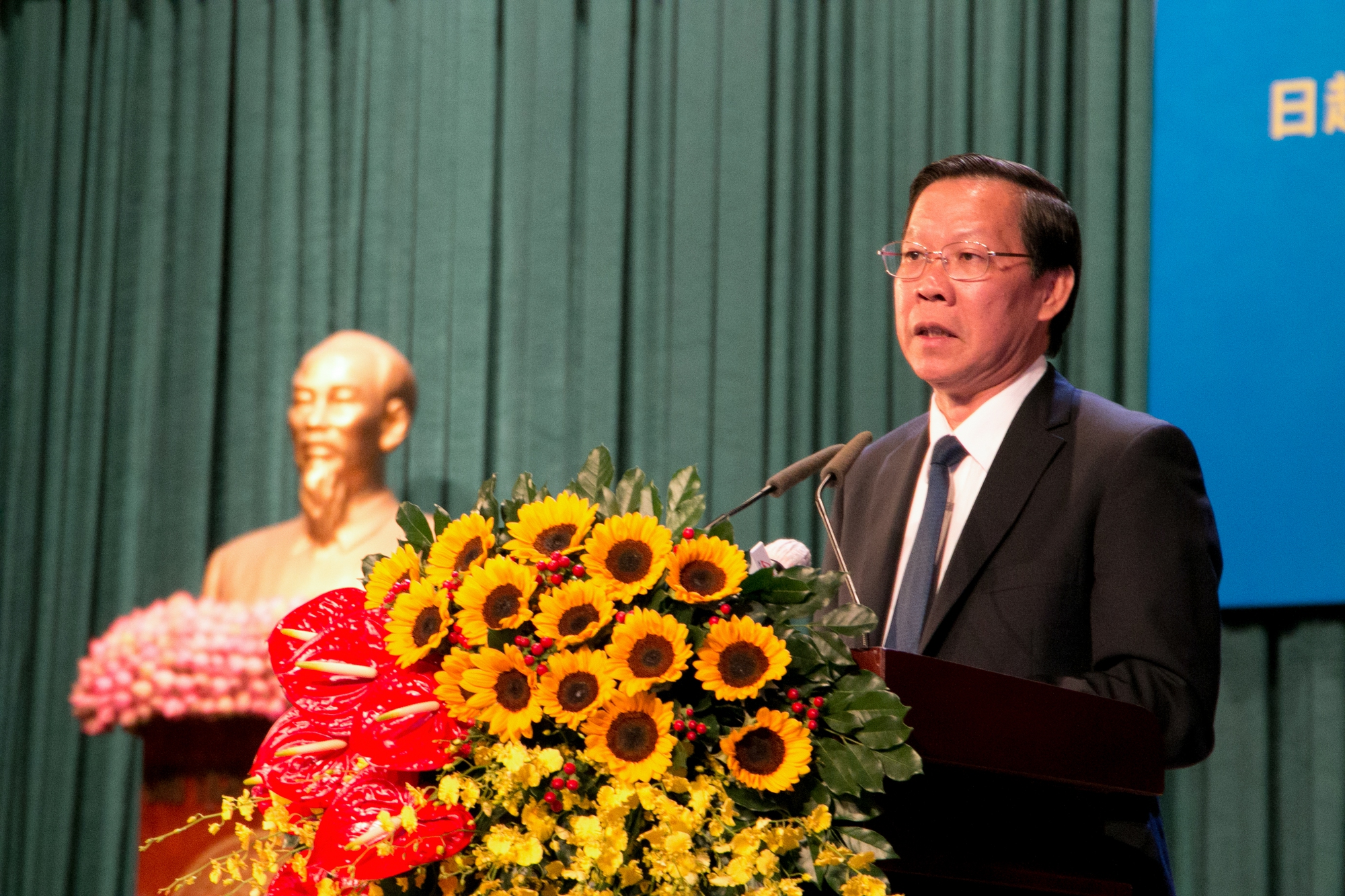 Phan Van Mai, Chairman of the Ho Chi Minh City People's Committee, spoke at the ceremony on the morning of September 20
The achievements that both countries have made over five decades include more than 70 cooperation documents signed by the local people of both countries to strengthen relations and support each other for mutual development. Ho Chi Minh City is proud to contribute approximately 1/10 of this number, cooperation documents have been established with 7 Japanese localities: Aichi Prefecture, Hyogo Prefecture, Nagano Prefecture, Shiga Prefecture, Osaka Prefecture, Osaka City and Ho Chi Minh City. Minh City. Yokohama city.
Relations with Japanese localities in particular, and Japanese partners in general, have always been one of the top priorities of the Ho Chi Minh City government. That emotional attachment has been nurtured through a series of exciting exchange activities and effective collaboration projects.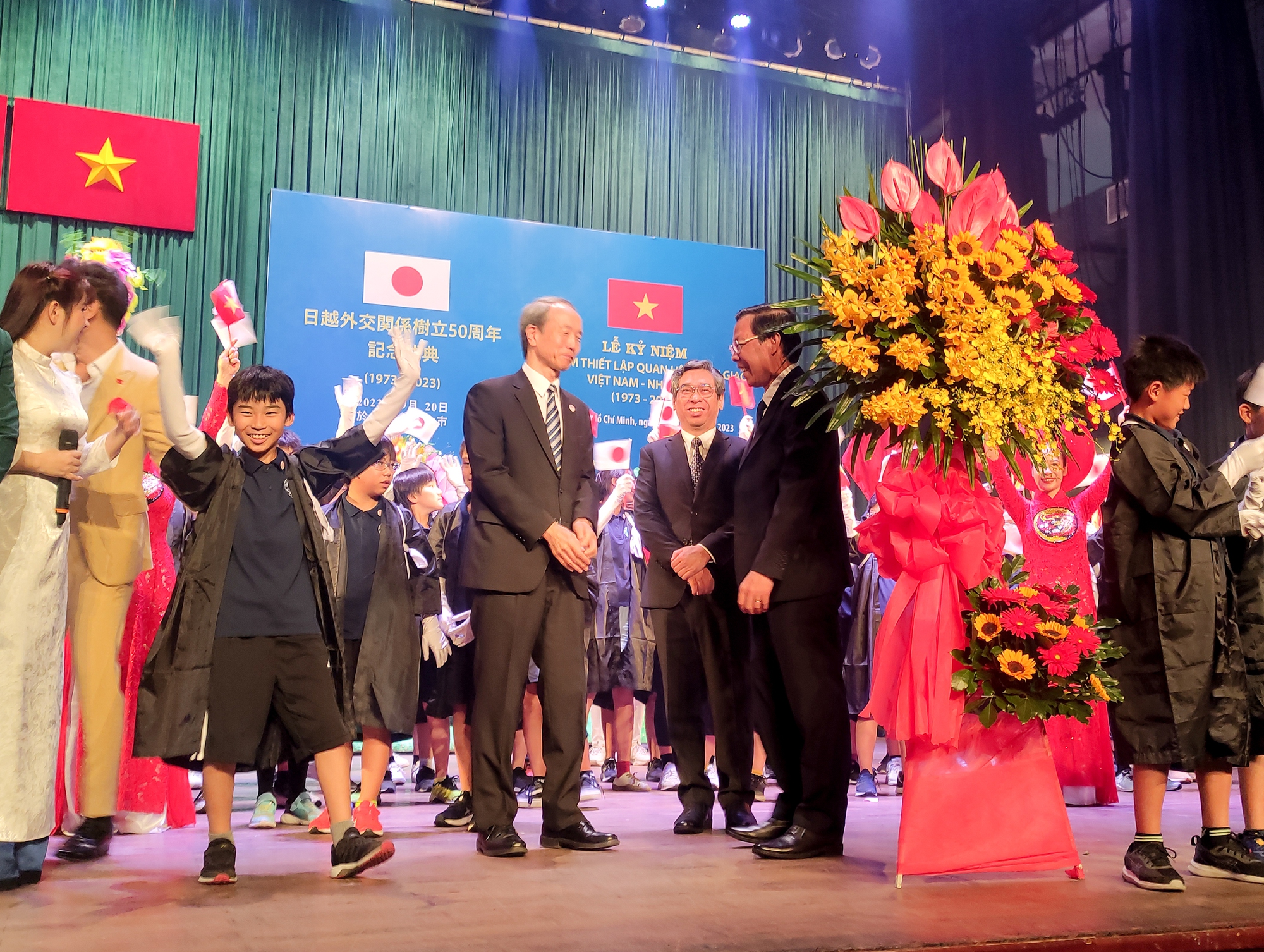 Phan Van Mai, Chairman of the Ho Chi Minh City People's Committee, Ono Masuo, Consul General of Japan in Ho Chi Minh City and diplomats exchanged views at the celebration
From 2009 to now, Japanese investment in Ho Chi Minh City has increased more than 40 times, reaching more than 1,600 projects with a total capital of approximately USD 8.2 billion. Ho Chi Minh City – Japan trade turnover has increased from US$3.3 billion in 2009 to approximately US$5.1 billion in the last year.
These impressive growth rates have made Japan the city's third-largest investor and fifth-largest trading partner.
Mr. Phan Van Mai expressed hope that this special milestone is an opportunity for both sides to renew their commitments, set new goals and new milestones together, bringing Vietnam-Japan relations to the next level.
Ho Chi Minh City is always willing and wants Japanese investors to continue to promote investment in potential areas such as production infrastructure, transportation infrastructure, logistics, health care and urban development. Furthermore, areas such as digital economy, innovation, green economy, circular economy, new energy… promise to bring opportunities to expand cooperation between the two sides.
Responding in Vietnamese, Ono Masuo, Japanese Consul General in Ho Chi Minh City, reviewed his memories of when he studied and worked in Ho Chi Minh City decades ago.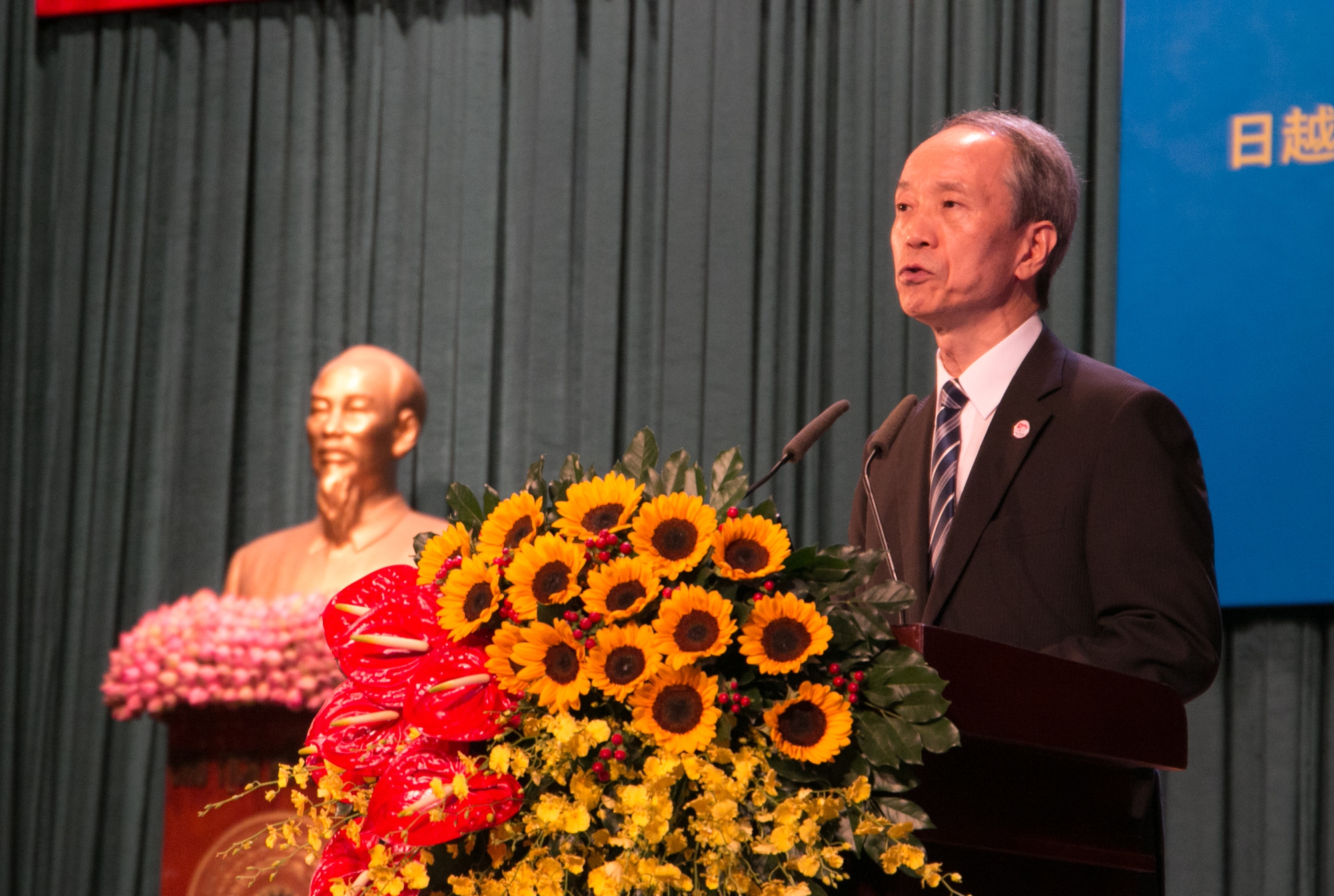 Ono Masuo, Consul General of Japan in Ho Chi Minh City, spoke in Vietnamese at the ceremony
The number of Japanese businesses investing in Ho Chi Minh City and southern provinces and cities has exceeded 1,000. The investment sector of Japanese enterprises has also expanded to match the rapidly growing Vietnamese domestic market, partly reflecting a more prosperous social life in Vietnam.
Many Vietnamese people are currently excellent employees and engineers in Japanese businesses.
According to Mr. Ono Masuo, bilateral relations are currently extremely good in many areas such as economy, politics, culture, sports…, at all levels from leadership to grassroots level. Japan wants to further develop friendship and cooperation with Vietnam over the next 50 years.
Some more pictures from the celebration: