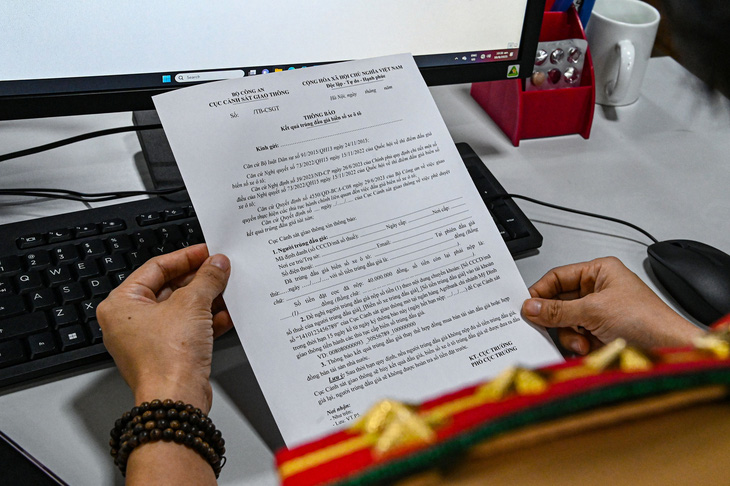 Each auction will have 3 time frames, each time frame will have 3 auctions of 3 license plates.
Specifically, 9 beautiful license plates will be put up at the auction site this morning including: 20A-688.88, 68A-299.99, 49A-599.99 (8 am to 9 am); 17A-368.88, 18A-388.88, 37K-222.22 (9:15 AM – 10:15 AM); 64A-166.66, 34A-699.99, 30K-566.66 (10:30 – 11:30).
Collectors of beautiful license plates in Hanoi and Ho Chi Minh City are of the same opinion that the license plates auctioned this season are not as unique as those in the September 15 auction. Therefore, sudden changes in the price level are unlikely.
As a result, at the end of the auction from 8 am to 9 am on September 21, the winning prices were: 49A-599.99 (Lam Dong Province license plate range) worth 640 million VND; Number plate 68A-299.99 (Kien Giang) is worth 2.55 billion VND and number plate 20A-688.88 (Thai Nguyen) is worth 1.2 billion VND.
The owner of the three cars, Mr. Nguyen Tuan Anh (in Thai Nguyen), has not yet registered, and is waiting to participate in the auction of beautiful license plates.
In the first auction on September 15, he participated in the auction of two license plates 30K-555.55 and 30K-567.89.
However, in the first few minutes of the match, the amount paid for these two license plates was beyond their imagination.
With the intervention of his relatives, this man decided to give up.
"After the first time, I partly regretted but was also happy because the state could collect a large amount of money for the budget.
However, what concerns me is the situation of virtual price gouging during the auction and the auction winner abandoning the deposit and admitting not paying enough money to receive the signal," Mr Tuan Anh said.
This morning, Mr Tuan Anh said he would remain "determined" to participate in the auction of license plate number 20A-688.88 for the car waiting at home. This is a number in the Thai Nguyen Province number range, where he lives.
"If there is a situation of deliberately over-inflating the price and then abandoning the deposit, the sign will have to be re-auctioned. This wastes resources and effort for both the auction entity and the customer.
Even if the sign is auctioned several times, the enthusiasm of people with real needs will definitely wane because there are many procedures for each auction, such as making a deposit, entering the bidding session… ", he said. And more.
This afternoon (September 21), the auction of 9 license plates will continue: 51K-777.99, 35A-355.55, 98A-666.88 (13:30 – 14:30); 60K-399.99, 88A-633.33, 14A-822.88 (2:45 PM – 3:45 PM); 75A-333.33, 30K-568.68, 82A-123.45 (4 PM to 5 PM).
Subsequently, on the morning of September 22, 9 license plates remained visible on the floor including: 66A-234.56, 51K-868.68, 20A-686.88 (from 8 am to 9 am); 35A-366.66, 99A-668.68, 61K-268.68 (9:15 AM – 10:15 AM); 81A-367.89, 51K-777.77, 15K-166.88 (10:30 – 11:30).
The same afternoon will be: 43A-777.79, 90A-222.22, 36A-989.99 (13:30 – 14:30); 30K-568.88, 66A-233.33, 92A-366.66 (2:45 PM – 3:45 PM); 38A-555.55, 25A-068.68, 51K-888.68 (4 PM to 5 PM).
Vietnam Auction Partnership Company also confirms that those who participate in the auction but do not bid will not lose their deposits.
"Those who simply do not enter the auction room will not have their deposits refunded," said a representative of the Vietnam Auction Partnership Company. Tuoi Tre Online.
(TagstoTranslate)License plate auction(T)Beautiful license plate(T)Auction(T)Traffic police(T)Five-quarter license plate