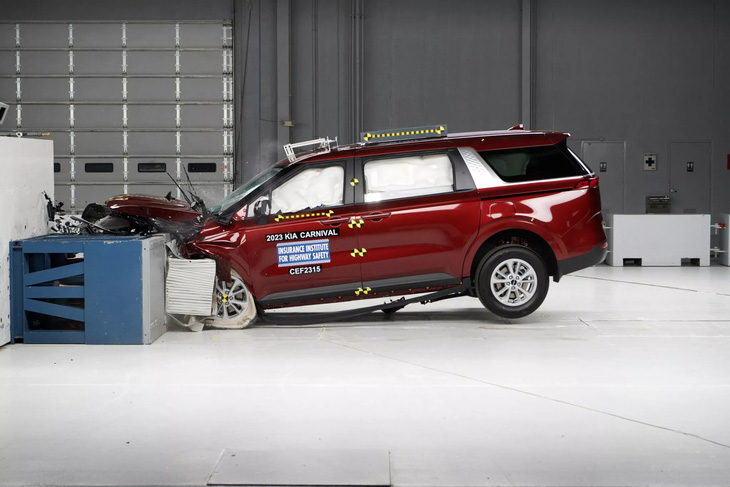 The minivan, since its first appearance, has always been a car line for customers with families. However, according to testing by the entity in charge of new vehicle quality safety control in North America, the IIHS, the rear seats in this car segment are actually not safe.
IIHS updated its grading criteria for 2023. Since new cars on the market currently protect front occupants very well, scoring criteria related to the ability to protect rear occupants are now given greater priority.
Many SUVs in North America have had their scores reduced due to updated testing criteria, and the MPV's results are no exception.
According to IIHS research, the Kia Carnival, Toyota Sienna and Chrysler Pacifica all did not score well in rear passenger protection (scored only marginally). Meanwhile, the Honda Odyssey is still rated poorly.
Even though it is a family car, the MPV is not really good at protecting the rear passengers
In IIHS testing, a dummy the size of a 12-year-old child is placed in the back seat and the car is driven head-on into a frontal barrier.
To get a good score, the mannequin should not have any injuries on the head, neck, chest or thighs. The position of the dummy should not be moved from its original position, and the head of the dummy should also be at a safe distance from the back of the front seat.
The common point of 3 of the 4 MPV models tested is that damage was caused to the chest of the dummy because the seat belt was not placed in the optimal position or caused too much force. Toyota Sienna alone did not have the above problem, but the seat belt slipped out of the acceptable fastening position and therefore did not meet the requirements. Meanwhile, the Honda Odyssey dummy also suffered head and neck injuries.
(TagstoTranslate)Kia(T)Kia Carnival(T)MPV(T)Minivan(T)XE A Tuan