On the afternoon of September 20, New York time, at the United Nations (UN) Headquarters, the United Nations Summit on Epidemic Preparedness and Prevention began with the participation of a large number of leaders, countries and international organizations. Prime Minister Pham Minh Chinh led the Vietnamese delegation to attend the conference.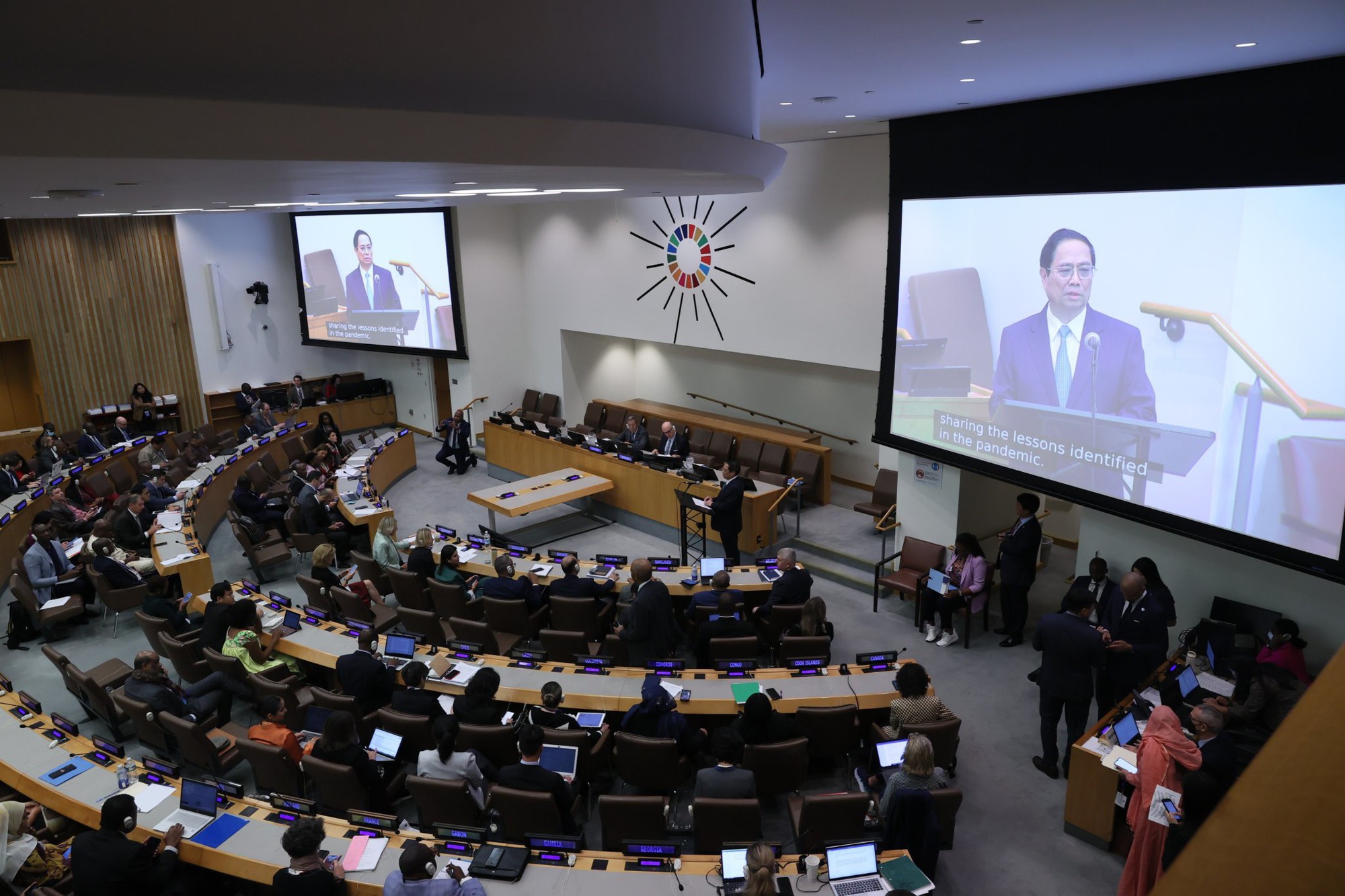 Prime Minister Pham Minh Chinh spoke at the conference. Photo: VGP
Delegates expressed deep concern about the negative and long-term impact of the COVID-19 pandemic on human health and life as well as the enjoyment of human rights, increasing poverty, economic and social inequality within and between countries, and inequality in access of. Covid-19 vaccines.
Also, call for increased international cooperation and coordination at the highest levels to ensure equitable and timely access to pandemic-related medical products, including vaccines, and to improve capacity, prevention and response preparedness; Recommend eliminating trade barriers and strengthening supply chains to facilitate the transportation of medicines and public health products; Reaffirming that countries have a key role and responsibility in making decisions on pandemic prevention and response preparedness, according to national context and priorities.
World Health Organization Director-General Tedros Adhanom Ghebreyesus calls on countries to accelerate universal health coverage in all countries, address future health risks including antibiotic resistance through a one health approach, and increase investment in building the global health and care workforce Called for immediate action. ,
Speaking at the conference, Prime Minister Pham Minh Chinh called on the international community to make efforts to take action with a global and all-people approach and solutions so that future generations do not have to suffer from pandemic disasters.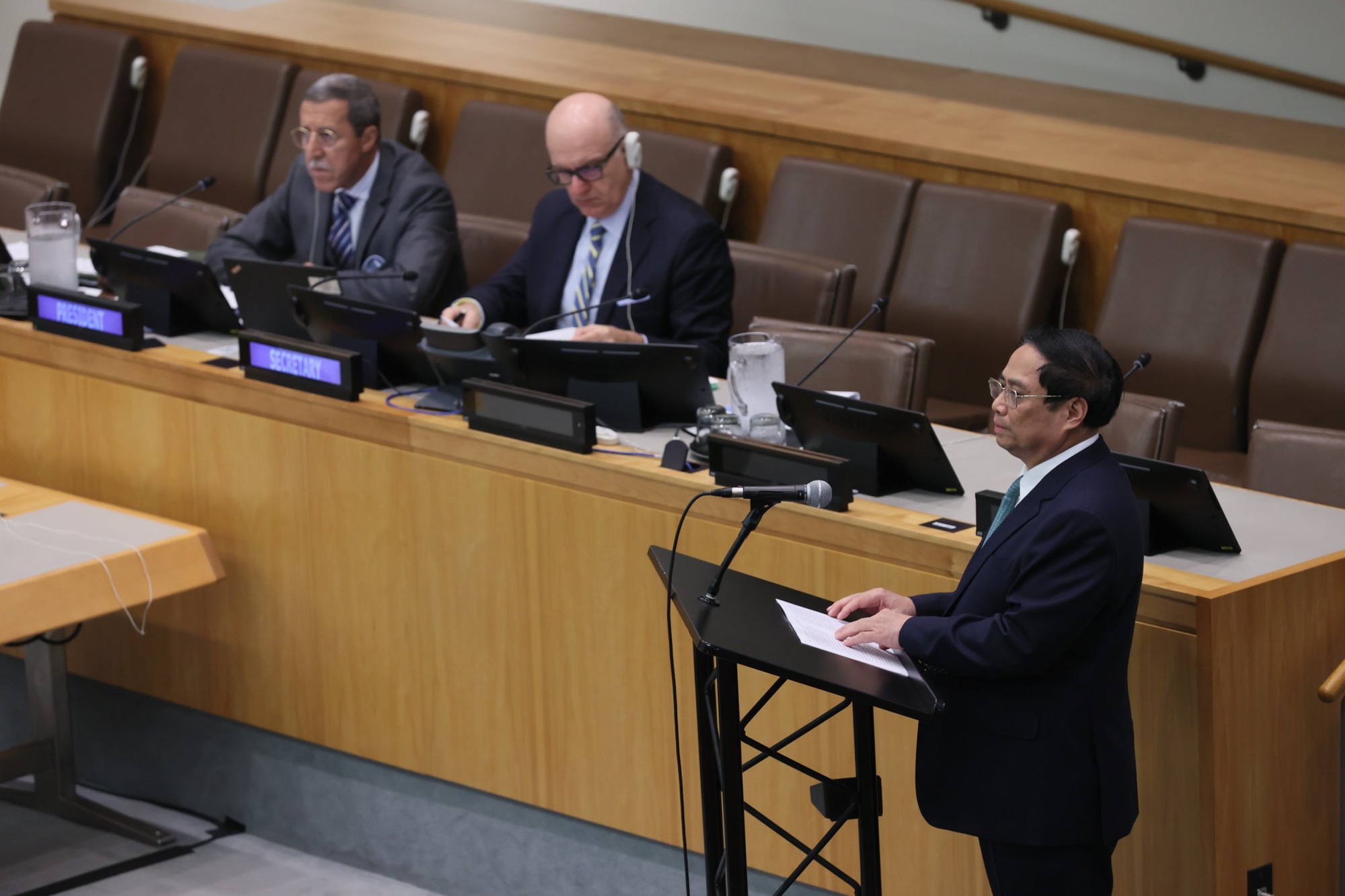 Prime Minister Pham Minh Chinh spoke at the conference. Photo: VGP
The Prime Minister said international cooperation and solidarity, bilaterally and multilaterally, is decisive in improving the capacity to prevent and respond to pandemics, especially in developing countries.
The Prime Minister stressed the importance of promoting vaccines, treatment capacity, predictability, technology, safety, effectiveness, people's awareness, technology transfer, improving capacity to produce vaccines and treatment drugs and providing effective financial assistance to developing and underdeveloped countries. It is suggested to give priority to increasing timely and equitable access.
The Prime Minister said that considering it an urgent task for every country and international cooperation, it is necessary to focus on improving the capacity of healthcare and preventive medicine at the grassroots level and also to promote multilateralism and federalism. Global solidarity, solidarity of all people and efforts of every country in disease prevention.
Highlighting Vietnam's efforts to join hands with the international community to promptly and effectively share information and experiences to combat and prevent the pandemic, the Prime Minister affirmed that Vietnam will continue to prioritize global health security on the agenda. supports the international community's call for Early prevention, preparation and effective response to epidemics; For sustainable development with the spirit of caring and protecting people's health and life first and leaving no one behind.
The Conference unanimously approved the content of the Political Declaration on Epidemic Preparedness and Response, deciding to convene a United Nations High-level Conference on Epidemic Preparedness and Response in 2026 to comprehensively evaluate the implementation of this Declaration.
The organization of this summit is an initiative of Vietnam in coordination with several leading countries, which has been proposed and agreed to by the United Nations General Assembly in September 2022 with the aim of proposing effective solutions. level in preparedness, prevention, detection and response to emergency health situations to overcome shortcomings at national, regional and global levels.
Vietnam is the country that initiated the proposal and in 2020 the United Nations General Assembly agreed to designate December 27 of every year as the International Day of Preparedness to Respond to Epidemic Diseases.