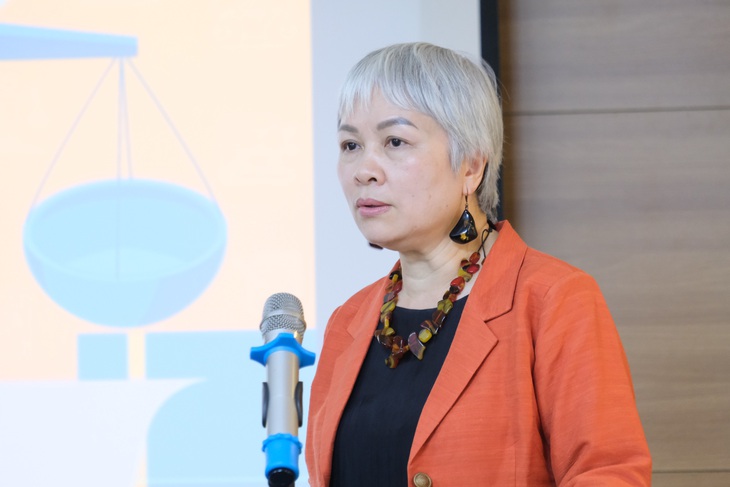 On the afternoon of 22 September, a free legal counseling service for men who had committed violent acts was launched in Hanoi.
The service is organized by the Institute for Social Development Studies (ISDS) with support from the United Nations Agency on Gender Equality and the Empowerment of Women (UN Women), as well as other organizations. Aimed at organizing men and boys to prevent and stop violence against women and girls in Vietnam, implemented by UN Women Vietnam.
Dr. Khết Thuận, director of ISDS, said the story of violence against women, along with solutions and support services for victims of gender-based violence in Vietnam, sounds all too familiar.
"Someone asked me why men who commit violence receive support and counselling, while support services for victims of gender-based violence in Vietnam are still quite modest.
However, if there is a victim, there must be someone who caused it, and those two parts must be joined together. So if we have supported the victims, the question is what can we do with the perpetrators of violence to reduce violence in Vietnam?" – asked Ms. Hong.
According to him, at present Vietnamese law provides for sanctions for those who commit violence, but this situation has still not improved.
Notably, according to a 2019 national survey report on violence against women in Vietnam, nearly 2 out of every 3 women (about 63%) experienced one or more forms of physical violence. Physical, sexual, mental and economic violence as well as controlling behavior caused by husbands in life.
Ms Hong shared that those who cause violence against women, including men, are sometimes not aware that they are in danger of falling within the law due to lack of knowledge about the law, lack of guidance, support and cooperation in their actions. Are breaking. The process of building relationships and resolving conflicts in the family.
Therefore, to resolve the above situation there is a need for more expanded initiatives with many different services to provide legal aid and legal advice to men who commit violence.
UN Women representatives also hope that this service will provide information and legal advice to men who commit violent acts, as well as warn them about the consequences at various levels if they continue this act in Vietnam.
Men in Vietnam will receive free legal advice and legal assistance both face-to-face and online.
Clients can visit ISDS or partners' offices directly for consultation (appointment required) or clients can also be consulted online. All information will be kept confidential and encrypted to protect customer privacy.
(TagstoTranslate)Acts of violence(T)Legal advice(T)United Nations(T)ISDS(T)Gender violence(T)Violence against women(T)Vietnam(T)UN Women