BYD Han driving test – Video: km77.com
Chinese cars are increasingly becoming popular in Europe, posing a threat to even well-known car manufacturers. The number of Chinese cars at the 2023 Munich Auto Show (Germany) has doubled from before, and the volume of car transportation in Europe has increased rapidly.
Among these, BYD is the leading name, which is considered a strong rival to Mercedes-Benz, BMW or Volkswagen in the field of electric vehicles.
Competing with the Mercedes-Benz EQE sedan and BMW i5, BYD Han is an extremely important model for the Chinese brand. The car has good specifications and competitive prices.
BYD Han has a 4-wheel drive system and a range of 521 km. But what's most impressive is its ability to accelerate from 0-100km.h in just 3.9 seconds. Meanwhile, the BMW i5 eDrive40 takes 6 seconds and the Mercedes-Benz EQE 300 takes 7.3 seconds.
However, just being strong is not enough. Power must come with control. according to page carscoops, It seems that the ability to accelerate too fast has taken away some of the stability of BYD Han. The driver of the test vehicle reported throttle jerking.
In the end, BYD Han passed the test with a timing of 23.9 seconds, which is comparable to 21.5 seconds of BMW X1 xDrive3, Porsche Taycan GTS.
But rigorous handling testing is where the real talent is shown. Even the most famous cars can disappoint. BYD Han is no exception.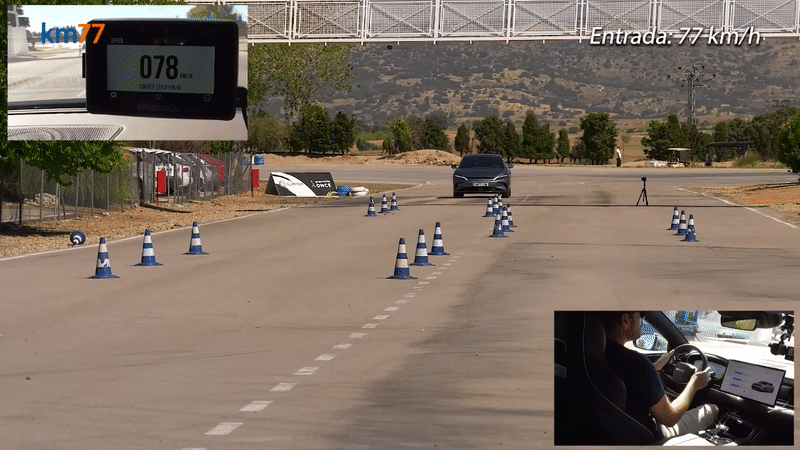 Understeer (a phenomenon where the car does not take the desired turn but drifts far) at the standard speed of 77 km/h, the BYD Han crashed into some milestones on the road.
The car performs better at a speed of 70 km/h. However, at only a slightly higher top speed, 74 km/h, the car still doesn't perform really well when lightly hitting a cone.
Meanwhile, although the rival Mercedes-Benz EQE 350 also failed at a speed of 77 km/h, it performed well at a speed of 74 km/h.
The site km77.com, which specializes in comparing and evaluating Spanish cars, is also the organizer of the Hard Driving Test, which concluded that the BYD Han is not good enough to be called a "sports sedan". The car has power and luxury, but not a good enough chassis.