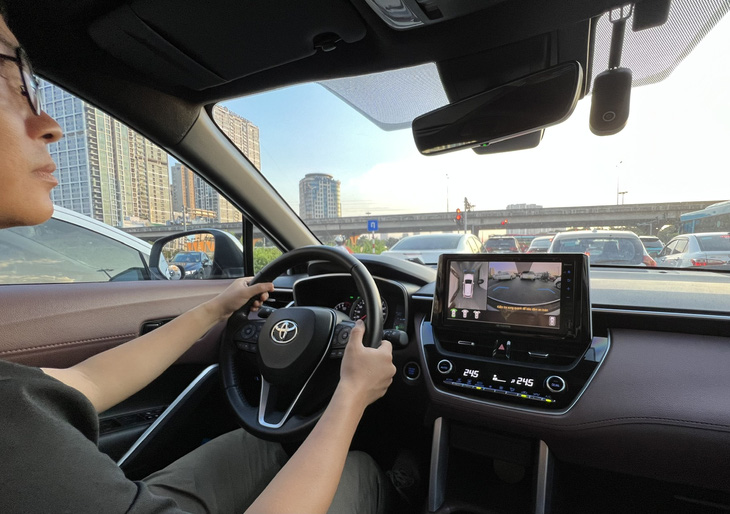 Although installation of trip monitoring devices (black boxes), data collection devices and driver images is a mandatory requirement for cars providing transportation services, if it is implemented on private vehicles, personal freedom and privacy may be affected.
Only recommended, not required
Since he first bought a car four years ago, Mr. Nguyen Van Tien (living in Thanh Xuan, Hanoi) installed a camera in the car to monitor his journey so that if he accidentally caused a traffic collision, his There is evidence or they should not be prosecuted. , Was punished unjustly.
According to personal observation, Mr. Tien found that most car owners install cameras to monitor their outside trips, but if there is any regulation to install them inside the car, it should only be a recommendation, not mandatory. Because it involves the financial issues, preferences and needs of each individual.
According to Dr. Khuong Kim Tao, former deputy chief of staff of the National Traffic Safety Committee, although the cost of installing cameras on cars ranges from 2 – 5 million VND, it will be difficult to deploy, but it is necessary to consider the meaning and impact. . It can be used to ensure traffic safety and ensure human life.
"I think the effectiveness of installing travel surveillance cameras will outweigh the harm. Although there are no regulations, many car owners actively installed this equipment, and the camera is filmed outside the car so that it protects the privacy and Freedom should not affect the personal," Mr. Tao said.
Mr. Nguyen Van Quyen, president of the Transport Automobile Association, said that currently, businesses installing trip monitoring equipment bear two costs: the purchase of the equipment and payment to the maintenance service provider. Transmission and data exploitation range from 80,000 – 100,000 VND/month. Therefore, it is necessary to clarify the goals of the proposal for private cars as well as the management and integration of the collected data.
He suggested that the drafting agency should research, survey and clearly present the goals and ideas to consider the feasibility as well as the impact of the social cost incurred on implementation compared to its impact. Should be evaluated.
it's just a draft
Representative Nguyen Thi Viet Nga, deputy head of Hai Duong province's National Assembly delegation, said it is necessary to install dash cameras in private cars. However, apart from new cars, there are many old cars which do not have dash cameras. Therefore, there is a need for specific research and evaluation on these vehicles.
Also, it is possible to conduct research in the direction that new cars coming into circulation after the law is implemented will require dash cams; Used cars may give the owner a certain amount of time to do this.
According to a representative of the Traffic Police Department (Ministry of Public Security), many vehicle owners are currently installing cameras to protect themselves in the event of incidents on the road, and may prove to be right or wrong in these situations. Unexpected situations, save evidence when an intruder damages the vehicle.
When the authorities develop this bill the biggest objective is to meet practical needs, ensure traffic safety and reduce accidents. At the same time, build habits, self-awareness and create a modern traffic culture while protecting human life.
A representative of the department confirmed that officers will not collect data from these devices, but will only ask people to cooperate and provide information when an incident occurs on the road or incidents involving other vehicles are recorded.
However, this person clearly stated that the proposed proposals are only drafts, the Ministry of Public Security will revise and accept the contributions of the people and officials to make reasonable and scientific adjustments.
Installing Dash Cam: Cost Impact Assessment
Mr. Nguyen Van Quyen said that the installation of trip monitoring devices for transportation business vehicles has specific rules and brings many benefits in serving state management as well as corporate governance.
Regarding the proposal that trip monitoring equipment should also be installed in private cars, many car owners have installed it, which provides many benefits so it should be supported. Currently the number of private cars is around 4 million, so this proposal will have a big impact on the people.
He suggested that the drafting agency should conduct research, survey and clearly present goals and management ideas to consider feasibility as well as evaluate the impact of social costs incurred on implementation. than the effects.
Along with this, people should be encouraged to install travel monitoring devices instead of mandatory requirements.
(TagstoTranslate)dashboard camera