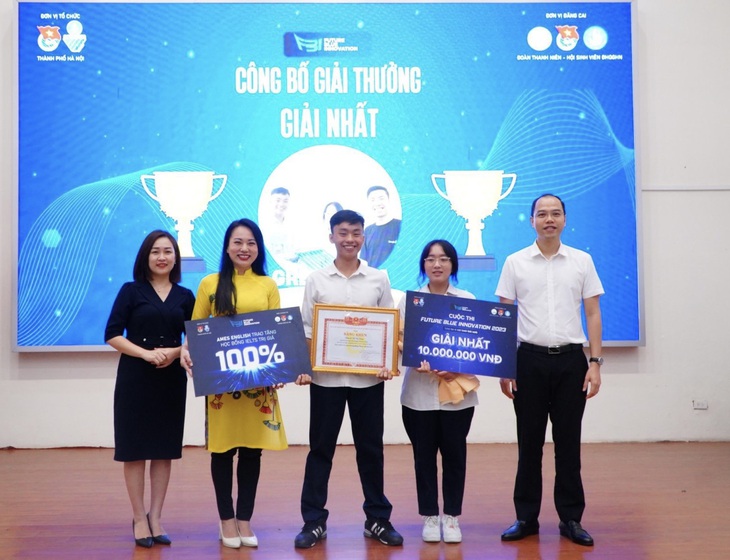 On the morning of September 23, 6 projects of outstanding high school students surpassed 1,500 applications to compete together in the final round of the "Future Blue Innovation 2023" competition organized by Hanoi Youth Union, Youth Union – University Student Association. Organized by the State of Hanoi.
These projects are: SNAPPY (two candidates from Hanoi – Amsterdam High School for the Gifted and High School for the Gifted at the University of Education, Hanoi University of Education); REU Project (High School for Social Sciences and Humanities, Hanoi National University); Project "Automated Garbage Boat with Integrated AI" (Thang Long High School); "Sunflower Battery" Project (Nguyen Binh Khiem High School.
Along with this is our – Case Project (candidate Vu Dinh Quiet, High School for the Gifted, University of Pedagogy) and the project "The Secret Garden (candidate Tran Van Trang, Vinschool Thang Long High School).
Passing two rounds of tough competition, the project "Automated Garbage Collection Boat with Integrated AI" (Thang Long High School) successfully won the competition.
"Automatic trash boat incorporating AI is a combination of improving and improving product quality in parallel with product media promotion, organizing product service packages, and bringing to market," STEM is an educational symbol and a symbol of environmental protection promotion Both are there – said the representative of the group.
Specifically, this product is easy to carry to small lakes and ponds, has semi-automatic and automatic functions, integrates advanced radar and image processing and AI data analysis system.
The semi-automatic garbage collection boat with integrated AI also has a built-in sensor that is capable of scanning the terrain comprehensively, to reconstruct the map and collect garbage through the mini computer AI system in the boat. Combines data from sent cameras. The extent of the lake is increasing and gradually it is being confined to areas with large amounts of floating garbage.
Sharing about the meaning of the competition, Mr. Nguyen Tien Hung, President of the Vietnamese Student Union in Hanoi, Deputy Secretary of the Youth Union, said – Environmental protection is a hot topic, especially the story of climate change. Changes in climate and weather have a direct impact on daily life.
With the theme "Creativity for a Green Planet", this year's competition focuses on several issues related to environmental protection and improvement such as: reducing and treating plastic waste, conserving biodiversity. Education, renewable energy…
"I hope that the "Future Blue Innovation 2023" competition will be a useful playground, giving students the opportunity to showcase their capabilities, especially innovations related to environmental protection. Through this, they will be able to improve their knowledge, skills "And make practical contributions to the protection of the living environment and the development of the country" – Mr. Hung stressed.