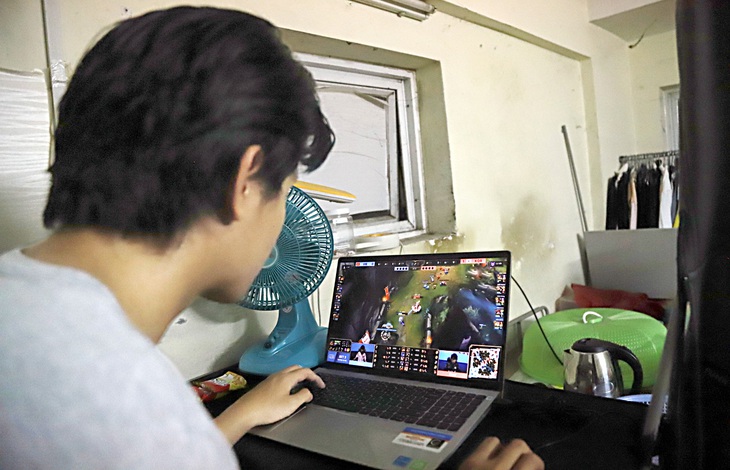 The pressure of work, studies and sometimes just habits makes many youth today become victims of insomnia. It is not difficult to see "zombies" sitting in stores all night holding phones and computers, even "wandering around" in bed until the morning.
At about 1 a.m., Nguyen Bao Ngoc (29 years old, lives in Le Thuong Kiet Street, Tan Binh District, Ho Chi Minh City) still couldn't take his eyes off the phone screen. She said, "I know that to be good for my health I have to go to bed early and wake up early for work. But when I'm depressed, I get into the habit of picking up my phone and watching the hours fly by. "
"It wasn't even last night but the stars were already bright"
What does Ngoc watch on TikTok? These are short films, cooking gardens, sad music or clips about new trends. The girl with a tired face shared: "If I have some important work the next day, I'll go to bed earlier, around 12 o'clock at night. Otherwise, I'll keep surfing until dawn. Sometimes the clip is still playing. But my head is tense. My hands are stiff and I can't open my eyes, so I don't know when I fall asleep."
Because there are so many different channels and content, Ngoc never gets bored of watching it. The way the clip is narrated is so captivating that after scrolling through one part, she wants to watch it all. When WiFi slows down, she immediately turns on mobile data to continue surfing!
She jokingly said that her habit of sleeping late has more to do with her boyfriend than anything else. "I feel like I'm no longer healthy enough to stay up all night, but in the morning I still wake up as alert as I did when I was a student. But I can't fall asleep quickly. On those days when When I'm worried or sad, I always say, "It's not even the last night, but the sky is already bright," she said.
Not just TikTok, she also happily follows debates on Facebook and Instagram that have nothing to do with her. Her daily schedule was turned upside down: sleeping late, waking up late, eating randomly, and gaining weight as she ate late to gain energy from wandering around the virtual world.
"A few months ago, I started sleeping early. But after about a week, I started getting the same amount of sleep (same as before). I went to bed at 11 pm but my mind was awake. While being alone , I kept walking, addicted to the phone, more like chatting than meeting friends in real life," she sighs.
Similarly, Tran Cong Hau (student at the University of Natural Sciences, Vietnam National University, Ho Chi Minh City) explains his addiction to TikTok: "The more I watch it, the more I like it, "It becomes difficult for me to turn off the phone." Before sleeping, Hou often surfs social networks. Facebook and TikTok applications take him at least 2 hours whenever he surfs.
The 19-year-old boy said that whenever he watches a clip and feels like that, a series of similar clips appear continuously. This makes Hou no longer aware of how much time he is spending.
Although he knew it was a waste of time, Hou could not escape its charm. Every night, in a six-person dorm room, the lights flicker from phones from 2:00 a.m. to 3:00 a.m. Even after trying to "quit", the young man could not help himself. "I'm still young and healthy, maybe it's not that bad, I'll get over it slowly," Hou said to himself and continued losing sleep.
Not only that, when he first opened his eyes, he had a habit of surfing the Internet before cleaning himself up before going to school. More than a quarter of his day was wasted surfing the Internet.
Playing games at night, being busy with school during the day
As a final year student, Nguyen Huu Duc (Ho Chi Minh City University of Technology) said the class schedule is more open than before, with only special subjects remaining. But lack of sleep is clearly visible on his face, not because of stressful studies, but because of… staying awake for too long.
Yet the 21-year-old student believes he is still healthy because he is used to the "sleep day, fly night" lifestyle. On days when he does not go to school, he is often "plugged in" to his laptop from 7:00 pm to 3:00 am the next morning. Nowadays, sitting at the computer for eight hours is not for studying, but most of the time is spent playing online games.
Duck's computer screen stores all kinds of games, from two-three minute football games to games of at least 20 minutes/match, enough to know how awesome his "plowing" is. Duck said happily, "It's not an addiction, but on my days off, when I have nothing to do, I play games for fun. Sometimes it gets a little too much because I'm so dependent on I know I won't go to school tomorrow, so I leave myself open."
Ducks, who have a reputation in entertainment circles, are often saddened when they lose and even more determined to win. "Sometimes when I lose I always want to win the match so I can sleep, but sometimes I play till morning and still don't win," he said with dark circles under his eyes.
Duck may sleep during the day, but when he returns to the lecture hall, new problems emerge. It was difficult for him to return to his normal routine. Every time he went to class, he would shake his head and lie down on his desk.
After suffering sleepless nights, Duck often tries to sleep more the next morning and asks his friends for recess to sneak into class. Perhaps that is why their academic results remain average.
Many times Duck tried to close his eyes and go to sleep quickly, but whenever sleep looked at him, he would run away. Duck lamented, "Staying up late will become a habit for 3-4 days, but it's really hard to practice going to bed early for so long."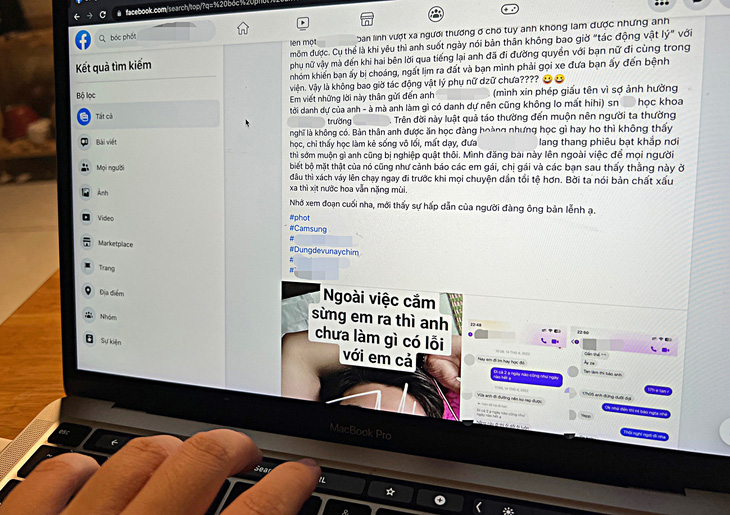 Lack of sleep has many bad consequences
In modern life, with the convenience of internet, youth can easily access social networks with attractive things. According to psychology master Nguyen Thi Tam (Honourable Viet Center for Applied Psychological Science Training), almost anywhere from urban to rural areas, from homes to shops, people can easily surf the Internet and use social networks properly. There is a lack of skill to do.
Recently, he also received psychological treatment for cases of youth of student age suffering from depression due to the consequences of inappropriate use of social networks. "This comes from conflicts on social networks that lead to criticism, exclusion, or love relationships that stigmatize each other, leading to depression over time," he said.
He shared some research showing that on average, young people spend 4-6 hours a day using social networks. Many people do not realize its long-term harmful effects such as wastage of time, which leads to reduced productivity.
Furthermore, an unhealthy lifestyle, lack of rest and regular activities… will have many harmful effects on physical and mental health, as well as the consequences of lack of sleep.
Furthermore, youth in big cities lack playgrounds and natural recreation sites. They go to the online world for entertainment, watch movies, follow gossips… without being aware of time management, without understanding how these things will affect their health.
According to psychology guru Nguyen Thi Tam, at night the body needs to rest and sleep to produce antibodies. "If we stay awake too much at night, the immune system becomes disorganized, the body becomes weak and susceptible to illness. At night, the melatonin hormone is secreted too much which makes it easier to fall asleep. If We disrupt this circadian rhythm, it will take us longer to fall asleep. Long-term sleep disorders can lead to insomnia," she said.
He advised: "Staying awake at night to surf the Internet for a long time is prone to eye strain, and remaining sedentary can easily lead to neck, shoulder or neck pain or mental confusion… Therefore, each person "Must consciously manage it. Manage your time and daily life".
Market research firm Wakefield Research once reported that about 37% of adults in Vietnam suffer from insomnia. The rate is 51% in China, 53% in the US, 61% in Singapore… In research data from eight countries with 1,000 people over the age of 18 in each country, Wakefield Research recorded that more than half of the participants Said they don't do that. Enough Sleep.
According to some doctors, insomnia among Vietnamese youth is also a development that needs attention, but still lacks in-depth survey and research.
,
After midnight, many young people were still sitting at 24/24 open convenience stores and coffee shops, even clinking glasses happily and peacefully and replying "Life is ten thousand days of misery. Yes, why sleep early?".
>>Next time: Life is full of sorrow, why sleep early?
(TagstoTranslate) insomnia