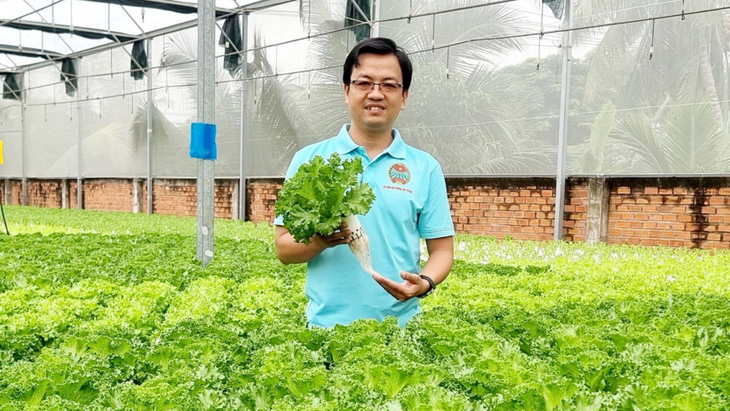 Mr. Lam Ngoc Tuan – Head of Tuan Ngoc Agricultural Cooperative (Thu Duc City) and Ms. Tran Thi Ngoc Thao – Owner of Son Ha Orchid Garden (Binh Chanh District), two of the many farmers in Ho Chi Minh City who initially Success. By that method.
3 times increase in production
After working in a bank for 15 years and evaluating agricultural projects for loans, Mr. Tuan recognized a positive direction for investment in high-tech agriculture. So he quit his job and created a hydroponic vegetable cooperative – a completely new model in Ho Chi Minh City at the time.
A hydroponic system and greenhouse was initially installed on 1,000m2 of land with a capital of 1 billion VND. He started with vegetables, water spinach, amaranth, ash…
Being a novice farmer, Mr Tuan had to research and learn from many sources. When setting up the cooperative, we had to buy imported solutions from abroad, but after three years, we designed our own solutions and tested them to ensure nutrition for the plants and safety factors for the users.
"This method saves a lot of space. If conventional vegetable growing produces about 10 – 14 tonnes of vegetables, but by investing in high technology, the yield is about 30 tonnes. The selling price of vegetables also increases, especially the less natural Affected by disasters," Mr Tuan said.
From the initial 1,000m2, the cooperative's area has now increased 10 times, investing in a 2,000m2 greenhouse in Ninh Thuan to take advantage of the suitable sunshine and wind conditions for some vegetables, which often do not yield well in the season. Let's give. Ho Chi Minh City. Different from the normal hydroponic growing method, the hydroponic system in Tuan Ngoc facility is improved with automatic fertilizer filling system to help save maximum water, significantly reduce electricity and water costs.
The good news is that they have recently grown glass lettuce in the warm climate of Ho Chi Minh City. This type of lettuce is a temperate vegetable that can only be grown in cold countries like Lam Dong. This model has now been moved to Long An, Binh Duong.
Receiving the 2022 Outstanding Vietnamese Farmer Award, Mr Tuan was present on the trip to Truong Sa and his gift to the troops on the remote island was a hydroponic vegetable growing system. During the COVID-19 pandemic, he also donated 20 tons of vegetables (about 600 million VND) to people in blockade and quarantine areas.
Mr Tuan said applying technology in agricultural production not only helps double or triple economic efficiency compared to traditional methods, but farmers will also be more active in the care and management process.
"We can also exploit alum-contaminated soils as the hydroponic model requires using almost only air space to set up hydroponic systems and greenhouses, with little contact with soil sources," Mr. Tuan showed interest.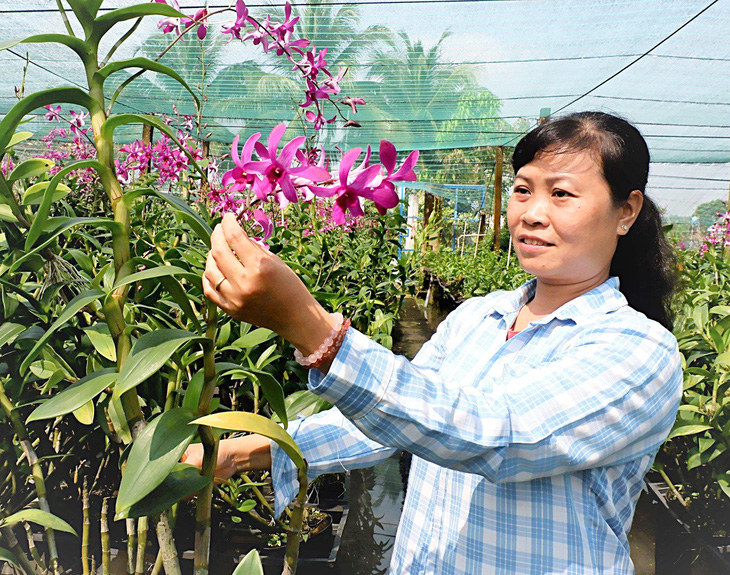 The market demand for orchids is still quite high. If you monitor them and take good care of them, the plants will not let you down. If you do well, your profit will be around 30%.
Ms Tran Thi NGOC Thao
the earth is in bloom
Leaving her steady job at a research institute, biology master Tran Thi Ngoc Thao became a farmer when she came upon alum-contaminated land in Da Phuoc commune (Binh Chanh District, Ho Chi Minh City). Having started her business ten years ago with the model of growing orchids on over 1,800 square meters of rented land, she now owns Son Ha 1 and Son Ha 2 gardens covering an area of ​​12,000 square meters with approximately 300,000 orchids.
The idea of ​​growing orchids came after a study tour to Thailand with the hope of having an orchid garden like in their country as they realized that the market demand in the country was huge. There were ups and downs and failures in renting land for the planting effort, but Ms. Thao did not give up. He decided to quit his job, invest in planting 10,000 saplings, and directly instruct workers to care for them. When she expanded the garden and planted more plants, her husband also left his job in a foreign company to work with his wife.
With the expertise available, Ms. Thao coordinated with the laboratory to prepare approximately 20% of the plant varieties for the garden. The rest he imported more varieties from Thailand to diversify the species and colors. This is also their current concern: how to actively create more tree varieties.
Orchids are grown in plastic pots on a 1 meter high trellis, with a trench of water underneath to help create cool moisture for the plants to grow and develop well. In addition to the above, use sunlight reducing nets and then use semi-automatic sprinkler system to provide water and fertilizer.
The paths in the garden are lined with woven fabric and covered with tarpaulin to limit grass and avoid insects and pests. Insect catching machine is also used in the garden in the evening, due to which the use of pesticides is limited, this also reduces the cost and there is no loss to the farmers.
Ms Thao's orchid garden now travels across the country, doing business all year round, being busiest during the Tet season. In 2021, Ms. Thao was honored as an outstanding Vietnamese farmer, and received a certificate of merit from the Prime Minister the following year. His orchid garden creates employment for dozens of workers, helping farmers innovate farming methods towards implementing new technology.
It is also a career guidance meeting place for students brought by some schools to attend extra-curricular classes, learn knowledge about agricultural development models and contribute to future career orientation.
(TagstoTranslate)Technical Farmer(T)Technology Application(T)Career Orientation(T)Lam Ngoc Tuan(T)Tran Thi Ngoc Thao