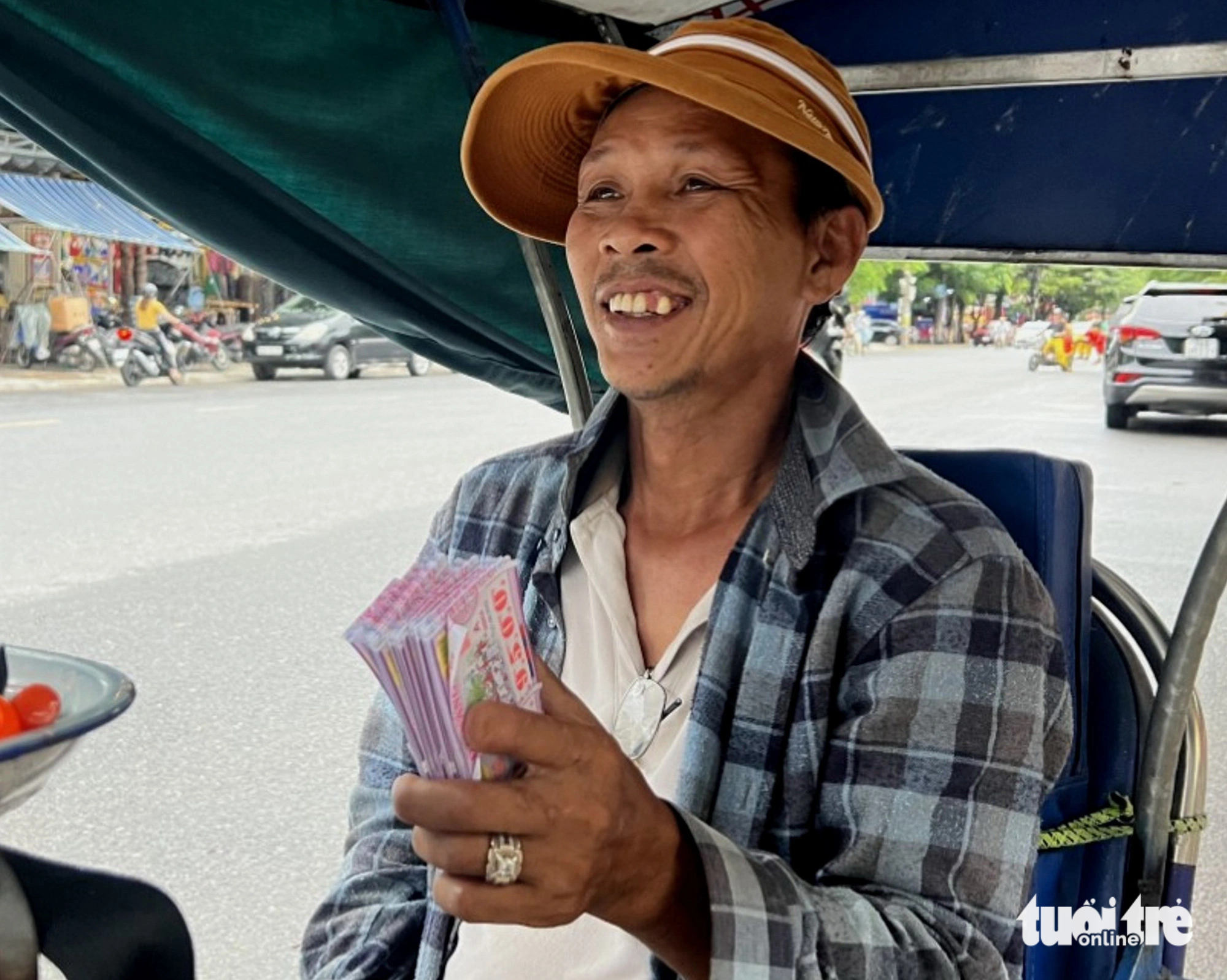 It has been raining in Quang Tri for the past few days due to the effects of a tropical depression, but he has not been able to turn his car around yet. Each lottery ticket sold brings hope to his son Le Hai, who recently entered the Department of Information Technology at Da Nang University of Architecture.
can't fall
It was raining, the wheelchair stopped under the roof of the barber shop. Pulling an old raincoat from under the seat, the man selling lottery tickets wore it and then went back to the street in front of the market. Mr Le Dung said he had only been selling lottery tickets for more than a year and had worked in the fields before that.
An accident seven years ago affected his spinal cord, paralyzing him and forcing him to lie in one place for many years. The farmer was very sad, lying in one place, tears welling in his eyes at times as he watched his wife struggle to support the family and three children.
Yet two years ago, another pain came to the little house. His wife – Mrs. Nguyen Thi Ly – was working in the fields and suddenly fainted due to severe stomach pain. She was taken to the hospital for a check-up and was shocked when she learned that she had ovarian cancer. The house was already dilapidated when the breadwinner was lying in one place as if it was about to collapse.
The other daughter, who was still in her first year of college, asked to quit her job and work as a worker. Le Hai, who is in 10th grade, also plans to drop out of school to join his relative, who is a mechanic. Frustrated, Mr. Dung suppressed the pain and started practicing getting up and walking. Mr. Dung recalls, "My wife is tired because of the illness, my children won't be able to complete their studies, I can't afford to be a burden."
Holding her hands on the edge of the bed, the first thing she did was call her two children back and forbid them to drop them off to school. Every day he struggled to pull his body up a little. Many times their joints would creak and there would be a lot of pain, but they would grit their teeth and bear everything because they could not see their children becoming uneducated.
The miracle happened when after about a year he was able to sit normally. That's when the 53-year-old father thought of finding a job so that his child could continue his education. Mr. Dung started selling lottery tickets while sitting in a wheelchair.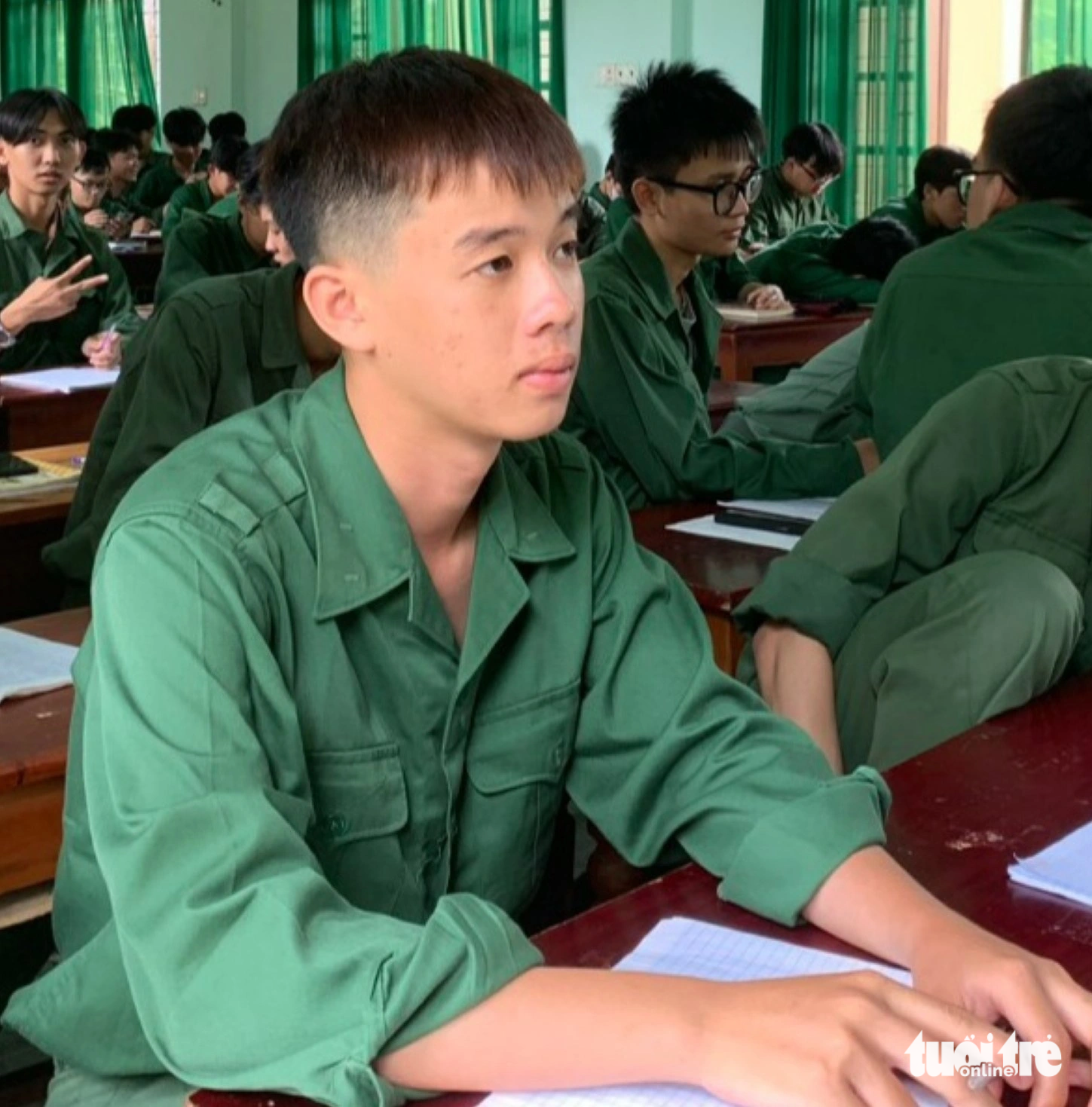 "You can study with peace of mind, your parents will take care of you"
It was completely dark when Mr Dung emerged from the market in his wheelchair. It was about seven kilometers from here to his home in Trieu Hoa Commune (Trieu Phong District) but he had not yet turned home. After about 2 km, the wheelchair continued towards Ai Tu town. Raising his hand to wet his face with rain under the dim streetlight, he said he had borrowed 16.5 million VND so his child could complete school entrance procedures.
"I was thinking about going back, but when I called in the morning I had to pay another 1.8 million VND, so I tried to go to Ai Tu to see if I could get more money," He said before drinking his coffee. Shop to continue its work. Job.
Since the day my son graduated from university, he has to wake up at 4 am every day. At 5 a.m., I left home carrying a stack of lottery tickets to head to Bo Ban market, more than 10 km away. After selling there at around 8 o'clock, he went back to Quang Tri city to sell in the market. Every day the weather is good, in the afternoon he takes the opportunity to go to Trieu Tai Commune along Highway 49 to try to sell some more papers. While eating lunch on the road, one day he stopped by Trieu Hai General Hospital to ask if there was any donated food to distribute there.
special scholarship
It has been decided to give scholarship in the program relay for school Special for new students Le Hai, worth 50 million VND over four years. As soon as he got the news, Mr. Dang jumped with joy. It's been a long time since she had such a happy, round smile.
"I never thought that my family would receive such a big and meaningful gift. If so, my child can go to school with peace of mind," he smiled happily and immediately called his wife to tell her the good news.
"For each lottery ticket I sell, I get an extra 1,000 VND. If I work hard, I can sell more than a hundred tickets a day for my children to go to school. The couple lives at home and raises chickens and We manage to add vegetables until the kids don't care, so we have to leave school at home to get through the day," confides Mr Dung.
Happiness in the midst of a miserable life after each day of sales, sooner or later he spent a few minutes pulling his wheelchair in front of the merit certificates of his two children, admiring them. It was like a spiritual medicine that helped him recover from his illness and forget his daily difficulties.
Mr. Dung mentally calculated: "The second daughter is in her last year of study. The son is now in his first year of military training. They are the hope of the whole family. Then they will also work part-time to earn money for school." , but they can still breathe." "I still try to provide for my kids."
First Scholarship Award Point
Today's program for 29th September relay for school Will start giving scholarship to new students. Quang Tri is also the first awarding point of 2023. The event is organized by the newspaper Youth Organized in coordination with the Quang Tri Provincial Youth Association and the Quang Tri Radio and Television Station.
120 new students with difficult circumstances will receive scholarships in Quang Tri, including four special scholarships (50 million VND/4 years). A total of more than 1.94 billion VND (not including the cost of travel assistance, accommodation and gifts from the event) sponsored by the Quang Tri Charity Club, Binh Dien Quang Tri Joint Stock Company supported business activities. Fees for organizing and broadcasting the program.
Each scholarship is worth 15 million VND. Nestlé Vietnam Co., Ltd. supported gifts for new students, Vinacam Study Promotion Fund (Vinacam Group Joint Stock Company) donated four laptops to students in extremely difficult situations lacking learning equipment.
Newspaper's 2023 Relay to School Scholarship Program Youth It is expected to accommodate more than 1,200 new students under difficult conditions across the country with a total budget of more than 19 billion VND.
Readers who support scholarships for new students, please transfer them to the newspaper account Youth: 1130000006100 Industrial and Commercial Bank (Vietinbank), Branch 3, Ho Chi Minh City.
Content: Support "Help Going to School" for new students or specify the province/city the reader wishes to support.
Readers and businesses abroad can transfer funds to Tuoi Tre newspaper: USD account 007.137.0195.845 Ho Chi Minh City Foreign Trade Bank; EUR account 007.114.0373.054 Ho Chi Minh City Foreign Trade Bank with SWIFT code BFTVVNVX007.
Content: Support "Help Going to School" for new students or specify the province/city the reader wishes to support.
In addition to funding scholarships, readers can support teaching equipment, housing, jobs… for new students.

(TagstoTranslate)Le