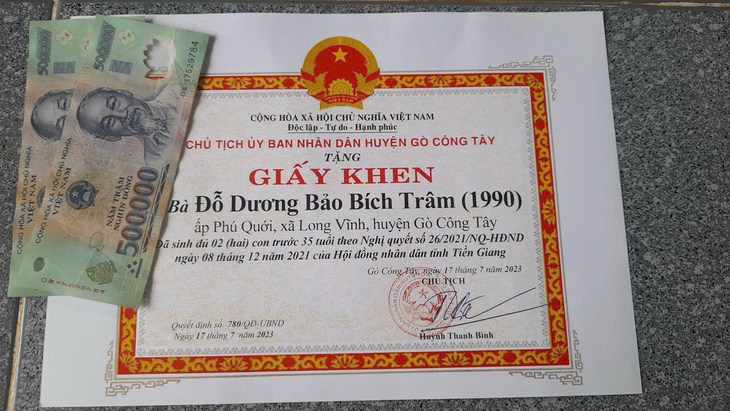 A photograph of the amount of 1 million VND is attached to the certificate of qualification. What exactly is it?
According to census data, the Mekong Delta is a region of very low population growth, with an average birth rate lower than that of the country as a whole. Over the period 1999–2009, the average population growth rate was 0.64% (the country as a whole was 1.17%); This rate declined to 0.05% in the period 2009–2019, which is the lowest compared to other regions. Meanwhile, the population aging rate is the highest compared to other regions.
For this reason, in order to encourage families to have 2 children and improve the quality of the population, increase the mechanical birth rate…, many provinces in the region have issued population policies to encourage people.
Specifically, the People's Council of Tien Giang Province has Resolution 26/2021 which regulates "the level of support for population workers and the policy of rewarding collectives and individuals in population work".
Specifically, the reward section of Resolution 21 provides that women who give birth to 2 children before the age of 35 will be rewarded with a support amount of 1 million VND.
In this resolution, there are also other policies such as: rewarding communes, wards and towns for 3-5 consecutive years achieving and exceeding the rate of 60% of couples of childbearing age giving birth to 2 children; Reward and support level of 30 – 50 million VND; Rewarding the commune for providing health insurance cards to 100% of elderly people…
Giving information on the case of a woman being rewarded on social networks, leaders of Go Kang Tai District of Tien Giang Province said that since the implementation of the population reward policy in accordance with the resolution of the Provincial People's Council, from the beginning of 2022 to June 2023 Till now, 390 local women who met this criterion were awarded.
According to the Population Division, under the Tien Giang Health Department, the reason for this reward is the low birth rate of the province. From the beginning of 2022 until now, localities have implemented it, with some districts holding appreciation once every 6 months and some districts holding it once every year. Statistics show that every year about 2,000 women in the area are considered praiseworthy on the basis of giving birth to two children under the age of 35 years.
However, according to the Population Department, apart from this criteria, the person being appreciated must also fulfill other criteria such as having a family that implements legal policies well on taxes, a cultured family.. .
(TagstoTranslate)Social networks(T)Tien Giang province(T)Birth rate(T)Mekong River(T)Population policy(T)Awards(T)Giving birth to 2 children