The Rafah border crossing between Egypt and the Gaza Strip opened on 21 October, allowing aid entry into the Gaza Strip for the first time since the Israel–Hamas conflict began. The United Nations (UN) said only 20 trucks (carrying food, medical supplies and medicine) have been allowed in and it is unclear how many more aid shipments will be given the green light in the coming days.
At first glance, the above numbers seem tiny compared to the scale of today's humanitarian crisis in the Gaza Strip. According to Reuters, UN officials believe that at least 100 trucks carrying aid are needed every day to meet emergency needs and this number needs to be maintained in the long term. Before the conflict began on 7 October, hundreds of trucks carrying aid supplies entered the Gaza Strip every day.
According to the AP, more than 200 trucks carrying 3,000 tons of relief supplies have been waiting at the Rafah border gate for several days. Meanwhile, 2.3 million Palestinians in the Gaza Strip are facing food and water shortages. In a situation where electricity and water are cut off, hospitals lack medical supplies, medicine and fuel to run generators.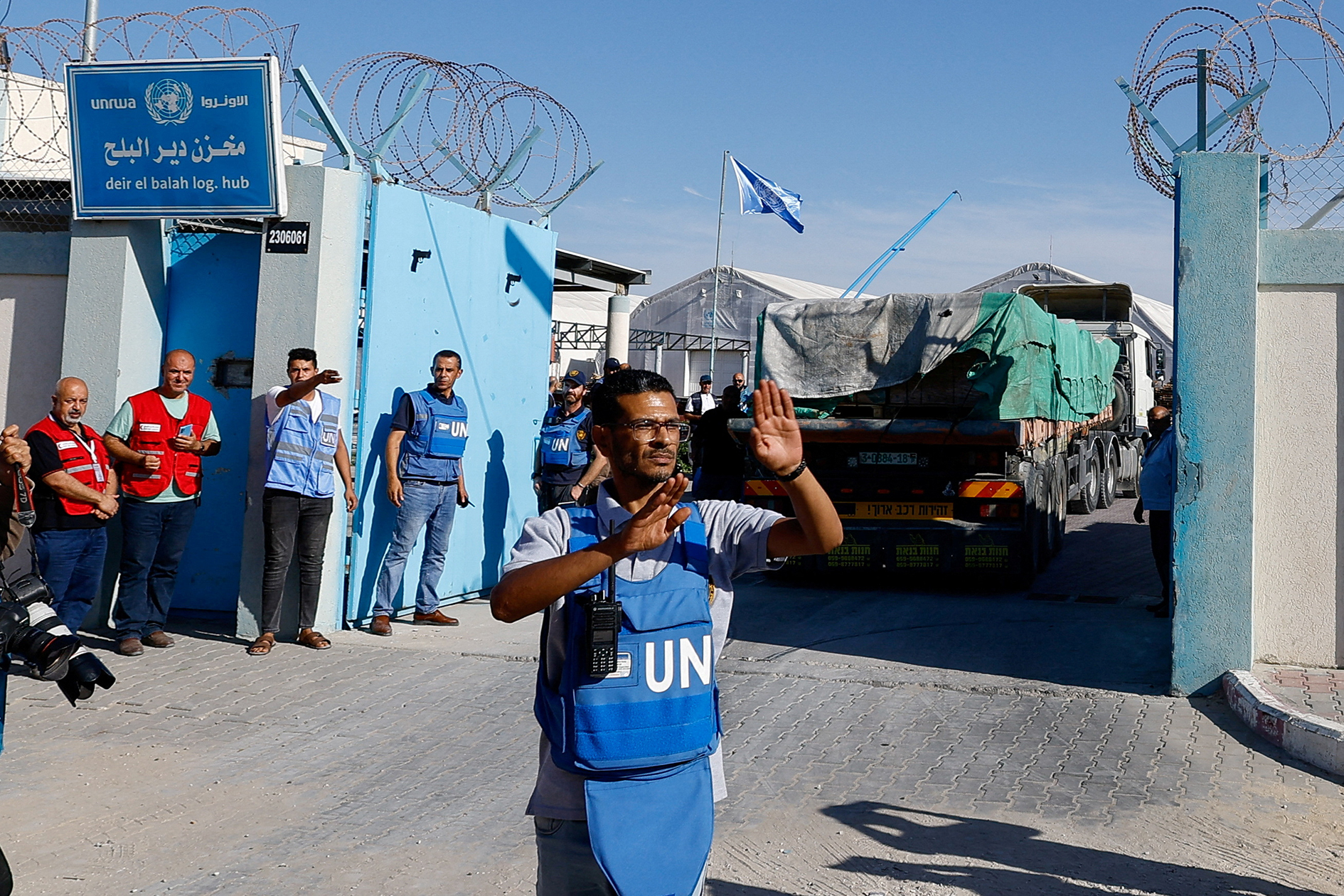 A truck carrying relief supplies arrives at a United Nations facility in the Gaza Strip on October 21. Photo: Reuters
The reopening of the Rafah border gate followed a series of diplomatic efforts lasting several days, including a visit to the region by US President Joe Biden and UN Secretary-General Antonio Guterres.
Israel initially announced that no one would be allowed to enter the Gaza Strip until Hamas released all hostages taken following the October 7 attack. Israel believes Hamas is still holding at least 210 hostages and their condition is currently unknown.
On 21 October, the Israeli military said that humanitarian aid entering the Gaza Strip does not include fuel and will only go to areas south of the land. The Associated Press quoted multiple sources as saying that talks on bringing fuel to the hospital were not making much progress.
An Egyptian official said they were discussing Hamas releasing hostages with dual nationality in exchange for fuel, but Israel wanted all hostages released.
Shortly after the above aid shipment entered the Gaza Strip, an international conference discussing the crisis took place in Cairo – Egypt. In addition to increasing aid to the Gaza Strip, the host country's President Abdel Fattah al-Sisi also called for talks on a ceasefire and the resumption of Israeli-Palestinian peace talks that broke down more than 10 years ago.
According to Bloomberg, Arab leaders and some European officials stressed that efforts to find a long-term solution to the conflict should be based on a "two-state" solution. However, due to the absence of US and Israeli representatives, the conference failed to reach a successful agreement aimed at stopping the violence.