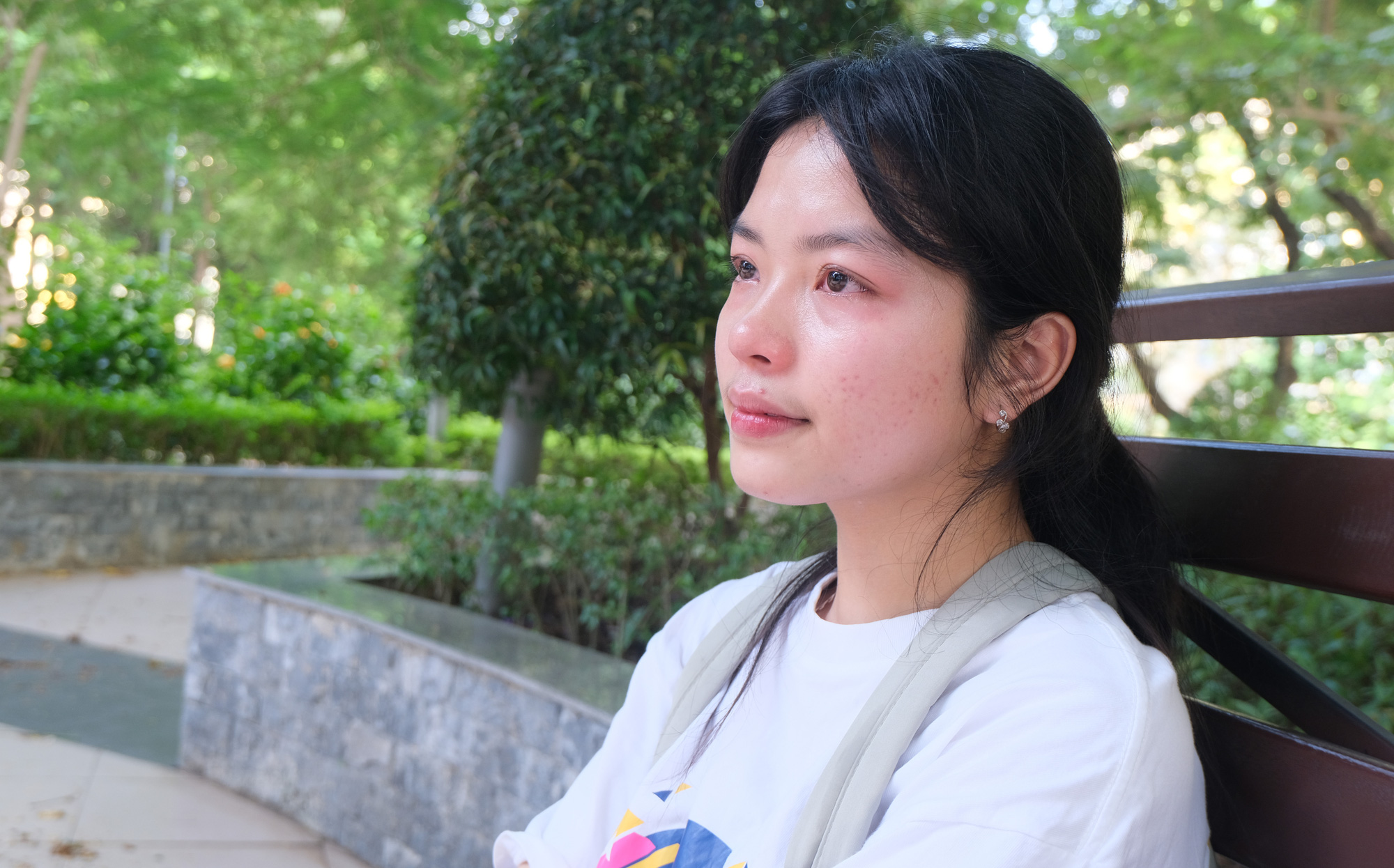 This is not only a promise but also the determination of Ngo Thi Hien (Ha Nam), a new student at the National Economics University, in front of her father's altar on the day she went to Hanoi for enrollment. Hien's father died in April this year after battling liver cancer.
She described herself as strong, but sometimes she missed her father so much that she could not control herself, so the child would cry alone. But crying made Hien realize that she had to study and study well so that her father, wherever he was, would be proud of his little daughter.
Learn to Pay Off "Debt"
The time Hien focused on training for Ha Nam Province's National Excellent Student Team in 2022 was the same time as his father's illness worsened. The daughter studies for exams and helps care for her father in the hospital with the encouragement of her teachers, trying to get good results to make her father happy. The new student recalled that when she got the news that she had won the National First Prize in Geography, her friend hugged her father in the middle of the hospital and jumped with joy.
Then my father could not overcome the wicked liver cancer. Dad passed away in April this year, just before his daughter turned her attention to her high school graduation exam, an important milestone in her 12 years of study.
The daughter suppresses the feeling of missing her father and concentrates on studies because only studies can make you stop thinking about the pain that has just come into your life.
"At that time, I thought to myself that I was no longer studying for myself, but studying for my Father, studying to make my Father in heaven proud of me," Hien said.
With excellent student results in all three years of high school and first prize for the National Outstanding Student in Geography, Ngo Thi Hien won direct admission to the National University of Economics. The joy of getting into a top school also quickly fades due to the burden of tuition fees.
My father passed away, my mother's salary as an employee was a little over 3 million VND. If I had to work overtime, I would only be able to earn 5 million VND/month, which was only enough to cover household expenses, and I still wouldn't be able to earn.' I don't know how to raise money to send my daughter to school in Hanoi. Any.
Mrs. Le Thi Sang – Hien's mother – had to ask for a temporary loan from everywhere, but it was only enough for half the amount to enroll her daughter in school. After running out of options, she hid her father's funeral money from her daughter and secretly contributed it so that Hien could register for school on time.
"I heard this story between my mother and my brother. At that moment, all I thought about was how to work hard not to waste money. Try to study so that you can repay your "debt" in the future. To earn more money "for me. Dad, stay well, take care of mom and family from your side," Hien said.
Eating instant noodles still feels lucky
After living in a hostel for a month, Hien ate instant noodles for the same number of days. The new student jokingly said that his personal spending plan is quite abundant: "Each meal costs 7,000 VND. The "luxurious" meal for me is a package of instant pho. I eat twice a day, lunch And dinner. I skip breakfast, and when I'm very hungry, I eat a 5,000 VND shrimp sandwich."
But when she craves rice too much, Hien rewards herself by saving money to eat a portion of chicken rice for 35,000 VND. The girl said that such a meal is equivalent to five daily meals combined, so sometimes she regrets it when she eats it, but sometimes she eats it to motivate herself to study. Treats it as a reward and then immediately starts eating the instant noodles.
But Hien said it was already fun. Because the school is near Bach Mai Hospital, every time she goes to school and passes under the overpass of the hospital, seeing many homeless people lying there, she says that she loves her very much and realizes that His life is extremely fortunate. You say you may not have enough money, but still having food and being able to go to school is luckier than many situations in life.
While traveling to Hanoi to study, Hien chose to take the bus. You also ask around at some places near school to find a part-time job to help your mother pay her living expenses. The daughter knows that her mother's burden will become even heavier when she goes to school away from home.
So Hien was determined to apply for scholarship funds, study well, and share the burden with his mother if possible. In the short term, I want to join the marketing club and follow my seniors to learn more specialized knowledge and also learn about the work environment quickly.
With her cute face and bright smile, people around her easily recognize that she always radiates positive energy. Because seeing Hien smiling a lot, someone once asked why she smiled so often.
In response, the little girl said softly: "If I come across a sad story, I should keep it to myself because I don't want to radiate bad energy onto others. Life is too short, why be so sad, that's it." Live happily and optimistically "to overcome difficulties".
want to go out into the world
Since childhood, Ngo Thi Hien has dreamed of going out to see the world. She always keeps thinking in her mind that the world is so big yet she is small, if she stays at one place then her vision will become narrow.
Choosing to study Marketing, Hien set a goal to practice English, devoting his efforts in studies to get high marks to apply to study abroad in the near future. "There are many youth who go abroad to study, work and return to contribute to the country. I also want to do the same, contribute my little strength to the country," said New The student said. Ngo Thi Hien expressed.
118 new students from 19 northern provinces received scholarships
Today (25 October), Newspaper Youth Coordinated with Ha Nam Provincial Youth Association and northern provinces and cities to hold the Relay to School Scholarship Award Ceremony for 118 new students with difficult circumstances from 19 provinces and cities in the Red River Delta and Northern Region: Bac Giang, Bac Caen, Bac Ninh, Cao Bang, Ha Giang, Ha Nam, Hanoi, Hai Duong, Hai Phong, Hung Yen, Lang Son, Nam Dinh, Ninh Binh, Phu Tho, Quang Ninh, Thai Binh, Thai Nguyen, Tuyen Quang and Vinh Phuk.
The total program budget exceeds 1.8 billion VND from the Farmers' Companion Fund (Binh Dien Fertilizer Joint Stock Company), Vinacam Education Promotion Fund (Vinacam Group Joint Stock Company) and Construction Investment Joint Stock Company. Idico Oil & Gas Sponsorship.
Each scholarship is 15 million VND cash, including two special scholarships (50 million VND/four years). On this occasion, Vinacam Study Promotion Fund (Vinacam Group Joint Stock Company) sponsored five laptops especially for difficult freshman students who lack learning equipment.
In 2023, the Farmers' Companion Fund sponsored the program with 3 billion VND, and the Vinakam Education Promotion Fund sponsored 3.8 billion VND. The Vietnamese American Association English System supports 50 English scholarships for IELTS test preparation courses and Nestlé Vietnam Company Limited sponsors backpack gifts for new students.
The 2023 Relay to School Scholarship is expected to provide 1,200 scholarships to disadvantaged freshman students across the country, with a total cost of more than 19 billion VND. Each scholarship is 15 million VND, including 20 special scholarships (50 million VND/four years).

(TagstoTranslate)Startup(T)NGO Thi Hien(T)School Scholarship Aid(T)School Aid