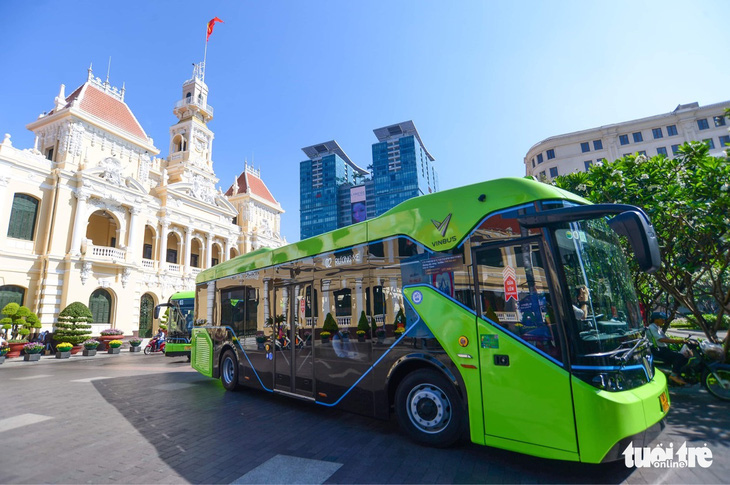 The Ho Chi Minh City Department of Transportation has issued a written report to the Ministry of Transportation on the results of the operation of 4-wheel electric vehicles (powered by electricity or biofuel) to serve visitors and tourists in Ho Chi Minh City. Ho Chi Minh City. ,
Also, propose some solutions to more effectively exploit and develop green energy vehicles in the region.
The city's transportation department evaluated that after the pilot period, 4-wheel electric vehicles have shown some effectiveness. This type caters to the many tourists visiting inner cities and new urban areas.
However, 4-wheel electric vehicles are still facing difficulties, the number of passengers traveling on the routes is still low (demand is mainly concentrated on evenings, weekends and holidays), so investors have not yet Operating costs are not guaranteed. My Linh Company has stopped the implementation of the D1 tram line. Currently, the management agency cannot control the route, scope, and frequency of pilot vehicle operations.
Most routes operate according to fixed routes and vehicle schedules, so they cannot meet customer needs. There are no remedies for pilot participating units that do not implement the approved project properly or do not implement it. Authorities do not have the equipment to control piloted vehicles.
Faced with the above limitations, the city transportation department proposed not to limit the pick-up points for 4-wheeler electric vehicles. 4-wheel vehicles running on electricity or bioenergy can operate on roads with limited width for bus traffic serving public transport connections.
Ho Chi Minh City has many tourist attractions in District 1 (about 30 places, average 5 places/km2), District 5 (about 17 places, average 5 places/km2). Therefore, operating according to a fixed route and schedule does not promote the benefits of flexible service according to the needs of people and tourists in the pilot area.
The city's transportation department proposed that Ho Chi Minh City would regulate only limited scope (not necessarily route-wise) and operating hours for the operation of this vehicle.
Regarding the management and control of vehicle operation, the city transportation department believes that all vehicles should be annually registered with badges and use the trip monitoring devices set for reference cars. Transportation business. Enterprises have transportation software applications to allow passengers to register for services and provide accounts to state management agencies for monitoring.
The City People's Committee shall specifically regulate the timing, scope of activities, order, procedures for permitting passenger transportation activities by 4-wheel motorized vehicles and organize and manage them. The Department of Urban Transportation recommends that the Ministry of Transportation consider the above solutions in coordination with the Ministry of Public Security to simultaneously complete the two law projects (Law Project on Road Traffic Order and Safety and Law Project on Road Traffic Safety and Order) . , road).
Previously, Pho Can Company conducted pilot activities of 2 tram routes in Phu Mai Hung area (District 7), including routes D2 (Sky Gaiden – Crescent Mall) and D3 (Riverside Resident – ​​Crescent Mall). From 2017 to September 2023, this company made 81,958 journeys with 220,782 passengers.
Kingtour Travel Transport Co., Ltd. and Gia Nghia Tourist Transport Co., Ltd. do not implement the project. My Linh Company has closed the D1 tram line.
Recently, Saigon Public Transport Co., Ltd. submitted a proposal to operate a 4-wheel electric vehicle to transport tourists for sightseeing and tourism in Ho Chi Minh City. The company is completing and updating a project on the policy of continuing a variety of transportation services in Ho Chi Minh City.
(TagstoTranslate)Ministry of Transport(T)Department of Transport(T)Electric bus(T)Electric energy(T)4-wheel electric vehicle(T)Electric vehicle