According to Reuters, the above proposal was made after the UN agency providing aid to Palestinian civilians in the Gaza Strip – UNRWA – warned that they would have to suspend operations on the evening of October 25 if they did not get additional fuel.
UNRWA posted a warning on social networks on 24 October. The Israel Defense Forces (IDF) later cited this warning and said that the Hamas movement had "more than 500,000 liters of fuel in tanks inside the Gaza Strip".
"Ask Hamas if you can get some (fuel)," the IDF wrote.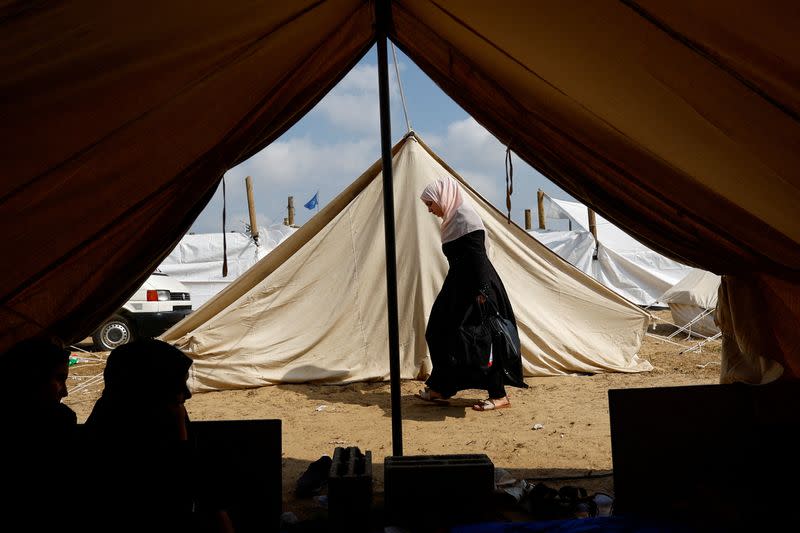 Palestinians in a UN refugee tent in the town of Khan Younis in the Gaza Strip. Photo: Reuters
Lynn Hastings, a senior UN aid official, earlier told the UN Security Council that 400,000 liters of fuel was ready for transport on trucks to Egypt and would be delivered in about two and a half days.
However, Israeli military spokesman Daniel Hagari accused Hamas of "stealing fuel from UNRWA" and said: "The fuel will not be transported to the Gaza Strip. Hamas takes the fuel for its military infrastructure."
Since Israel imposed a "comprehensive siege" on the Gaza Strip in response to an attack by the Hamas movement on October 7, Rafah – the main border gate in and out of the Gaza Strip that is not bordered by Israel – has become a supply route. . Major grant-in-aid.
The US is leading talks with Israel, Egypt and the United Nations to try to establish a mechanism to provide permanent aid to the Gaza Strip. Last weekend, there were limited supplies of food, water and medicine in the Gaza Strip but no fuel yet.
Israel is concerned about the possibility of Hamas diverting fuel supply routes. White House national security spokesman John Kirby on October 24 described Israel's concerns as legitimate.
Meanwhile, on October 24, the Times of Israel newspaper quoted IDF Chief of Staff Herzi Halevi as admitting that Israel was delaying a ground attack on the Gaza Strip due to "strategic considerations".
"We are ready for this. The IDF and the Southern Command have prepared a plan of attack to achieve the stated objective. The IDF is ready for a ground attack and we will decide." "Ground offensives, but they helped the IDF be better prepared."
Emmanuel Nahshon, a senior Israeli Foreign Ministry official, said that the attack by the Hamas movement on October 7 was intended to "prompt political and military leaders to pour troops into the Gaza Strip".
According to Mr. Nahshon, this would lead the IDF to be "trapped in a death trap carefully prepared by Hamas": "We know that if we enter the Gaza Strip on the first day, the second day or the third day, we will be trapped". "A death trap that caused very serious damage to Israeli soldiers."