Head of Vietnam's Permanent Mission to the United Nations, Ambassador Dang Hoang Giang, called on all parties to immediately cease firing, exercise maximum restraint, respect international humanitarian law, and implement all necessary measures to protect humanity. Ensuring the safety of civilian life and the immediate release of all hostages and minimizing damage to essential civilian infrastructure in accordance with Security Council Resolution 2573 of 2021.
The representative of Vietnam called on the international community, in particular all concerned parties, to end the fighting, resume dialogue and negotiations, allow humanitarian access, and ensure timely and unhindered humanitarian relief operations reach those in need of assistance. Called for creating favorable conditions for doing so. Protection of humanitarian aid workers.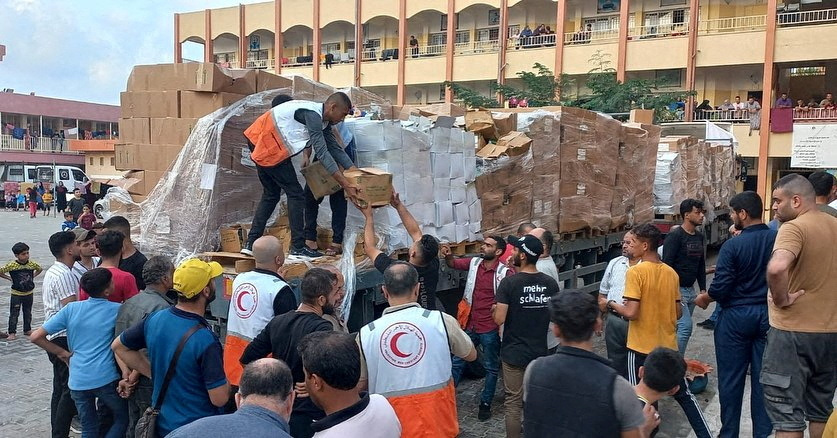 On 25 October, relief supplies were distributed in the city of Deir al-Balah in the Gaza Strip. Photo: Reuters
According to Al Jazeera, most countries also urged an immediate ceasefire to allow the transport of humanitarian aid into the Gaza Strip.
Separately, US Secretary of State Antony Blinken called on the UN Security Council to support a new draft resolution calling for a temporary pause in fighting to allow aid into the Gaza Strip, rather than a full ceasefire agreement.
In addition, Mr. Blinken also stressed the need for the protection of Palestinian civilians. However, Russia stated that it would not support the above draft resolution, and also presented its own draft calling for a ceasefire for humanitarian purposes.
The UN Security Council has not yet passed any resolution to end the Israel-Hamas conflict. In the context of this standoff, some countries have asked the UN General Assembly to convene a meeting on the crisis on October 26.
In the Gaza Strip, hospitals warned on 25 October that they would have to shut down if they did not receive more fuel. The United Nations Agency for the Relief of Palestine Refugees (UNRWA) also said it could not carry out relief operations after the night of 25 October without the fuel supplies necessary for the operation of transportation, seawater desalination and medical equipment. Apart from fuel, people in Gaza Strip also face shortage of water, medicine and food.