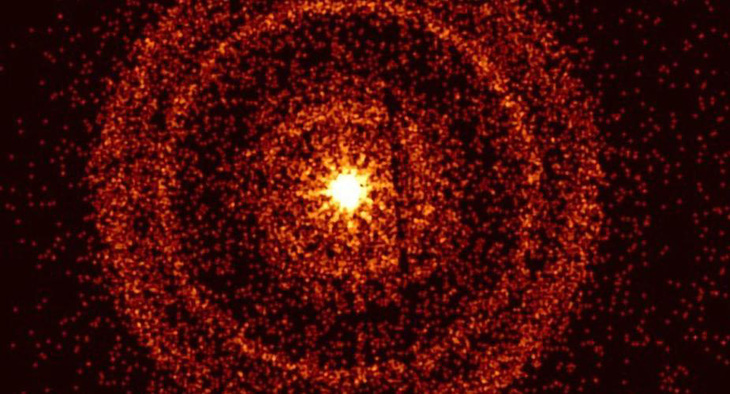 In more than 50 years of space observations, this is the second time telescopes around the world have detected a large gamma-ray burst.
The explosion produced an emission 1 million times brighter than the Milky Way. Gamma ray bursts are brief emissions of the most energetic form of light.
This particular explosion – designated GRA 230307A – was likely created when two neutron stars – the remnants of supernova stars – merged in a galaxy about a billion light years away.
According to a study published October 25 in the journal Nature, a gamma-ray burst, in addition to emitting extremely bright radiation, also creates a kilonova – a rare astronomical phenomenon that occurs when a neutron star collides with another neutron star or black hole. Merges with. hole.
Mr Andrew Levan, Professor of Astrophysics at Radboud University (Netherlands), said: "There are only a few known kilonovae and this is the first time that we have been able to observe the consequences of a kilonova using the James Webb Space Telescope". Mr Levan was also a member of the team that discovered the first kilonova in 2013.
In addition to the James Webb Telescope, NASA's Fermi Gamma-ray Space Telescope, Neil Gehrels Swift Observatory and the Transiting Exoplanet Survey Satellite observed the explosion and detected the neutron star merger.
After the explosion, the James Webb Telescope also detected chemical signatures of tellurium
According to the Royal Society of Chemistry, tellurium is a rare metal that is used to color glass and ceramics. It also plays a role in the production of rewritable CDs and DVDs.
Astronomers hope to continue to find other elements similar to tellurium, potentially present in the material released by kilonovae. Contains iodine, which is essential for most life on Earth
In the future, sensitive telescopes like the Webb and Nancy Grace Roman Space Telescope – scheduled to launch in 2027 – could help astronomers find many more kilonovae.
These rare explosions will provide astronomers with information about how rare chemical elements are formed.