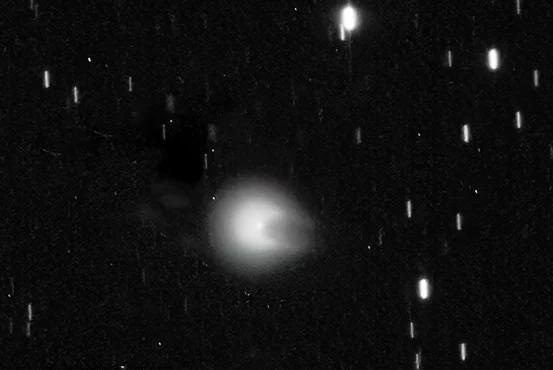 This comet, named 12/P Ponce-Brooks, has a core of dust, gas and ice and is surrounded by a bright gas cloud. Solar light and radiation can heat comet cores, sometimes causing violent explosions.
As expected, 12/P Ponce-Brookes will reach perihelion, or the point in orbit closest to the Sun, on April 21, 2024. Then on June 2, 2024, it will pass closest to Earth.
According to astronomers, during the above time, if the sky is clear and dark enough, we can see this comet with the naked eye.
According to NBC News, 12/P Ponce-Brookes will not pose a threat to Earth, although astronomers have observed the eruption twice in the past four months: once in July and once in early October.
During both explosions, the comet brightened significantly and spewed clouds of gas and icy debris that looked like two identical horns.
Many astronomers compare the comet's unique shape after the explosion to the Millennium Falcon spacecraft from the "Star Wars" series.
Eliot Harman, an amateur astronomer and retired professor at the University of Arizona's School of Plant Sciences, captured stunning images of Comet 12/P Ponce-Brooks and its horn using two telescopes in Wyoming.
Comet 12/P Pons–Brookes was discovered in 1812 by French astronomer Jean-Louis Pons.
It was later observed by astronomer William Brooks in 1883.
After its close approach to Earth in 2024, comet 12/P Ponce–Brookes will not return to the inner Solar System for another 71 years.