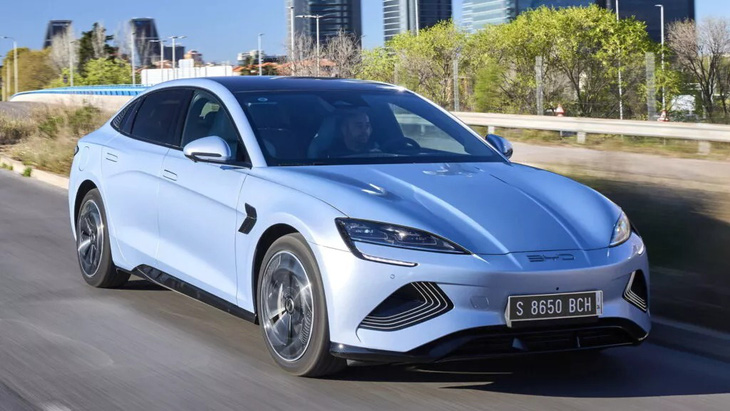 At the end of October, JATO Dynamics – a respected global vehicle industry data collection and supply company headquartered in the UK – announced a number of notable data about global electric vehicles. The parameters given by them show why many Western countries and car companies are considering Chinese electric cars as a "fork".
According to the data they collected, the average electric car price in Europe is 70,462 USD (1.73 billion VND) and in the US it is 71,683 USD (1.76 billion VND). Meanwhile, the average price of electric cars in China is only 32,842 USD (806.8 million VND).
If you want to buy an electric car in the US, even choosing the cheapest electric car will cost twice as much as the cheapest gasoline car on the market. In contrast, the cheapest electric car in China costs 9% less than the cheapest gasoline car.
The above reference parameters clearly show the difference in electric vehicle prices in China and the West. While electric cars from big brands in the US and Europe are out of reach for many users, Chinese electric cars are more suitable for ordinary customers than gasoline cars.
| | | |
| --- | --- | --- |
| market | Chinese electric car prices | Electric car prices of other brands |
| Australia/New Zealand | 37.434 USD | 78.055 USD |
| China | 25.947 USD | 58.365 USD |
| Europe | 51.516 USD | 71.784 USD |
| India | 27.714 USD | 57.994 USD |
| israel | 60.153 USD | 124.498 USD |
| Japan | 29.693 US dollars | 67.236 USD |
| Latin America | 49.178 USD | 106.110 USD |
| Southeast Asia | 33.613 USD | 123.807 USD |
| turkiye | 46.834 USD | 68.508 USD |
The above price difference is largely due to the battery. Almost 100% of Western electric cars use expensive lithium-ion batteries but offer better operating range. In contrast, Chinese electric cars use new technology batteries that are cheaper to make but have a shorter optimal operating range.
Additionally, cheaper labor costs in China also help drive down electric vehicle prices here. Meanwhile, workers in the US and the West are paid significantly higher wages.
Subsequently, the Chinese government's policies to subsidize users and support the production of electric vehicles for automakers are much stronger than those in the US and Europe, although the above two regions are also promoting electric vehicles. For this reason, the number of electric car models in China (235 cars) is much higher than that in the US (51 cars) and Europe (135 cars).