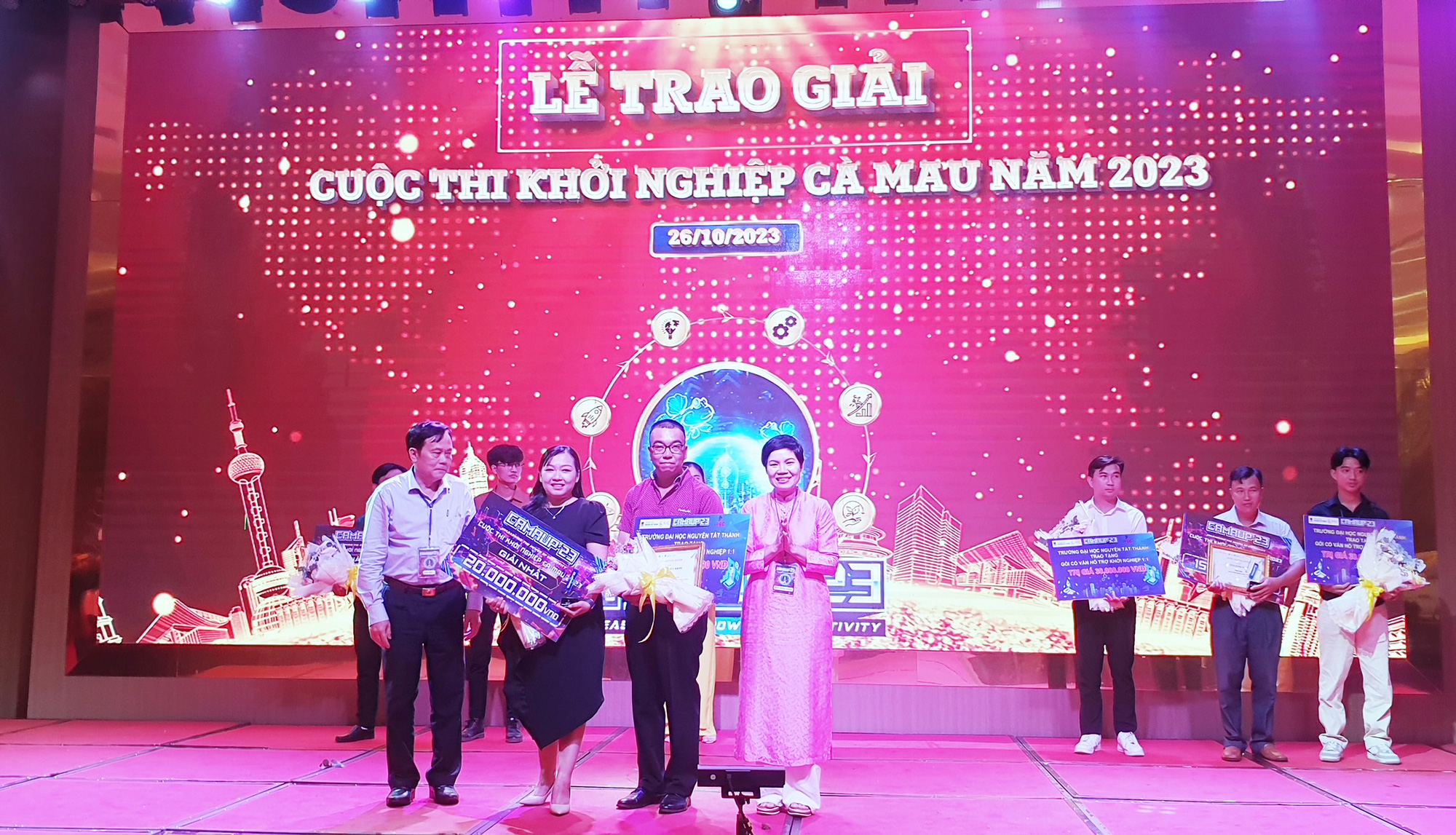 With the theme "Circular Economy – Start-ups and Sustainable Business Trends", CA Maui Province's Start-up Festival has created a playground to inspire and spread the spirit of confident start-up innovation.
Creative Startup Playground
The festival attracted 70 units to showcase and promote specific products and services in the province.
Mr Le Van Su – Vice-Chairman of the Ca Mau Provincial People's Committee – said it is an annual event to help individuals, organisations, especially the younger generation, access the business environment. Dynamic and creative growth experiences for future economic exchange and learning.
"Through this event, the Province of Ca Maui hopes to invite and attract investors and support the development of an innovative startup ecosystem to further grow the startup businesses of the Province of Ca Maui. Start-ups and Create opportunities to exchange experiences and learn among national start-up support experts," Mr Su said.
Mr. Trieu Thanh Tuan, Deputy Director of Ca Mau Center for Investment Promotion and Business Support, said that this is an excellent event for Ca Mau Province, attracting hundreds of businesses, companies and business establishments from around the world and outside the province. To participate.
10 outstanding startup projects specially selected from among 171 competing projects created excitement and drama for the competition.
Ms. Nguyen Thi Bay Shieu – author of the "Leaf of Health" project (won first prize in the competition) – said: "The competition is a very good opportunity for people like me and young people to present ideas, your startup model.
I am very happy that my project (making bowls from Polyscias fruticosa leaves, which aims to protect health and be environment friendly) has been appreciated by everyone. After this competition, I hope to meet investors to develop a broader market."
Preconditions for strong growth
As one of the contestants and winners from the provincial level to the Mekong Delta regional level, Ms. Tran Thi Za, director of Ba Khia Dam Doi Cooperative, said, "The competition is like wings for me to "fly". Participating Startup At the event, many experts and investors offered to help further develop the facility."
"In the early days of starting my business, I sold only a few dozen kilograms of bacon every day. After participating in the competition, I learned more about sales skills, new labels and better quality, so now I sell them every day. Sell. Got a lot of bacon," Ms. Za said.
Of the 171 projects participating in the preliminary round, the Organizing Committee awarded bonuses and support packages worth up to hundreds of millions of dong to 6 outstanding startup projects. In addition, 10 projects in the final round also received a startup support mentorship package of 30 million VND/project.
"Previously, I only sold products through social networks, but after winning this contest, my products were promoted on the CA Maui province's startup website and support to sell products on the province's e-commerce trading floor. Given that, I see an opportunity to take my product further in the near future," said Mr. Nguyen Viet Bac, author of the project "Vietnamese Crabs Make a Difference", which won second prize in the startup competition. Career, said.
At this event, economic expert speakers discussed mechanisms, policies and orientations in circular economic development and gave recommendations to provincial businesses to initiate and capture the trend, direction and proactive policies for business development.
Mr Phan Tan Thanh, Director of the Department of Science and Technology of Ca Mau Province, said that this is a good opportunity for youth to experience, exchange and learn from experts, fully equipping themselves with knowledge and skills. Start your business with confidence.
In addition to the Startup Awards, CamaUP'23 also presented awards for the most beautiful booth displaying and promoting products and services; Award for outstanding art paintings of the land, beautiful landscapes, people, famous tourist destinations and productive labor activities of the people of Ca Mau Province.
(tagstotranslate)camup