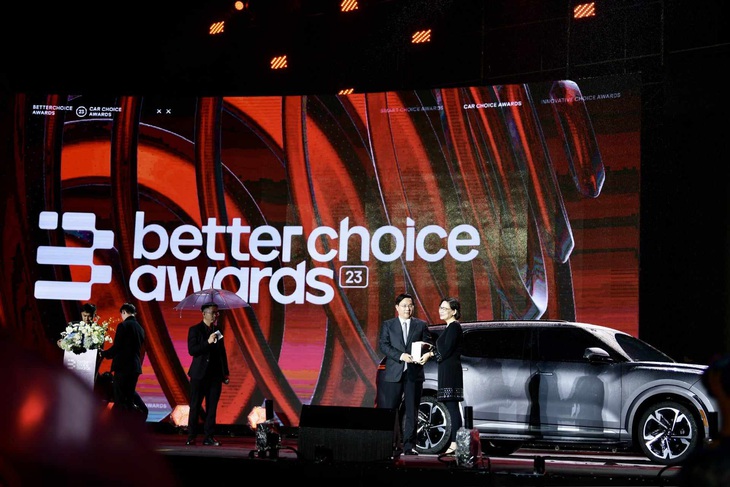 The Gala Better Choice Awards 2023 focuses on two industries with the fastest innovation rates: Consumer Technology – Smart Choice Awards, and Automobile – Car Choice Awards.
Speaking at the Better Choice Awards 2023 ceremony, Mr. Tran Duy Dong – Deputy Minister of Planning and Investment – ​​believes in bringing the Better Choice Awards to millions of viewers to share and explore together the quintessence of technology. Spreading the spirit of technology and innovation, inspiring the community to jointly promote Vietnam's innovation ecosystem.
The Better Choice Awards is considered an important and meaningful event not only for manufacturers and product suppliers, but also for consumers.
Hundreds of products ranging from applications, new technology solutions, innovative vehicles to unique consumer services were evaluated, voted on and selected to be honored with the Better Choice Awards 2023.
After 2 weeks of official launch, Better Choice Awards 2023 has attracted the attention of 91 participating brands and more than 2 million consumers with more than 5.2 million votes and more than 25 million views. Naturally, the program has received about 4.5 thousand shares.
The nomination and evaluation mechanism of the Better Choice Awards is carefully selected through 5 representative groups, including: real consumers from across the country, experts and people with extensive knowledge of the field of consumer technology. Used cars, leaders of corporations, companies, journalists and famous people who have a positive and far-reaching impact and are followed by a large community.
Therefore, the Gala Better Choice Awards 2023 recognizes and rewards innovative products and brands that deliver practical benefits to consumers across three critical areas: Technology – Vehicles – Service Consumption.
Specifically, the Car Choice Awards category is an award that honors innovative breakthroughs that impact practical needs applied to automotive products to serve consumers in the most complete way.
The Smart Choice Awards 2023 category honors breakthroughs and innovations applied to technology products to fully meet the needs of each user.
In addition, the organizing committee also presented the Innovative Choice Awards, an award meant to inspire and encourage the spirit of innovation across all industries as well as to promote and spread new brands coming to the market. The market makes a creative impression on consumers.