Xiuniuzhai Scenic Area in Binh Giang District of Hunan Province – China is famous for its high cliffs, deep gorges and unique rock walls. The place is also known for its glass-bottomed bridge, which is one of the longest and highest glass bridges in the world.
In particular, there is also a convenience store in Xiuniuzhai Scenic Area that many tourists consider "the most inconvenient in the world".
According to Mr. Song Huizhou, head of the Xinyuzhai Scenic Area Management Board, the convenience store is 2 meters wide2 "Located" on a rock about 120 meters above the ground. The store was established in 2017 and opened a year later.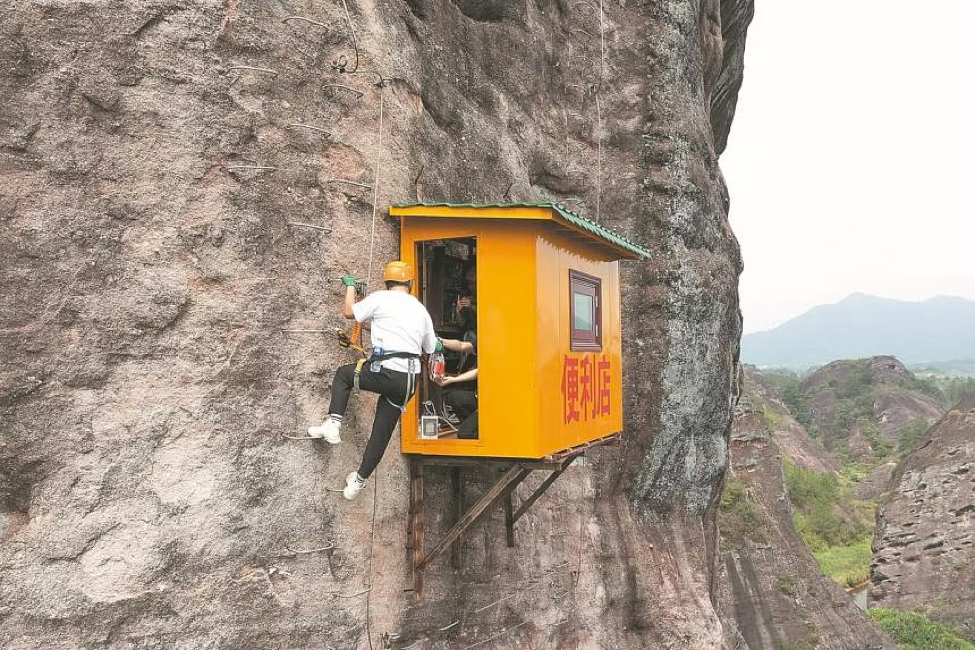 A climber shops at a convenience store on a cliff in the Xiuniuzhai Scenic Area. Photo: China Daily
Tourists who come to experience the natural area are mostly amateur mountaineers, so they often feel hungry and thirsty during the journey to overcome the challenges. Generally, it takes climbers about one and a half hours to reach the top of the mountain.
Therefore, the management board came up with the idea of ​​building a convenience store halfway up the mountain to excite the visitors. Visitors can reach this convenience store by climbing iron stairs attached to the rock and using fixed cables.
According to the newspaper, this unique convenience store has food and drinks brought in by employees every day. China Daily, Mr. Song said that although the placement and transportation of goods takes a lot of effort, the selling price is still comparable to that of regular stores.
The store opens every day at 8 am and closes at 5 pm. The store has a live cashier, but visitors can also pay for items by scanning a QR code on their phones. "Safety is the top priority. Employees regularly maintain and check the safety of convenience stores" – Mr. Song said.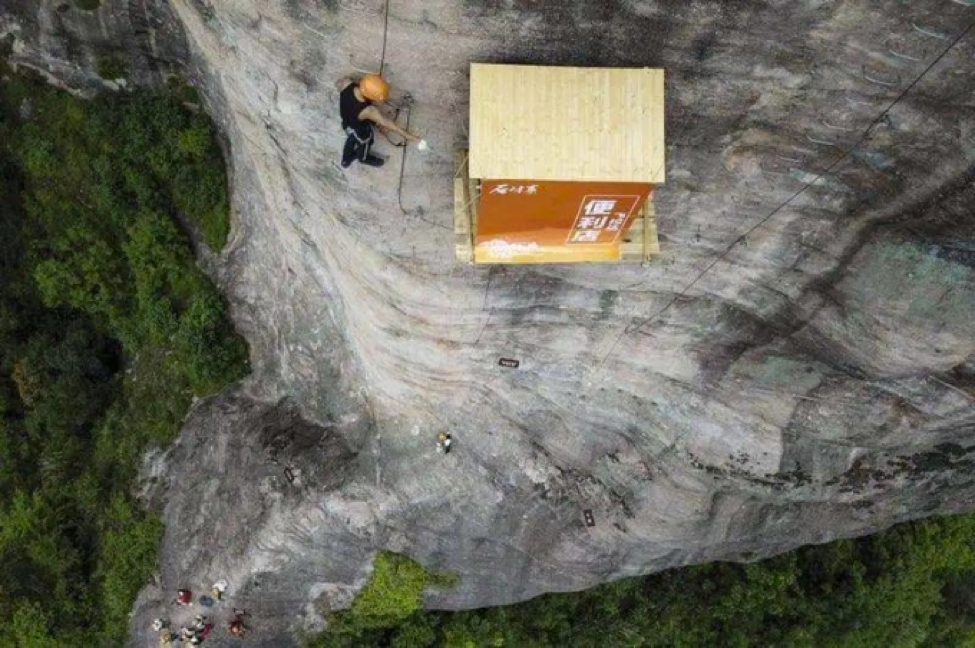 The experience of climbing mountains and shopping at convenience stores on cliffs in China excites many people. Photo: Auditcentral
The said store has created a huge buzz on social media platforms. Some visitors joked that it was "the world's most inconvenient convenience store", while others found it "adorable". Some people also dream of working as salespeople in this convenience store.
Tourist Hui Ping shopped here when he and a friend visited this place during the Mid-Autumn Festival in late September. "I did not want to bring anything with me when conquering the mountain peak to avoid losing strength. Because therefore, the store is very useful" – Ms. Hui evaluated.
The 29-year-old amateur climber said: "This store is amazing and we don't find it easily in our daily lives. I would recommend my friends to climb here. It is challenging but also rewarding." "A wonderful feeling of accomplishment."