Prosecutors representing Minnesota voters have sued Mr Trump, the leading candidate for the 2024 Republican presidential nomination, to remove him from the state's ballot based on the "insurrection" clause in the 14th Amendment of the US Constitution.
according to the sheet newsweekThe 14th Amendment was passed in 1868, and is primarily known for granting citizenship and equal protection under the law to any person born or naturalized in the United States.
However, Section 3 of the 14th Amendment also opens a way to recall sitting officials if they engage in "insurrection or rebellion" against the United States. Mr Trump was accused of inciting insurrection during the riot at the US Congress in 2021.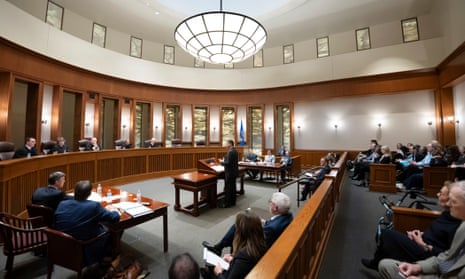 Minnesota Supreme Court prosecutors argued that former President Donald Trump's name should not be on the state's presidential election ballots. Photo: AP
Some judges said that issues of eligibility to participate in voting should be resolved with the competent authority, the US Congress, and not with the states.
according to station CBS NewsState officials are asking the court to make a quick decision because Minnesota's presidential primary election is just four months away.
Mr. David Schultz, professor of political science at Hamline University, said that a trial like this has never happened in American history. The professor said there was also doubt as to whether the "rebellion" clause applied to former presidents.
Meanwhile, according to Mr Trump's lawyer, Nicholas Nelson, the states' role in determining the eligibility of presidential candidates is limited to "basic processing requirements", such as determining whether they meet age requirements. Nelson also warned that there would be potential chaos if states made different decisions on the issue.
Mr Trump's lawyers also made several key arguments, arguing that Minnesota and federal law do not allow courts to remove Mr Trump from the vote and that the "insurrection" clause also does not apply to presidents. Mr Trump's legal team asked the court to dismiss the suit.
The same day in Colorado, Mr Trump's lawyers also continued to argue that the incident in Congress was not an insurrection and that Mr Trump was not responsible.
According to the AP, the lawsuits filed in courts across the United States in Minnesota and Colorado seek to ban Mr. Trump from running in state elections in 2024 due to his involvement in attacks on the United States. Meeting on January 6, 2021.