A series of photos released on November 2 by the Philippine Organized Crime Commission (PAOCC) showed handguns, batons, baseball bats, stun guns, wooden bats, airsoft guns…
According to the PAOCC, they were used to torture at least two foreign employees of Smart Web Technology – an overseas gambling company headquartered in the Philippines.
PAOCC executive director Gilbert Cruz said at a press conference, "They harass those who have not paid, especially if these people rent prostitution rooms and hire women, as well as those who Even those who violate the rules."
A special task force formed by the Philippine Department of Justice last week raided a six-story building leased by Smart Web in Metro Manila, arresting more than 700 of the company's employees, mostly Filipinos, Chinese and even That there were Vietnamese too.
"The crime found was sex trafficking," Deputy Justice Minister Nicholas Felix Tay told reporters.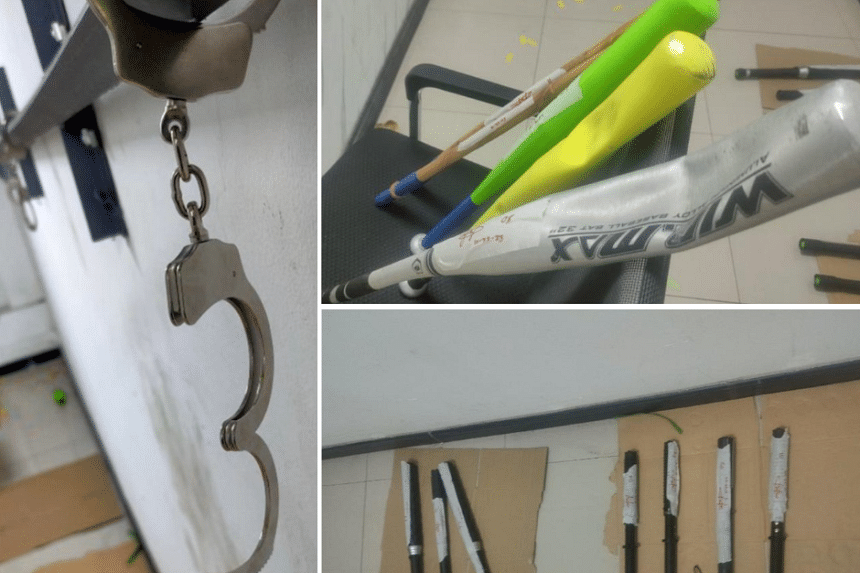 Handcuffs, baseball bats and batons were three of the items discovered in the "torture chamber". Photo: PAOCC
He said the raid team found an "aquarium" on the premises of Smart Web – a room where women stood in line and were paid by men for selective sexual services.
The Smart Web facility also has private floors and karaoke rooms to "provide special services," he said, referring to these as places that provide sexual services.
PAOCC CEO Cruz said that the smart web also leads to love and cryptocurrency scams.
Nine Smart Web executives were arrested. According to PAOCC, five of these people – four Chinese and one Filipino – have undergone investigation procedures for human trafficking and torture.
Police records show that one of the rescued Chinese said he had been "kidnapped" and "sold" for 500,000 pesos ($8,840). Another victim, also Chinese, said she was forced to work 12 to 15 hours a day for more than a year.
Deputy Attorney General Tay said Smart Web – also known as Freego Computer Gaming OPC and Zhushen Technology – has a license to operate as a "Philippines-based offshore gambling company" (POGO).