"We warn adversaries who plot to attack Lebanon or launch a pre-emptive campaign that this is the most foolish action and that they will pay a heavy price for it" – AP quoted the leader of Hezbollah in Lebanon on November 3. quoted as saying.
It is the first time the Hezbollah leader has spoken publicly since Hamas attacked Israel on October 7. He mentioned the possibility of Hezbollah escalating the fight with Israel.
"Hezbollah has entered the conflict with a series of cross-border clashes since October 8" – Mr Nasrallah warned – "This action will not be limited. We have kept all options open on the Lebanese front."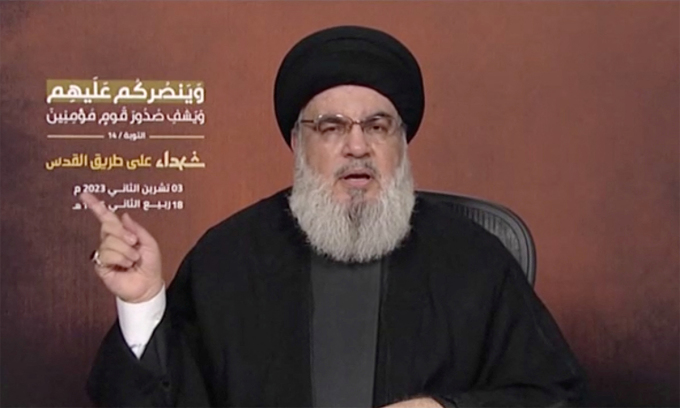 Hezbollah leader Hassan Nasrallah warned of escalating conflict with Israel in a speech on 3 November. Photo: Reuters
In a fiery speech delivered from a mysterious location, Hezbollah's leader praised armed group Hamas for attacking Israel.
At the same time, Mr Nasrallah criticized the US and said Washington was "solely responsible for the ongoing conflict in the Gaza Strip and for hindering the Israel-Hamas ceasefire".
cnn He said the US side had previously warned leader Nasrallah several times that Hezbollah should not take part in the conflict.
Two US aircraft carriers, including the nuclear-powered ship USS Gerald Ford, have been deployed to the Mediterranean in an apparent effort to deter Hezbollah.
Leader Nasrallah confirmed that the US fleet in the Mediterranean "does not threaten Hezbollah" and that Hezbollah is mentally prepared to deal with it.
In recent weeks Hezbollah has repeatedly fired missiles from across the border, mainly striking military targets in northern Israel. They have a significant stockpile of weapons and thousands of skilled fighters capable of attacking anywhere in Israel.
November 2 saw the most significant increase along the Israel-Lebanon border since the conflict.
It is known that 72 people were killed in Lebanon in cross-border fighting, including more than 50 Hezbollah fighters and many civilians. At least six Israeli soldiers and one civilian were killed.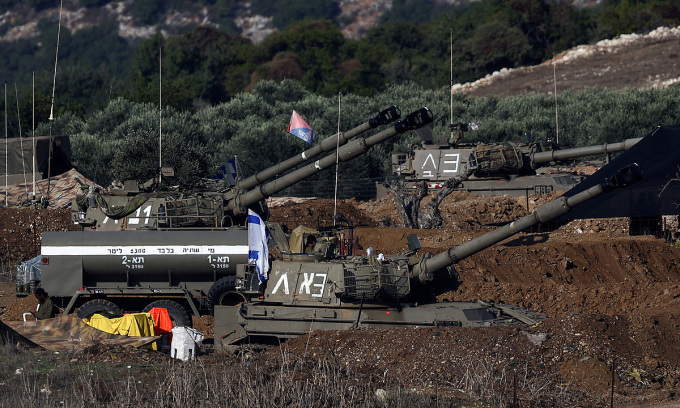 Israeli artillery forces at a position near the border with Lebanon on 19 October. Photo: Reuters
In Israel, US Secretary of State Antony Blinken met with Prime Minister Benjamin Netanyahu on November 3. The meeting reportedly called for the protection of civilians as Israeli forces tighten the siege on Gaza City.
Leader Nasrallah also criticized America's strong support for the Israeli bombing of Gaza, which has killed more than 9,000 people.
However, according to analysts, the Hezbollah leader's tough statement implies that the group has no intention of escalating into full-scale conflict with Israel, at least for now.