Nepal's National Center for Seismology said the earthquake struck Jajarkot district in Karnali province at 11:47 pm (local time). Jajarkot is about 500 km west of Kathmandu.
According to Nepal's National Seismological Center, the earthquake was of 6.4 magnitude, while the German Center for Geoscience Research (GFZ) said the earthquake was of 5.7 magnitude and the US Geological Survey confirmed. It has been determined at 5.6 degrees.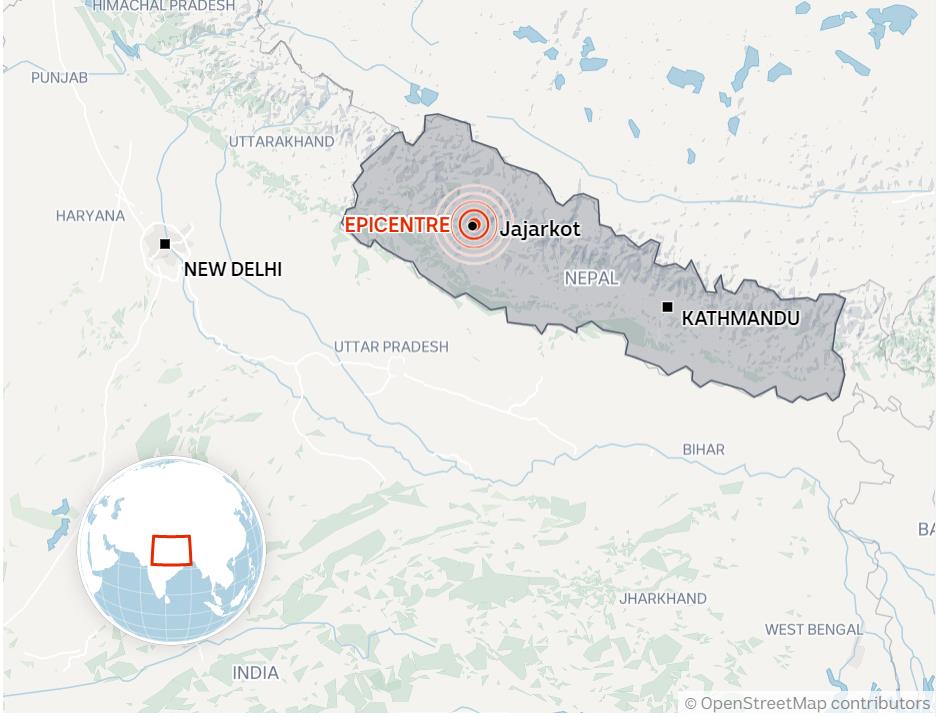 The epicenter of the earthquake was in Jajarkot, about 500 kilometers west of Kathmandu. Photo: Open Street Map
Local officials said communications were impossible near the epicenter in Jajarkot, a hilly district with a population of 190,000 and villages scattered in remote hills.
Jajarkot official Harish Chandra Sharma said at least 34 people were killed in the area, while around 35 deaths were recorded in Rukum West.
"Rescue and search teams had to clear roads blocked by landslides to reach the affected areas," police officer Namraj Bhattarai said. At present the officials have not yet been able to reach the epicenter of the earthquake in Ramidanda of Jajarkot.
Prime Minister Pushpa Kamal Dahal expressed deep grief over the loss of life and property in the earthquake and ordered security agencies to immediately launch rescue and relief operations.
At least 20 injured people were taken to hospital. People in the surrounding areas and Kathmandu said they also felt the earthquake.
According to sources reuters, the earthquake shook buildings as far away as New Delhi – India, about 600 km away. Video on the social network X, formerly known as Twitter, showed scores of people running through the streets as residents of some buildings were evacuated.
In 2015, two earthquakes in Nepal killed about 9,000 people and caused losses to the economy of up to US$6 billion.
xuan mai